Help Support Kenos Animal Sanctuary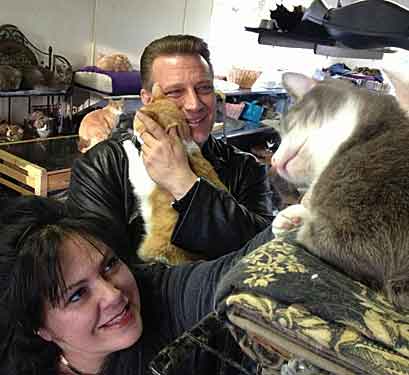 http://kenosanimalsanctuary.com
when a door closes a window opens......

When Keno's founder James Guiliani was told he lost his lease and had 30 days to relocate all of the dogs and cats living at Keno's panic set in.
Where was he going to find another location that was willing to rent to a rescue and that is suitable for them?
If he was going to go through the nightmare of moving all of Keno's furry residents, the supplies needed to take care of them and acclimating everyone to a new home he wanted it to be a step up ... a BIG step up. In his dreams he wanted it to be a bigger location with a yard of it's own. He imagined the dogs running an playing outdoors, building an enclosure so the cats could enjoy the sunshine and fresh air, and plenty of indoor space for the days it was too cold or rainy for them to play outside. It would be a place that was convenient for volunteers to get to and would have an area for potential adopters to get to know their new family member. Did a place like that even exist? And if it did, was it possible to find it before the November 1st deadline to be out of his old space?

We are happy to announce that the answer to all of those questions is YES!!!

We found a wonderful place, a big beautiful store front with a full basement and yard big enough for the dogs go play in and for a cat enclosure in a great neighborhood right here in Brooklyn!

But nothing in life is perfect and this space isn't either. The former tenant removed everything, and I mean everything from the space and much of that will need to be replaced. Rather than doing the repairs, the landlord has agreed to work with us on the rent if we will do the work so we agreed.

Keno's rarely asks for help of any kind; but this time we can't do it alone ... repairs cost money and moving is very expensive and that is where we need your help.

Your donations will go to a new heating and cooling system, washer, dryer, slop sink, paint and other building supplies, outdoor enclosure for the cats and indoor kennels for the dogs to sleep in at night.

We would also welcome donations of towels, blankets and  helping hands.
For monthly donations you can click on this link
www.GoFundMe.com/2gw8chjy?flow=d_aa_v1

Organizer