Help Sharon Kick Lipedema Butt
Thank you so much for opening this link.  Sharing my story is something that is hard for me to do. Asking for help is even harder. 
 I have a disease called Lipedema and although I've had it since I was a teenager, I wasn't diagnosed until November, 2012.  In May, I will be travelling to Germany to have three life-changing, lymph-sparing WAL surgeries that will halt the progression of the disease and allow me to have a better quality of life.  Lipedema surgery is not yet covered by insurance.  Small inroads are being made but it is a fight to get insurance to cover anything Lipedema-related.  In fact, I am battling them now to cover my compression garments which are extremely important to wear, especially when traveling or standing and walking for longer periods of time.
Each surgery is $5,000 Euros and then there are additional expenses of airfare, transportation, lodging, food, and supplies, bringing the total cost to nearly $30,000 USD for the six-week period that I  am there.  I plan to contribute as much as I can myself and I have been saving, saving, saving, and selling, selling, selling on eBay and Craigslist to add as much as I can to my surgery fund.  I have raised nearly half of what I need and whatever you can donate would be an incredible help.  No amount is too small and will mean more than you could ever know.  I am so grateful for your support.  I would appreciate it if you could share this link with others to help raise awareness about Lipedema.
The only known cure for Lipedema is surgical treatment which involves the removal of diseased fat cells in problem areas by means of water-jet assisted liposuction. This surgical treatment is highly specialized and must be performed by a highly-skilled surgeon who has a thorough understanding of Lipedema and experience working with patients that have the disease. The surgeon must know how to avoid damaging the lymphatics.  After extensive research, speaking with others who have had the surgeries, and consultations with Dr. Karen Herbst in AZ and Dr. Joseph Stutz in Bad Steben, Germany, I made my decision to have Dr. Stutz perform the surgeries.  He has 19 years of experience working with Lipedema patients and began bringing his specialized procedures to the U.S. by training doctors in the States last year. 
The results from Dr. Stutz's surgeries have been fantastic. Pain gets reduced, patients regain comfortable use of their legs and arms, and their lymphatic system starts to work properly.  Within 12-15 months, their bodies finally start to lose fat and water weight that could not be burned off through diet and exercise because their lymphatic system was being compromised.  The surgeries will not change the way I look very much.  As a matter of fact, I will likely be more swollen and larger for some time afterwards.  However, they will change how much pain and heaviness I feel every day.  I will be able to blow dry my hair without having to lean against a wall for support.  I will be able to cook dinner and stir the pot without having to take breaks.  I will be able to walk further without the pain and heaviness and the need to talk myself into taking another step.    I won't wake up in the middle of the night to the pain and cramping in my legs.  It will all feel like a miracle!!
It is terrifying to think I could lose my mobility within a few years if I don't stop the progression.  I am panicked when I consider the possibility that I won't be able get out of bed.  That's why I am having the surgeries - to regain mobility and put an end to the chronic pain.
My surgeries are scheduled for May 18, June 2, and June 15.  Christmas is coming early this year! :-) 
MY LIPEDEMA STORY
Lipedema started in my teens, right after puberty, and I still remember how the boys called me names like "Pudge" and "Thunder Thighs" even though I weighed a normal 120-something pounds and wore a size 5.  I knew that I was somehow shaped differently in my legs and arms then, but I just thought if I continued to diet or took more back-to-back aerobics classes that they would shrink.  I would go to the fitness places and do the circuits of machines and I played tennis and paddleball and racquetball but nothing ever seemed to reduce those areas.  I tried all kinds of diets, too, all to no avail.
As I got older, I would experience bouts of weight gain over a very short amount of time.  I would gain more than 20 lbs in a 2-3 week period and could never understand why.  After it happened the second time, I went to the doctor in hopes of determining why.  That was the start of my bad experiences with doctors. They would test me for the normal stuff and all my results would be good.  They wouldn't believe me that I was watching what I ate and exercising.  They were very dismissive and told me time and again that I wasn't doing my part in things and to stop making excuses.  Little did I know that it wasn't my fault.  I thought it MUST be my fault.  After all, the doctors keep telling me the same things.  I must need to try a different diet or change what types of exercise I am doing. Maybe this next thing I try will work.
I have had pain for as long as I can remember, but the really bad, lasting pain started in my thirties.  I started having more bouts of weight gain and could feel painful, hard nodules in my legs.  I started seeing new doctors but I continued to receive the same dismissive attitude and they wouldn't even look at or feel my legs.  One doctor told me after I gained over 40 lbs in a 3-month period that "It's only 40 lbs".  Only 40 lbs?!!!  Do you know how much I would have to eat and what kinds of foods I'd have to ingest to gain that much weight?  He didn't believe me that nothing had changed in my diet or exercise.  It was just a series of Lather, Rinse, Repeat for many years.  Every time I had my weight gains, I would try even harder to diet and exercise and was able to lose some of the weight but the fat that had accumulated on the arms and legs and hips remained. 
The pain was getting worse.  Just the pressure from the blood pressure cuff at the doctor's office would send me into orbit.  I would have to breathe through the pain just to have it taken.  Forget about getting blood drawn or donating blood.  The tourniquet was hard to handle but I got through those just like I got through everything else.  Just breathed through it and tried not to tense up or scream.  At home, it was excruciating to have the cat crawl across my lap. My kids bumping into me when they played or crawling all over me would cause extreme pain as well.  I would have bruises as a result and couldn't imagine where all my bruises were coming from.  Just brushing against the side of the car getting into it hurts me.
Fast forwarding to more recent years, I deal with chronic pain on a daily basis.  It is always there.  Things that people take for granted, like blow-drying your hair, is unbearable at times.  I have to lean against a wall to be able to do it because my arms are so heavy.  Travelling is especially difficult for many reasons, but I don't let it stop me.  Mind over matter, right?  Flying causes more swelling and pain and the seats often dig into my legs from the moment I sit down, making for a very uncomfortable and sometimes agonizing trip.  The beds in hotels are often the worst thing ever!  I am like the Princess and the Pea and I feel every spring or ridge in a mattress and the pressure from it touching my body is intolerable. Riding in my car for extended periods of time and even sitting at my desk at work causes just as much grief.    
When I get cold, I stay cold.  My affected limbs will be 10 degrees cooler than the rest of me and remain that way for hours.  The same is true when the weather is hot.  When I get hot, I swell and the pain gets worse, and I stay hot. 
Even now, bruises are an issue and I still don't have a clue as to how I get most of them.  I have become more klutzy and bump into things and trip over things frequently.  Varicose veins have developed.  I have hypermobile joints which is a form of Ehlers Danlos Syndrome.  It has likely caused the issues with the joints in my hips and contributed to the issues I've had with my back.  My gait has been affected by the Lipedema on my legs and my knees often experience pain going up and down stairs.  I am chronically fatigued, not that most people could tell.  Don't get me wrong, feeling drained can be debilitating.  Somehow, more often than not, I am able to push through my low-energy moments and still participate in life. I have been known to work long hours and still find time to get stuff done at home and fit in some socializing and volunteering.  My mom says I've been tired since I was 16.  That kind of makes sense now.    
 Anyone that knows me would say I have been an active person.  Over the years,  I have bowled on leagues, danced, weight trained, Zumba'd, and played on volleyball and softball leagues, among other things, but my arms and legs just continued to get worse and accumulate more fatty tissue.  The pain kept getting worse and the swelling increased.  I got worse after every surgery I had, unbeknownst to me that surgeries pretty much guarantee an increase in the lipedemic fat and swelling.
I was diagnosed with Stage II in my arms and as a baby Stage III in my legs (see explanations of stages below). It has been so excruciatingly difficult and painful in the last few years, but I am still mostly mobile compared to many who have lost their ability to walk and even get out of bed.   Whenever I feel I can't get out of bed or walk due to the pain, I make myself start moving.  If the pain is intolerable, I have been known to break out singing (although not entirely cheerfully) the Abominable Snowman song from the Christmas special.  In fact, on several Boy Scout hikes, it became a mantra for me.
Put one foot in front of the other
And soon you'll be walking 'cross the floor
 You put one foot in front of the other
And soon you'll be walking out the door
I have tried many conservative treatments since being diagnosed and have been compliant a good 95% of the time since March 2014 when the last of the treatments was recommended:  Compression, Manual Lymphatic Drainage (MLD), Clean eating, Whole Body Vibration, CVAC, Flexitouch, and supplements and meds prescribed by the greatest, most caring doctor ever in the US: Dr. Herbst. 
WHAT IS LIPEDEMA?
I could throw a lot of medical terms at you to explain Lipedema, but I'll attempt to break it down to something easier to understand.  I am hoping to illustrate just how degenerating and deeply impactful this disease can be.  Basically, it is an accumulation of diseased fatty tissue that causes extreme pain and immobility. It affects both the lymphatics and blood vessels and is believed to have a hereditary component.  It is triggered during hormonal changes, such as puberty, pregnancy, menopause, female surgeries, and even by taking birth control pills. The lymphatic system is compromised and causes waste products and fluids to build up instead of being disposed of properly.  According to a specialist that I see, those afflicted with Lipedema virtually swim in their own waste constantly. The resulting build-up of fluids causes swelling that can best be described as feeling like a water balloon that's about to burst.  Between the accumulation of the diseased fat and the back-up of fluids, there is a feeling of heaviness in the affected limbs and even routine tasks become challenging. It's like carrying around many, many pounds around with you every day, weighing down your legs and, in many cases, your arms.  Blood vessels are damaged and they leak their content into fat.  Because of this, the blood vessels in the fat and skin are not normal and lead to extremely easy bruising.  There are many issues that can accompany Lipedema and I have listed some of them here:  pain and tenderness on pressure, uncontrollable weight gain, venous insufficiency, lymphedema, hypermobility, cellulitis, digestive issues, numbness, joint pain, painful lipomas, hypothermia, swelling in hot weather,  and immobility.
Surprisingly, Lipedema is generally unknown and poorly understood by medical providers who often misdiagnose it as obesity. Diet and exercise are not successful in reducing the lipedemic fat.  They will only help to shrink some of the non-lipedemic fat that we have, albeit that is even a challenge.  In fact, it may surprise you to learn that there are people with anorexic minds hidden in disproportionately large bodies due to the continual, overwhelming desire to rid themselves of  fat that will never go away through starving themselves.   As the disease progresses, it leads secondarily to a chronic lymph blockage.  In later stages, it is disfiguring.  A myriad of other co-morbidities are known to strike as well. 
THE STAGES OF LIPEDEMA
You've probably seen a woman who has a slim upper body and a large lower half.  Chances are she could have Lipedema.  The stages are outlined below:
Stage I
·        Skin is smooth
·        Swelling increases during the day and may resolve with rest and elevation
Stage II
·        Skin has indentations
·        Lipomas may develop
·        Eczema and erysipelas may be present
·        Swelling increases during the day, with less resolution after rest and elevation

Stage III
·        Hardened connective tissue/fibrosclerosis 
·        Swelling consistently present 
·        Large masses of skin and fat that overhang

Stage IV
(also known as Lipo-Lymphedema and often considered to be part of Stage III)
·        Fibrosclerosis, possibly elephantiasis
·        Swelling consistently present
·        Larger masses of skin and fat that overhang
If you've gotten to this point, thank you for reading my story.  My hope is that I am, in some small way, helping to pave the way for future generations to get diagnosed earlier and stop the progression sooner.   My recovery will take some time.  It will take 6 months to regenerate my nerves.  It will take a good 15-18 months before I will know the full effects of the surgeries.  It will be nothing short of a miracle to no longer have the pain and heaviness that Lipedema causes. 
I am planning to create a separate FB page to track my lippy journey and keep everyone (who wishes to stay informed) updated on my progress while in Germany.  Since most people look at me and can't tell that anything is wrong, I have included some photos in the Gallery so you can get a glimpse of what I have to deal with every day. I have been called "disgusting" in the past when my legs were bared so it is not easy for me to do this.  I have been told I am brave for sharing these pics, and it scares me to do so, but I feel like it's more meaningful for you to see me and not just some stranger's photos.
Love and light to all of you!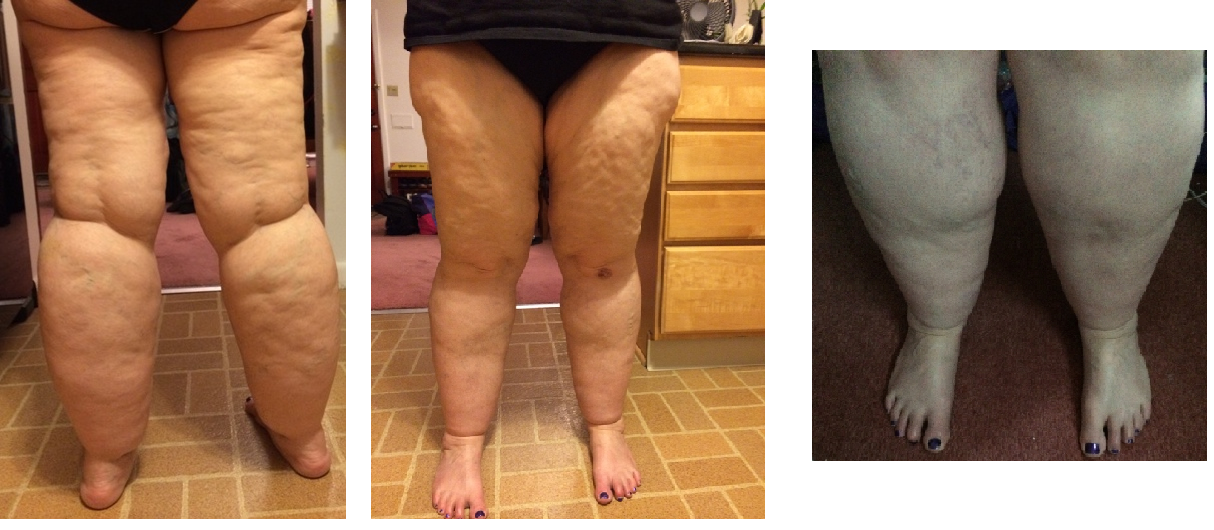 A FEW LINKS 
Dr. Herbst's Grand Rounds at the University of Arizona
Dr. Herbst's Lipomadoc site
A good article on Lipedema
Lipedema Simplified
Organizer