Brenda Pandos is the busy mother of two boys, loving wife, daughter, sister, granddaughter, and friend. She is also an amazing author of Young Adult books with messages of love, hope, and friendship. She's one of my best friends, a beautiful friendship that started 5 years ago this month when we released our second books on the same day. With a fun attitude and great sense of humor without a fear to show her silly side, she lights up everyone's days. On Dec. 1, 2015, that light was dimmed.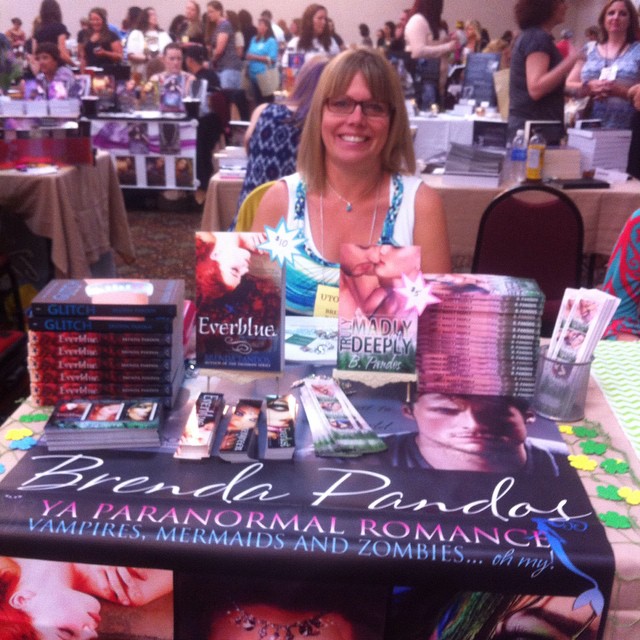 Brenda went into the hospital to have an aneurysm repaired, a somewhat standard procedure that should have had her home with her boys and planning for Christmas the next day. The doctors said the procedure went well, but when Brenda woke up, it became quickly obvious that it hadn't. She couldn't talk, and a CAT scan showed that she'd suffered a stroke.
The stroke affected her right side, leaving her unable to move her right leg and barely able to move her right arm and hand. It also affected her cognitive ability, speech, and emotions. As you can imagine, this was a hard blow to the family. Fortunately, Brenda started showing immediate improvement.
By that first evening, she was beginning to talk a little and her right leg moved. Over the next couple of days, she showed promising progress, so they moved her out of ICU and into a rehab facility. She now undergoes 3-4 hours a day of occupational, physical, and speech therapy. It leaves her exhausted, but she shows improvements every day. She's regaining use of her arm and hand, her cognitive functions are returning as her brain reprograms itself, and she's talking and laughing again. Her leg continues to be stubborn, but we know she'll walk again soon.
It goes without saying that the medical bills are piling up and will continue to for quite a while. While they do have medical insurance, it does not cover 100% of the expenses, which in this case, means tens of thousands of dollars out of their pockets. Add to that loss of work for both Brenda and her husband and extra care for their young boys. We don't know yet when Brenda will be able to return to her writing and her publishing business, which means the loss of income will continue to grow long before it improves. We do know that she still has weeks of being in the rehab facility and months afterward of therapy.
The family can use every little bit of financial help we can provide to fill the gap and help with those bills. Your donation, however big or small, would be greatly appreciated. It will put a smile on Brenda's face, who puts smiles on so many others'. In fact, it would make all of us who know her smile as it provides a little relief to the mountain of stress and worries her family is going through. We know that not everyone has even $2 to give, but your help in spreading the word about this GoFundMe campaign would also be appreciated. With lots of prayers, love, encouraging words, and support, we'll have our Brenda back home with her family and back to writing her beloved stories. Thank you in advance for whatever it is you can do.