Support for Baby Lucas Mates
INTRO
Our names are Sam & Liz Rusnac and we are starting this GoFundMe page to help out our nephew's family during a very difficult time.  Our little family has personally received support in various ways from so many people during an extremely hard time in our life. We now want to do whatever we can to support others close to us in their time of need.  We are asking that you please take a moment to pray for Baby Lucas and his family.  If you have it on your heart to help this family with a monetary donation, that would be a huge blessing as well.  Joel and Michelle are surrounded by a strong family support system, and our hope is that together with friends and family from all over the country we can make this journey a little more bearable. With donations from many of you who wish to support them, we can make their financial burden the last thing on their minds and they can focus on each other and the difficult journey ahead with Baby Lucas.
[Joel And Michelle Mates with their two older kids, Naomi (5) and Joel Jr. (2).]
BABY LUCAS MATES
 Joel and Michelle Mates were happily expecting their third child on February 12th, 2018.  They were scheduled for a routine C-Section to deliver a baby boy named Lucas.  As soon as he was born, doctors noticed that something wasn't right with his skin.  He appeared to be missing some large portions of skin on his lower extremities and on a few other areas of his body.  His left foot also appeared to be underdeveloped.  Doctors quickly realized he was in great discomfort and rushed him to the local children's hospital for more specialized medical attention. There was no time for "skin to skin" bonding with mom or dad, all they could do was gently touch his hand.  
Lucas is currently being cared for around the clock in the NICU, and will need to remain there for the foreseeable future. The initial diagnosis is
Epidermolysis Bullosa
(don't google it if you have a weak stomach), and his condition is suspected to be rated as a Severe case. Essentially, his skin is so fragile, that when touched, it will blister and peel away. Blood work and labs are being run to determine the exact diagnosis, but will take a few weeks, so until then we won't know much more.  The goal right now is to keep him as comfortable as possible, and allow his current wounds to heal.
[Baby Lucas during a brief awake moment in the NICU.   His skin is covered in petrolatum to help prevent infection.]
[Joel carefully attempting a bottle feeding - Feb 15th - Lucas was able to suck out 2mL of breastmilk, but the rest was given to him via his feeding tube. The bottle nipple cannot be put all the way in his mouth due to sores that are healing, and fear that more will occur.]
We know that God has a plan for baby Lucas, we know that God IS ABLE to heal his little body and restore his health! Our faith rests in Him alone as we ask the Lord for healing for Lucas and strength for his parents.  As you can imagine, caring for a child with EB will be very difficult. This sweet family will need as much support as they can get. It can be hard to know "how to help", but helping ease the burden financially is one small thing we can do.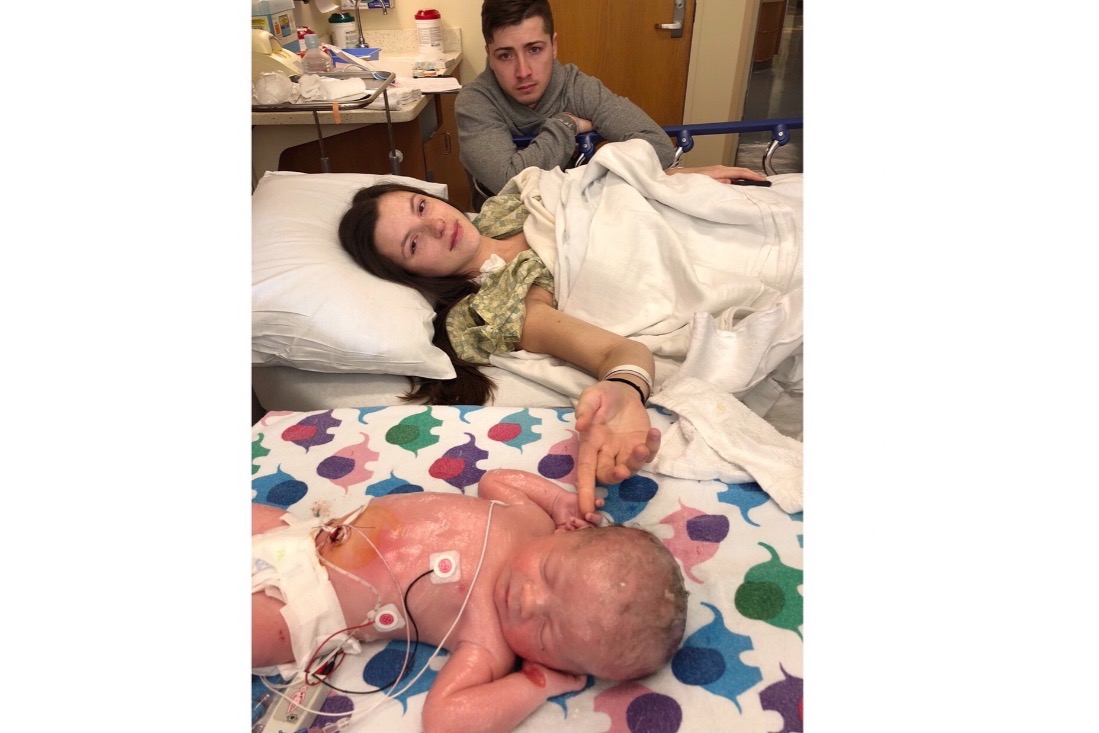 [Immediately after birth, before he was transported to the NICU at the childrens hospital.]
We will continue to update this page as new information becomes available.  The plan for any funds raised is to cover excess medical expenses, lost wages due to missed work for Lucas' father, and whatever else the family might need in anticipation of eventually bringing Lucas home and caring for him. 
[The kids visiting mommy in the hospital.]
From the bottom of our hearts, thank you for your prayers and any donations you make!
Galatians 6:2 "Carry each others burdens, and in this way you will fulfill the law of Christ."
Psalms 34:17-20 "The righteous cry out, and the LORD hears them; he delivers them from all their troubles. The LORD is close to the brokenhearted and saves those who are crushed in spirit. The righteous person may have many troubles, but the LORD delivers him from them all; he protects all his bones, not one of them will be broken."
Please feel free to share this page on all social media platforms. 
#prayforLucas
Organizer and beneficiary