KenyaFeeltheLove.org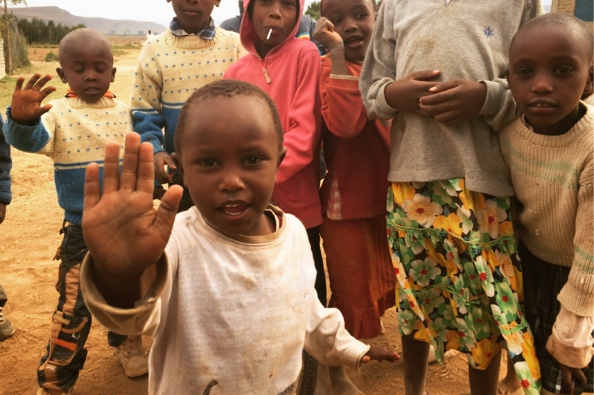 Many schools in Kenya lack basic infrastructure and are over-crowded.
The remote school where I'm currently teaching doesn't have electricity or plumbing and is lacking in many crucial areas.  I teach daily Math, English, Science, Art and Physical Education; providing one-to-one attention to the kids and helping mark.  I spend my evenings tutoring boys and young men in the small adjoined 
Ewangan
 night-school classroom.
My goal is to raise $1500 primarily for the nearby Olmaroroi preschool and daycare to construct a kitchen; purchase food, some nursery beds, and a 5000 litre water tank to collect clean rainwater; fence the perimeter, and complete the unfinished toilet pits and window panes.
There is also a blind girl attending who has never recieved proper treatment from an eye doctor, and struggles greatly. I've had her examined and there remains a possibility to save one eye with surgery.  Both her and her mother are HIV positive and need ongoing support if the girl is to be healthy enough for this surgery in Nairobi.  I've begun both on ART therapy and bring fresh nutritious food whenever possible.  Transportation, education, medication, proper nutrition and care are needed.
I cannot accomplish much without help. I'm here, and can contribute time and effort, but the funds simply don't exist. I need help, the little Maasai kids including the blind girl, need your help.
This May I'm climbing Mount Kilimanjaro to fundraise, promoting Maasai education and genuine human empathy. The climb itself will occur after the goal has been met and 100% of the funds have been implemented into the daycare, school, and eye surgery process.  Therefore, the time remaining to reach my goal is extremely limited if I am to have the chance to utilize the funds while in country.
Donors will be thanked from the roof of Africa and recieve cultural gifts and tokens of appreciation that support the income of Maasai women.
I appreciate anything that can be given, and please be sure to follow the progress on 
KenyaFeelTheLove.org
 loaded with photos, videos, and links to social media, updated as regulary as possible from my iPhone (depending on my limited internet access).
DONATIONS OF $35+ $50+ and $100+ RECIEVE A GIFT. Please refer to the 
About
 section for details.
Ashe oleng!  
-- Love, Stefan Andersen
(Donations will be made securely through PayPal.  Only PayPal's standard minuscule transaction fee will be deducted from each donation transaction.  I will cover the 5% that Go Fund Me deducts from each donation so that 100% goes into the school fund, as intended by donors like yourself.  For instance, if the total money raised is $2000, I'll cover the $105 to compensate for what Go Fund Me skims off the top. Feel free to contact me with any questions.)
Organizer
Stefan Andersen
Organizer
Calgary, AB