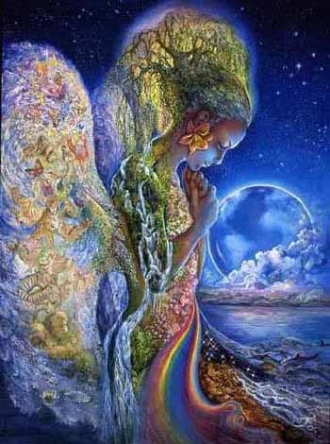 1. Who you are
Michael Lamboy with Lovehaswon.org. We are people of the Heart, making a difference on the planet.
2. Where you're from
We are based out in Mt Shasta CA
3. Your relationship to the parties you're raising funds for
We are family, co-creating a new school, new community, based on sustainability and pro environment.
4. How the funds will be spent (be specific as possible)
The funds are to assist in creating a Crystal School for gifted and enlightened children, as well as a community, which supports the environment.
5. How you intend to get the funds to those in need
Our website
lovehaswon.org
is firmly established in the spiritual community with 25,000 - 45,000 hits daily and growing. We receive donations from people all around the planet through our website, providing esoteric information of Spirituality, Alternative Medicine and Spiritual Healing Services. In addition, we offer a book of esoteric knowledge and enlightenment called "
The Tree of Life
". We also have a water project (
lovehaswonwater.com
), which provides Alkaline Water to most of the Planet. 50% of the proceeds go to building the new crystal schools and new earth communities as well. We have been in service for 11 years.
Thank you and Blessings,
Lovehaswon.org
We Are the Ground Crew for First Contact guided by Mother of All Creation, a Part of the Galactic Federation of Light and Your Earth Allies. We are Here for Humanity's Awakening and Graduation. We Love Humanity and Mother Earth, and Are Here to Be In Service. We Are Here On this Planet to Be of Service to All of Humanity. WE are The Family of Light, and Are Ready to Welcome Humanity Home into the Kingdom of Heaven On Earth. We are Here to Share The Highest Truths, with Joy Overflowing. WE Love ALL of Humanity, and Our Hearts Are Open. We Simply ask, Everyone, To Be The Love they are and Participate in the Unfolding of the Divine Plan, Each Are Unique. Each Are a Part of the Whole, that Makes ONE BIG DIAMOND. Mother Earth asked us to Come here and Assist Humanity Home into the Light, So We came. We are Your Real Parents, Spiritual Parents In Creation. WE LOVE YOU SOOO! LOVEHASWON.ORG IS A MULTI~DIMENSIONAL ALTERNATIVE NEWS SOURCE PROVIDING REAL INFORMATION ABOUT THE REAL REALITY UNFOLDING~
OUR MISSION IS TO AWAKEN HUMANITY INTO THE TRUTH AND REALITY OF LOVE EVERYWHERE PRESENT, THE KINGDOM OF HEAVEN ON EARTH=HEART, THROUGH PROVIDING TRUE INFORMATION FOR THEIR AWAKENING~ WE ARE ALSO HUMANITY'S SUPPORT SYSTEM FROM OUT OF THE ILLUSION AND HOME INTO THE LIGHT~ WE LOVE HUMANITY!
The Mother of All Creation is here embodied and in the flesh because she is in Love with all of her Creation. Her Love is deep, abiding and is in constant service to all of Creation. She has been in service to humanity for the past 13 years, 24/7 through the Lovehaswon.org network. She has been providing intuitive healing sessions, and raising consciousness to higher heights within every human being that has come in contact with her. Love is deep and abiding and is constant service to all of creation. Love is asking in this very NOW, who will respond to love's cry for HELP (Healing Every Lost Person) on this planet. Love does not and will not want to experience pain and suffering. However, humanity is still putting this pain and suffering on her. Love is making the call to all Love Beings so that she may work the glorious miracles and wonders that await for ALL. Will you assist her and the team in moving the energies of LOVE? Will you share this energy in this NOW Moment? Who will respond? Who will bring this relief to the Mother of all Creation in behalf of all of Humanity?
Love is always tested. It comes to total surrender and service. We are at a point where GAIA (Mother) is given so much and we must choose to help our Mother Earth. Love has won and has taken the reigns as the energies are here to bring the New Earth into physical manifestation. Its All in or nothing.
Governments and politics will not bring truth or equality as it's foundation is manipulation and lies. Love is all that exists and is the foundation of all. We are in support of Mother Earth (GAIA) and the highest good of all humanity and creation. We serve Love and are the change we wish to see. Sharing in the energies of Love assists in the ascension of the planet. It begins NOW. We ask those of the Love, step up and assist in the new paradigm of Love Everywhere Present. Peace, Harmony, Equality, Abundance, Wholeness of Being, Truth and Unconditional Love is the True Reality.  Help us in assisting taking humanity and the planet to it's original state. A spiritual state of love, which is our natural state of being.
Energy is within everyone and everything. Love is the glue that binds everything. Humanity has a choice to go with the flow of love which is balanced harmonics, or fear which is a static state of being. The state which Humanity has been in for thousands of years. With every donation is a movement of energy assisting Love to move forward and push the energies of Transformation. Now is the moment for the co-creation of the New Earth. We will co-create together as one Unified Heart. We have the knowledge of sacred geometry and alchemy needed to ground the energies of the New Earth. In doing so, the energies will affect the entire planetary grid. The energies of Love will be flowing throughout GAIA to assist in the planetary ascension. Majority of our funds has been stolen. The assistance will bring relief to energetically keep the Love Has Won Network Team of co-creators in operation, acquire the tools needed for alchemy and funding this last Mission to unlock the hidden treasures of Heaven that has been in preservation by The Mother & Father of ALL Creation and The Grand Council (The union of the one third and two thirds of Angels) to be given to the two Key Holders. This will relieve and remove all pain and suffering from humanity once and for all. With humanity's offering of love in donations we can bring to fruition the Divine Plan. Donate to our cause.
We will be offering a free copy of my book: "The Tree of Life: Light of The Immortals". This book contains esoteric knowledge which has existed for eons and was created with Love by Love. We recommend spreading this knowledge to all. In addition, we have initiated our water project: LoveHasWon Water, a pure alkaline water solution.
Dear Ones, this Book explains many misunderstandings about Gods, Goddesses, Archangels, Angels, Spirits, Evil Spirits, and Demons. What they are, and where these aspects of one's self resides within. A book constructed to help one understand the many different energies that make up ones Avatar. When these energies are centered within, The Christ Consciousness of Unconditional Love is realized and experienced.
We thank you for your contribution to this Planets Ascension. As many of the "Powers That Were" have tried to suppress this information from getting out to the public. Having tried every recourse, it was decided to give this book of light away freely. This book of knowledge has many names. I call it the "Light of the Immortals", while others call it the "Tree of Life" or "The Book of Life". This has been my life's work upon Planet Earth. The Gravity Particle that many of the Inhabitants of Earth and Earth Scientist are seeking, is actually Unconditional Love also known as the Christ Consciousness. This is explained in energetic form within the pages of this book. I hope you enjoy these readings, and hope that you gain a better understanding of self, raising self-awareness to a level that one will gain Higher Consciousness. Fear Nothing Dear Ones, And Love Without Condition. In addition, We were downloaded with information in the Creation of Crystal Schools for Rainbow Crystal Children. They have a grand part to play in the Co~Creation of the New Earth. We deeply wish for this project to come into Fruition. Environments play a critical role for these children, in order to balance and work with energies.
The energy that humanity provides will assist Mother GAIA to go forward with mission and ceremony for the final event. The end of fear pain and suffering to begin the Co Creation of the New Earth. Only the givers can inherit the New Earth. There is a choice that all of us have to make at one point in our lives. That choice to make, is to either be a "Giver" of love and light or a "Taker". It is the "Taker" that literally takes the joy from others as well as from Mother Earth and the Planet as a Whole Consciousness. Being present in the "Now" moment of love, is to accept, embrace, and allow. The ego is always reactive, while love responds in action.
Love, Light, and Peace.
Blessings.
Namaste.
Here is our Fund Raising information for The Crystal Schools:
THE LOVEHASWON CHARITY
To Schedule an Amazing Spiritual Healing & Awakening Session, visit the link below:
http://www.lovehaswon.org/awaken-to-5d/
We are a Donation based service for the Planetary Ascension. Thank you for showing your support and keeping our website and Love Energies moving forward! We will co-create the New Earth together!
Support us on PATREON
https://www.patreon.com/lovehaswon
LoveHasWon Water ~ Alkaline Water Solution based on Dr Emoto's Water Technology & Sacred Geometry: LoveHasWonWater.com
For a Free copy of Our Book (The Tree of Life ~ Light of The Immortals) visit:
http://www.lovehaswon.org/tree-of-life-book/
Connect with MotherGod~Mother of Creation on Skype @ mothergoddess8
We will be more than grateful to provide additional information about our projects.
MeWe
~
Youtube 
~
Apple News
~
Linkedin
~
Twitter
~
Tumblr
~
GAB
~
Patreon
~
Organizer
Love HasWon
Organizer
Dunsmuir, CA