Eli Ashby Medical Expenses
For Eli's most recent updates following his latest heart surgery, follow him on Facebook:

https://www.facebook.com/LoveForElI

Timeline & Meet Eli:
***********************************************************
October, 2015
---------------------------------------------------------
After receiving his new St. Jude mechanical mitral valve, and 2 long months in and out of the hospital, we came home after a follow-up appointment and Eli's pharmacy unfortunately dispensed the wrong medication.  As a result, Eli spent 2 days hospitalized, again, over his birthday. He was prescribed a child's dose of diuretic, and instead was given 10x the max dose for an adult. He was found vomiting and slumped over a stool in our living room and rushed to the ER. He has been receiving follow up care for his kidneys now, as a result.

Hospitalization following our pharmacy giving Eli the wrong medication: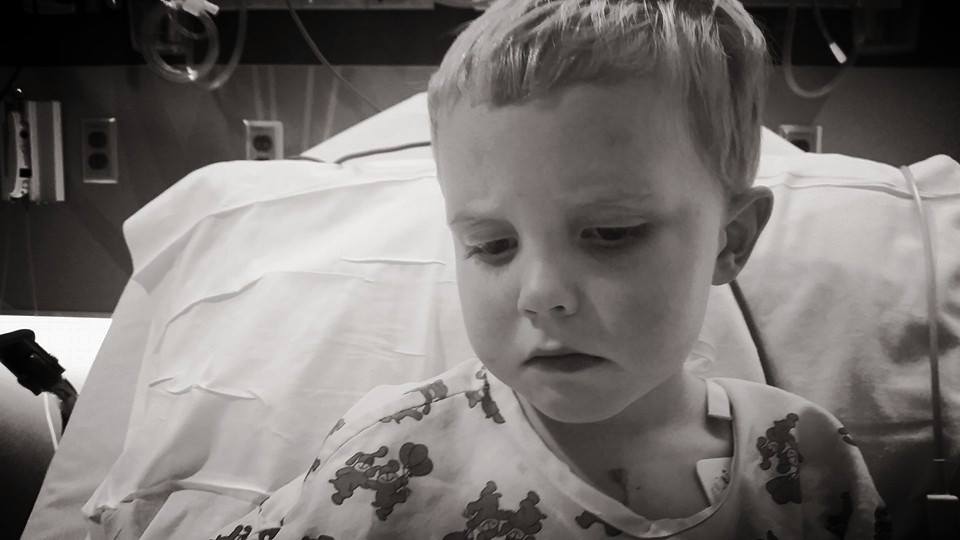 Which also happened to be on his 4th birthday: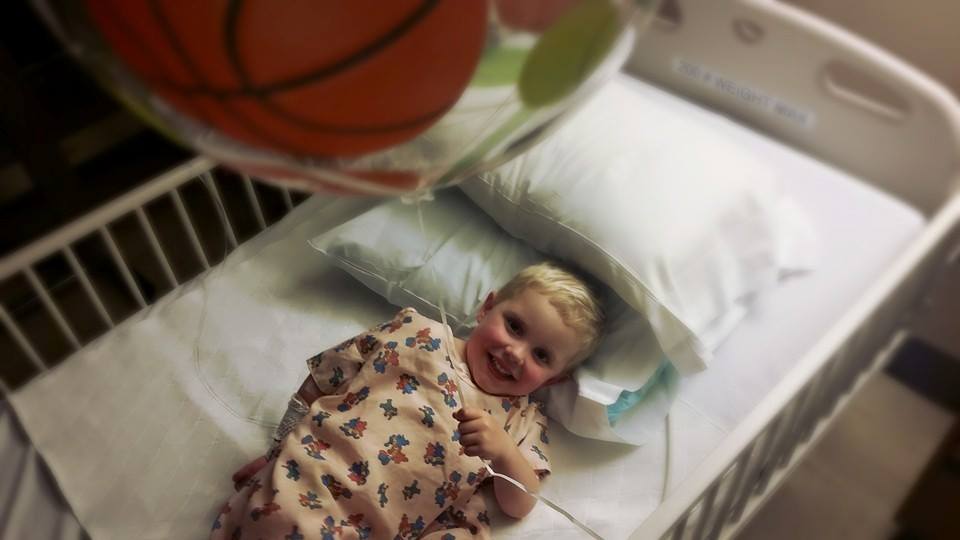 September. 2015
----------------------------------------------------------
Five hours into Eli's second heart surgery, we received word that his surgeons could not save his mitral valve and that Eli had received a new mechanical mitral valve; typically just 1 of 2 of these type of procedures done yearly at Seattle Children's Hospital. Eli had an incredibly hard time recovering from this. He spent weeks in a high-rate junctional rhythym and couldn't walk or sit up on his own. We spent every moment by his bedside at SCH. His liver continued to be overloaded with fluid, and this meant a 3 week stay in CICU. Once he was released to the floor, his INR went up to 8.2 and we were forced to stay in-patient while it came down. The  surgery that we expected turned into 2 months away from home, and the stresses that come with having a 3 year old on Coumadin.

Open Heart Surgery #2

Enjoying a gift sent to him in the hospital.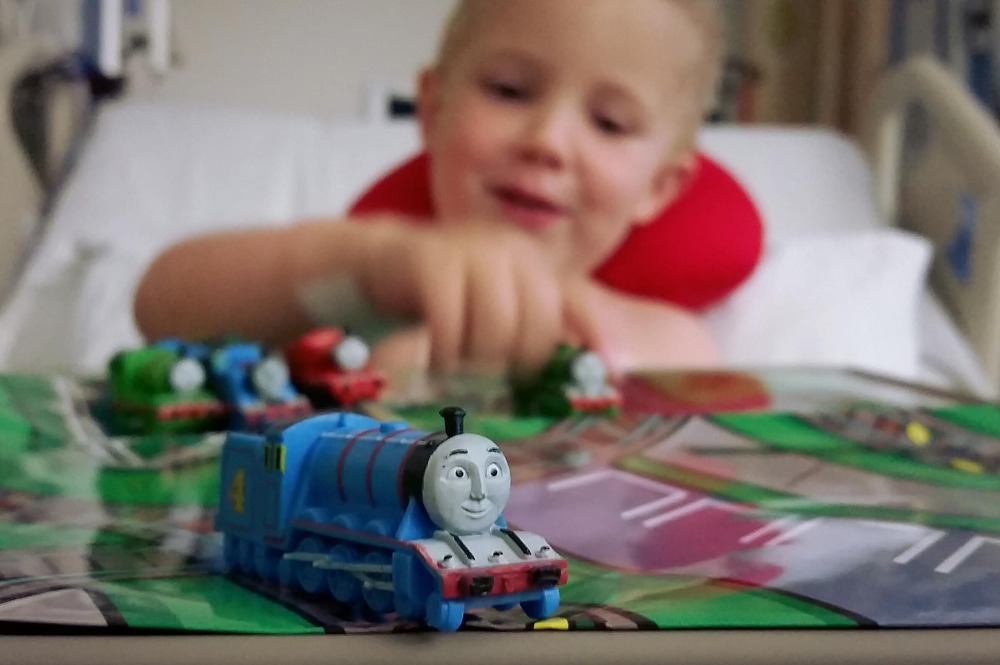 August, 2015
---------------------------------------------------------
Eli is having his second  open heart surgery on August 6th, 2015.
As one would imagine this is VERY expensive. Not just for the medical procedures but the logistics  for the family. Lodging , meals, transportation costs, etc.  The Ashby family needs our help. 
Please consider donating to help cover the expenses  to free them from the worry of how to cover these costs. 

If you can donate $5.00 or $5000.00
it would be greatly  appreciated. Thank you. ~Chuck

Meet Eli:
Eli, age 3 ½, is battling pediatric congestive heart failure, an enlarged right atria, and a severely incompetent mitral valve. His mitral valve defect was caused by a structural malformation at birth, for which Eli required his first open heart surgery in the fall of 2014. A month after the surgery, he was hospitalized with an occurrence of atrial flutter which in turn caused his congestive heart failure. Heart failure is when the heart fails to meet the metabolic and circulatory demands of the body. Pulmonary/systemic congestion, fluid in his lungs, developed as a consequence of heart failure, resulting in Congestive Heart Failure. His mitral valve incompetence causes a large amount of blood to flow the wrong way though his little heart, which is what has caused the right atria to become extremely enlarged and put strain on the rest of his heart, valves and lungs. Another open heart surgery is slated for August 6, 2015, to attempt another repair, or worst case scenario replacement of, Eli's mitral valve.

Eli also has a rare, unidentifiable blood platelet pooling disorder, which causes him to bleed easily for long periods of time. This is making surgeries more difficult and creating a need for platelet transfusions.

Even at his young age, Eli's personality can already fill a room. He is so kind and thoughtful of others while he's out exploring this beautiful world. His tender heart is simply huge -- in every sense of the word. His smile is contagious and he lives to make others laugh. The friendship he has with his big brother is something he relies on heavily. As long as brother's hand is near, Eli will take a shot at just about anything. Being in the water is also huge love of his and he can spend hour upon hour water logged with a smile on his face. He is a courageous little boy who enjoys to learn, to listen to stories and to play pretend.

From Eli's mom, Jenn:
Eli was diagnosed with:
- Atrial Septal Defect, Pulmonary Stenosis and Mitral Valve Leak, November, 2011 - Current/Ongoing
Required open heart surgery in August 2014.

The ASD and Pulmonary Stenosis were repaired, leaving the mitral valve leak, which will require mitral valve replacement(s).

Congestive Heart Failure, October 2014 - Ongoing
Sacred Heart Children's Hospital.

Because of the significant leak in the mitral valve, Eli's heart went into Atrial Flutter. He was hospitalized and required his heart to be restarted. This episode of heart arrhythmia caused his right atrium to enlarge and lead to heart failure. This is currently managed by 5 medications taken at various times throughout the day, presumably, for his lifetime.

Platelet Pooling Disorder, December 2013 - Ongoing
Seattle Children's Hospital & Sacred Heart Children's Hospital. After noticing that Eli bled and bruised very easily, he was put through numerous, day long, platelet function blood tests and was found to have a rare, unidentified platelet pooling disorder. Requires platelet transfusions prior to any medical procedure.

Hypertrophic Tonsils ("Kissing" Tonsils) - tonsils and adenoids removed - February/June 2014
Seattle Children's Hospital. Eli was having trouble eating, sleeping and breathing due to extremely enlarged tonsils. He received platelet transfusions prior to surgery and because of the post-operation bleeding risk, he had to stay within a mile of the hospital for the two weeks following.

Make-A-Wish write up:
On open heart surgery day, "We had been waiting all morning to hear how things were going. Five hours into the surgery we got the call - he was done. We anxiously waited and watched the doors, hoping to see the surgeon emerge. We couldn't wait to get back and hold our boy as he woke.

When two more hours passed, we knew something was wrong. As it turned out, they couldn't fix the mitral valve and the leak worsened in surgery. What was supposed to be a few little easy fixes, one surgery and then on with life, turned into needing a valve replacement.

A month later we nearly lost our little boy and then came the heart failure. Followed by today, and the days that are filled with medicine, to have to avoid crowds and germs like his life depends on it, to bend down and put my ear to his chest to make sure his heart is in rhythm. It is still so surreal to be on our path. To think that we thought it would all be good after open heart surgery. Life would be… life. Everyday. Normal. He'd be fixed. But instead, we live for every day now, and although it is scary and not all what we expected life would be for our family, Eli is awesome. He is a fighter. His smile lights my heart and we tackle every day one hundred percent. We get out and live.", said Jenn

Eli and his mom currently make the trek over to Seattle Children's clinic to be seen by his cardiologist every 6 weeks for echo-cardiograms, to ensure they maintain proper dosages of his medications, and to monitor his growth, heart rate and rhythm. At home takes medications throughout the day and evening and his heart rate is closely followed.

After Surgery #2 when INR was 8.2 and he was confined to bed.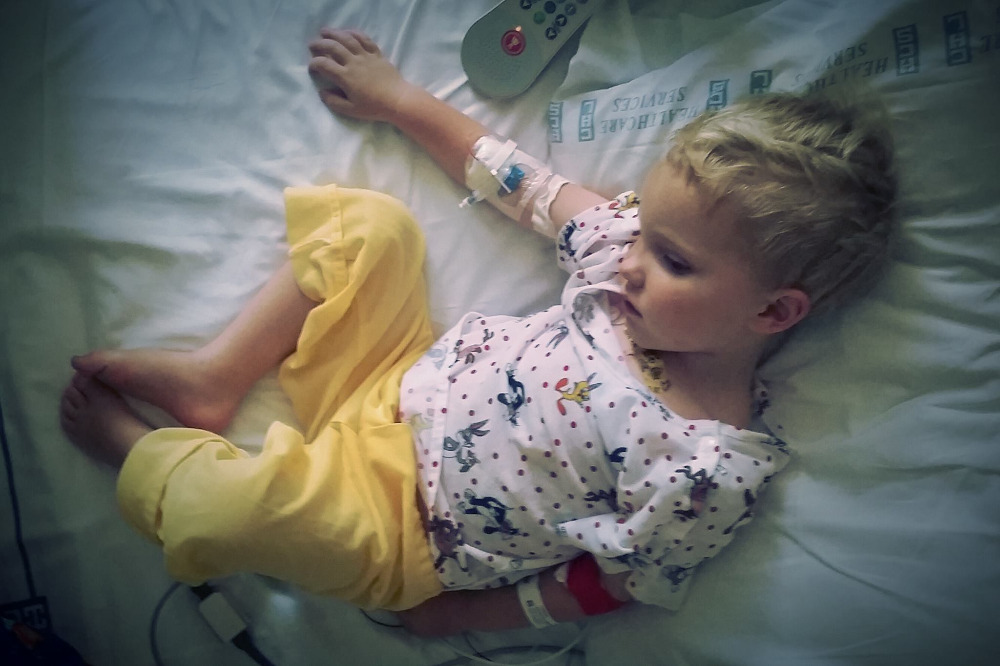 Enjoying a walk in Hailey, Idaho.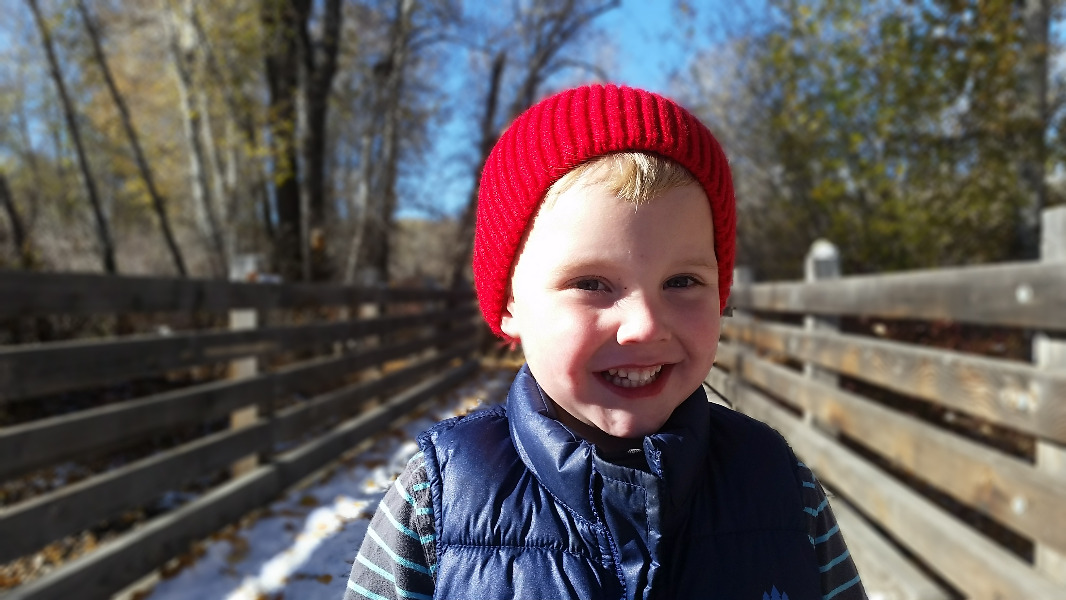 Fun on the lake with our friends, the Potters.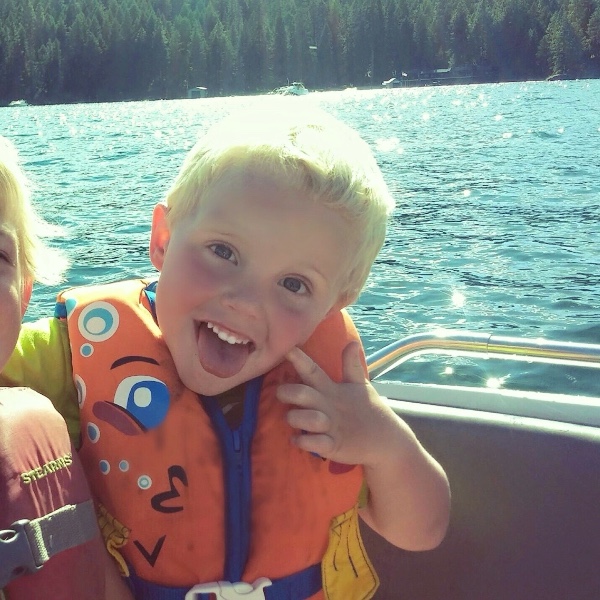 Open Heart Surgery #1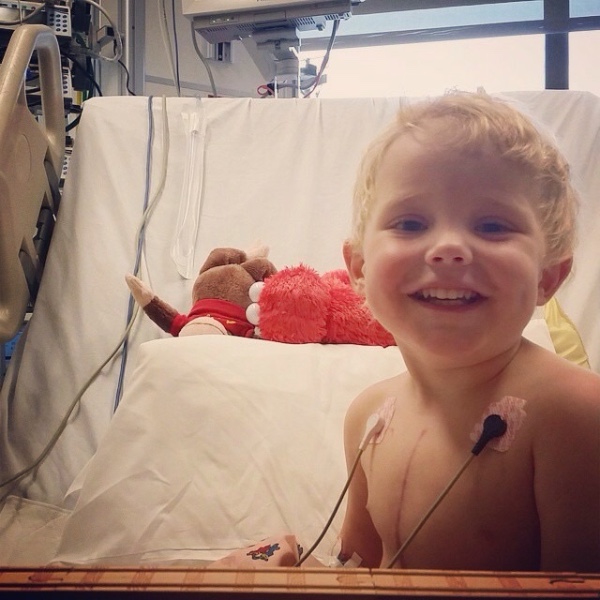 Organizer and beneficiary