Love for lungs! Baby Nathan's transplant journey!
Support the greatest warrior on earth in his recovery from his recent double lung transplant surgery! 



Hello my friends. Most of you are already aware of the incredible journey this little boy has been through so far in his first year of life. From the day he was born,
Nathan (Costante) Hutchinson
has beaten the odds in fighting several life threatening cardiac diseases by undergoing
two
successful open heart surgeries, catheter therapy and numerous other procedures.
Nathan was also born with two separate lung diseases and combined with the progression of his
Pulmonary Vein Stenosis
it soon became apparent that Nathan was in need of a "
double lung, pulmonary vein
and partial heart
" transplant. 
Nathan was quickly listed to be a recipient of donor organs and shortly thereafter he was miraculously given the greatest gift anyone could receive and  underwent a 12.5 hour transplant surgery in hopes of beating the odds once again. 
The surgery itself went well and recovery was going as expected but several days after the surgery Nathan's parents, Justin and Crystal were made aware of some complications that were not allowing Nathan to breathe on his own.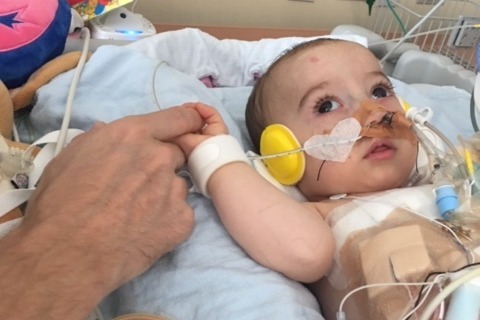 Nathan is currently recovering with respiratory assistance after undergoing a
tracheotomy. 
 With full respiratory support for an extended amount of time expected, it is also expected that this young family will remain at SickKids hospital for at least the next several months...well into and after the 2019 Christmas season. 
Needless to say, Justin and Crystal need to be at Nathan's bedside during this stage of his journey and are unable to be at home and also unable to work. 
Being away from the comfort of their own home also brings them hardship with the cost of food. We are hoping some of you can help us out....
If donating funds  through this GoFundMe account is not an option, maybe you can consider 
gift cards
for food or
Skip the Dishes 
possibly...you can send that to Crystal's  email at 
[email redacted]

To get regular updates on Nathan's journey you can follow him on Instagram...  ssuper_nate
or follow
"The lung road ahead. Our family's transplant journey."
on Facebook.
To all of you that have helped us in the past we send you our warmest gratitude. We hope you can find it in your hearts to help get this young family through this latest challenge and get them home soon. If gifting is not an option, please share this story- that will help us too!


Bless you all.

Angelo Costante and family.


Organizer and beneficiary
Anjello Costante
Organizer
Mississauga, ON
Crystal Costante
Beneficiary