All Ability Greenhouse and Garden
We Are Growing...Figuratively and Literally!!!
As of 02/01/2018, a "Cooperative Agreement" has been entered into with
Black Hills Works
  to operate 4 greenhouses and extensive outdoor gardening spaces for growing pesticide and herbicide free vegetables organically. These greenhouses and gardening spaces will provide vocational opportunities to adolescents and adults served by LMB (Live, Move, Be) with developmental differences and autism as well as to the people served through Black Hills Works.
Black Hills Works built these greenhouses and created these spaces because they believe, as do we, that produce has a purpose. Whether it's gardening in soil or using clean hydroponics, we will train growers of all abilities to thrive. From seed to harvest, our growers will experience the beauty and amazement of nature while gaining the fulfillment which can only come from a job well done!
The greenhouses provide the necessary components to begin planting immediately, and at this moment tomatoes, cucumbers, lettuce, bell peppers, basil, and kale are germinating.
Thanks to the help of volunteers, necessary cleaning is being completed and modifications to the growing system are being made to ensure a successful growing operation.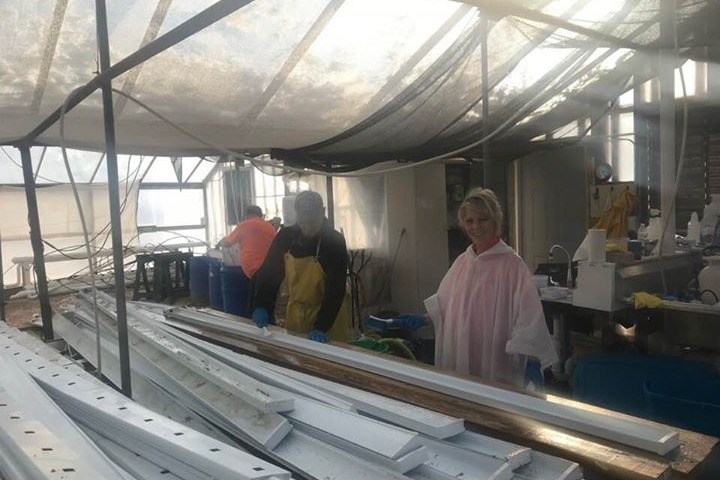 Harvested vegetables will be sold to
Regional Health Rapid City Hospital
 ,
Black Hills Energy
,
Mount Rushmore
 ,
Family Fare
 , and other local grocers.
The system and greenhouses are capable of producing 1,000+ heads of lettuce and 900+ lbs of tomatoes per week. This means the greenhouses are capable of supporting themselves financially while hiring the necessary staff to support its operation.
Not only is there the opportunity to provide a great product to the community and employment to valued and supported individuals within a fun, safe, and supportive environment, but it can also be financially sustainable!
There are expenses prior to funds being available from harvest sales and your support would be much appreciated. Insurances alone are $2700 per year and our first hire is eager to begin training in the process and operation. However, disability insurance must be in place prior to hiring anyone. Additional donations would go towards purchasing more seeds, growing mediums, fertilizer, root stimulator, fungicide, nutrients, beneficial insects (ladybugs & gall-midges), PVC piping, pumps, and miscellaneous supplies.
How we got here...
During the winter of 2015, Craig and Wendy Mullins, a husband-and-wife team of therapists, moved to Rapid City, SD to further their vision in working with people diagnosed with developmental differences, including those identified with autism, Down Syndrome, Fetal Alcohol Syndrome, ADHD, schizophrenia (to name a few) as well as their families.
Thanks to the support of friends, family, and complete strangers, Craig and Wendy were able to acquire a 5-room office suite and transform it into an awesome space that is intended to:
·      ignite purpose
·      stimulate imagination
·      encourage connection
·      nurture noggins
·      integrate the senses
·      build relationships
One of the biggest compliments frequently received from first time visitors is, "Hey, this doesn't look like an office!" And that was the goal!
A lot has happened in 3 years…a few highlights include:
 ·      Since opening their doors the summer of 2015 they've met with nearly 400 people and their families!
·      Relationships were formed with other helping professionals (doctors, occupational therapists, speech therapists, psychologists, counselors, educators, etc.) and community leaders who share their passion.
·      Their team of two in that 5-office suite grew to a team of four practitioners, an administrator, and an invaluable board member.
·      In pursuit of their vision, they acquired fiscal sponsorship through
Propel Nonprofits
   to receive funding through grants, foundations, and private tax-deductible donations.
(Not to mention they added a third child to their family!)
Where we are heading...
From the beginning they knew this office space was temporary and would serve as a springboard to fulfilling the larger vision. Their work has confirmed for them the specialness of a place where people from all walks and minds could come to explore and discover more of who they are, their purpose, and how they connect to others and the world around them. They imagined this place to be a farm where the senses may be explored meaningfully and naturally through various interests such as animals, gardens, art, music, movement and dance, building and creating, etc. 
They envisioned these interests as communally enjoyed, with children and families participating together and building one another up…seeing beyond labeled limitations and deficits…discovering one another's strengths, passions, and desires to share with the world their hearts. They envisioned farm-to-table community benefits. They envisioned the greater community of clinicians (doctors, occupational therapists, music therapists, art therapists, speech therapists, equine therapists, nutritionists, etc.), teachers, faith leaders, and parents (our true experts of the field) joining the efforts to make this truly all that it could be and more.
This pursuit would focus on the following:
·      Intervention
·      Education and Training
·      Vocational Support
·      Community
Great strides have been made in achieving this vision. A 14-acre property near the heart of Rapid City has been identified, complete with the necessary infrastructure to achieve this vision and to expand upon it.
Imagine the possibilities...
·      community gardens to dig in
·      farm animals to care for
·      a large warehouse for vocational training and woodworking
·      a state-of-the-art sensory gym
·      an art studio complete with pottery wheels and other media
·      a music garage with instruments galore for those who express with rhythm and soul
·      a water room with a pool to bring therapy to the next level
·      a large kitchen to make and share meals
·      a fun-filled gathering place for individuals, parents and families to connect
·      a space available for a homeschooling coop
·      a mentorship day-program for kids and adolescents to broaden their interests and passions
·      weekend retreats for families to spend in connection with one another
·      therapeutic workshop opportunities
·      high-caliber professional training opportunities… you get the idea!!!
Wendy and Craig will be moving their family to a house on this property within the next few weeks, and over the next several months they will work with executive board members in solidifying funds through grants, foundations, and private donors to purchase the property. Guys, this is happening.
There are a lot of great causes, great missions to be done and a lot of need…and we honestly present this to you with great humility. We'd like you to join us in helping accomplish something GREAT for the Black Hills region. We can't do it alone. We need help. And honestly, even if we could, we weren't intended to do this on our own. This is something that is bigger than ourselves…bigger than any of us, but achievable when a handful joins together.
Thank you for taking the time to consider this and please share this with anyone you think would be interested.
And, if you're in the Black Hills region and feel like getting your hands dirty through volunteering at the greenhouses or gardening spaces, when the ground thaws, give us a call. There is plenty to do!
With great love,
LMB (Live, Move, Be) Farms
4447 S. Canyon Rd., Suite 5
Rapid City, SD 57702
(605) [phone redacted]
www.lmbfarms.org
  (coming soon!)
Organizer