Liz's drug fund...it's legal!!!
Hi all, I'm Liz. 

Back in July 2015 I was busy spending my days working as a practice nurse, raising two beautiful children and enjoying a wonderful life with my husband and our crazy cockerpoo dog, Buster. 

Then the bottom fell out of my world when, after being misdiagnosed with a cyst and IBS,  a scan we paid privately for showed I actually had Stage 4 bowel cancer. It had already spread to my lymph nodes and liver and to make things even tougher I had a mutated BRAF gene.  Andy and I were devastated beyond belief. How could I possibly leave my children without a mummy, Andy without his soulmate, my parents without their daughter, my sisters without their eldest one? The list goes on. 
According to statistics this shouldn't happen. I was a fit and healthy 36 year old with no symptoms except pain. I was vegetarian, didn't smoke, didn't drink more than 2 units a week and even got my 30 mins cardio a day! So how on earth could I have bowel cancer??
I had to have emergency surgery to remove the mass from my bowel and started a course of chemotherapy. I went on to defy the doctor's expectations and responded well enough to have liver surgery in April 2016. 
Zoe and I ran the 5k race for life in June, whilst I was on 'mop up' chemo,  to help raise funds for the Primrose hospice.  They have provided me and my family with much needed help and support. 

In November I was given the all clear, no evidence of cancer! I was walking home from school, Zoe had run ahead for the last 100yrds, when I got this news. I have never sprinted home so fast! I sobbed my heart out with the kids and we danced round the kitchen like loons!! I rang Andy at work, not caring if he was in a meeting, I just had to tell him. Being beyond happy was an understatement!!!... but 6 weeks later it was back.
I'd suffered horrendous bleeding over Christmas leading to a scan at the beginning of January. This time it was in the liver,  the lungs and my ovaries. We were gutted yet again. I wasn't naive. I knew that it was most likely  the cancer would return but surely not this soon. How would we tell the kids knowing how heart broken they would be? There was no way this cancer would get the better of me just yet.
Chemo started again but the immunotherapy, Avastin, was no longer available on the NHS. I couldn't take the risk of not having a drug which may have killed off my cancer cells before, not when I had so much to live for. I researched some more and discovered this drug had worked wonders for so many BRAF patients. What if that was the drug that made everything else work so well for me?
So along with help from friends and family we funded 9 cycles of chemo with Avastin and it worked! This time I did so well I had major surgery to remove the tumours and HIPEC, an internal 'bath' of chemo, in August 2017. This was a tough one with several days in Intensive care and a possible hospital stay of 2-3wks.  

I remember on day 6 forcing myself in to the shower, having had most of the tubes/drains removed,   and getting dressed in pj's to greet my beautiful little girl who was visiting. There was no way I was going to look how I felt!! I managed to escape after 10 days so my recovery was pretty good. We even managed to get down to my parents' place in the Isle of Wight for some much need rest and recuperation. 
Life continued. We were crazy enough to move house 1 week before Christmas! I was able to go swimming again with the kids. I was enjoying feeling 'well'. 
I knew the cancer was still in my lungs but I still felt absolutely gutted when I found out in January this year that it was back in my liver and lymph nodes. More chemo is the plan for the time being, yet I really really wanted to make it past Easter before this was necessary.
Along with my parents, we're taking the kids to America to meet their second cousins. I'll get to see my cousins, for the first time on their 'turf', in 13 years! My medical team knows how much this holiday means to us so they've rushed me though the process of getting another line fitted for the chemo, in order to try and get 3 cycles in before Easter. It's a holiday I may never get to take again, but I also need to get on the case with killing the cancer.
So, I'm back on the toxic stuff and self funding the Avastin again to try and defy the docs for a third time, and by God's grace, carry on living, albeit with cancer. 

People have asked us how they can help and by contributing towards the cost of my treatment you would literally be saving my life.  It would allow me to continue to live with cancer and raise my children alongside my wonderful hubby. 
I have Avastin every fortnight at a cost of just over £1,520 each time and will have at least 10 cycles. Any donation however big or small would be most welcome. Thank you so much for your support, from the bottom of my heart. Love from Liz, Andy, Sam, Zoe and Buster the dog xxxxx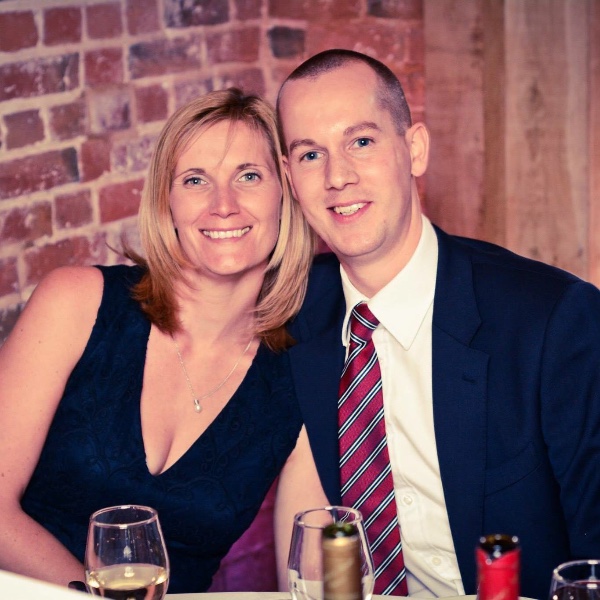 Organizer
Liz Benson 
Organizer
Wythall, West Midlands, United Kingdom