Little Adoption Shop Fundraiser
The Little Adoption Shop

Founded in 2011, we are one of Beijing's largest dog rescue organizations, with a focus on dog meat trade dogs, difficult urban rescues (individuals and groups of dogs in imminent danger) and animals with serious injuries and illnesses. We established one of the first urban adoption centers in Beijing, have rescued and rehomed more than a thousand dogs, and currently provide sanctuary to more than 750 dogs.



FINAL UPDATE: 

1) We are starting a new fundraiser here: https://gofund.me/b07d27bd 

2) This original fundraiser has been up since 2017 and raised a total 102,020 USD of our $100,000 goal. Although it took us nearly four years, you people made it a success! As of today, we're closing this fundraiser with tons of gratitude!

3) Thank you to everyone who has supported and continued to support us! Please keep following our journey at our new GFM page! 

Thank you!!!

-- Christopher Barden

UPDATE: APRIL 24, 2020:  This go GoFundMe has been up since 2017, and amounts to only a small part of our needs, but every bit helps! Thank you any help you can afford! I asked you kind people if maybe we should close this fundraiser and start smaller ones, but the majority of you suggested best to just keep this one up as it provides one of the few ways to donate to us from overseas.

UPDATE: JANUARY 25, 2019: Dear friends of the Little Adoption Shop. On behalf of the 700 animals we currently shelter, we really need your help. Rent for our three main shelters is due. I'm trying to raise money to pay for the rent on our #1 and #2 shelters (150,000 RMB + 80,000 RMB = 230,000 RMB) which is equivalent to 34,080 USD. We currently have a GoFundMe Fundraiser (which to date has raised 60,024 USD). If we can reach our goal of 100,000 USD, that will enough for us to make our rent for Shelters 1 and 2. We are already overdue on Shelter 1, and Shelter 2's rent is due next week. If you can help, please donate and/or share our GoFundMe page with others! THANK YOU!!!

*** UPDATE 20180612: We have an URGENT NEED to repay approximately 31,000 USD for unpaid rent on Shelter 3 and Construction fees. If people are okay with this, we would like to expand the use of funds on this fundraiser to help cover those costs. We still have bills and new expenses in all departments, but these payments are extremly urgent. **** 

UPDATE: Since we first posted this, due to forces beyond our control, we had to move from our 1 and 2 shelters nearly simultaneously. We have still not recovered in terms of the extra financial pressure this created. Our Daxing #2 Shelter is now located in Miyun, and 1 and 3 are in Shunyi.

The three following photos are 1: our newest location in Shunyi (to replace our closed-down urban adoption center.  2: our biggest and oldest location in Shunyi and 3: Our temporary Daxing location for the 809 dog meat truck dogs. These three locations are where we have 90% of our dogs, with the rest in four separate third-party locations (for special needs dogs and overflow).



We Rescue, We Heal, We Rehome. 

In the last six years, we've rescued and provided shelter to more than a thousand dogs, including hundreds of dogs from the dog meat trade (rescues including "415", "808", "809", "406" and other dog meat truck rescues). In cases where we are partnering with other rescues, we always choose the sickest, most difficult dogs to rescue first, and have rescued and healed hundreds dogs with distemper, one of the most costly diseases to cure.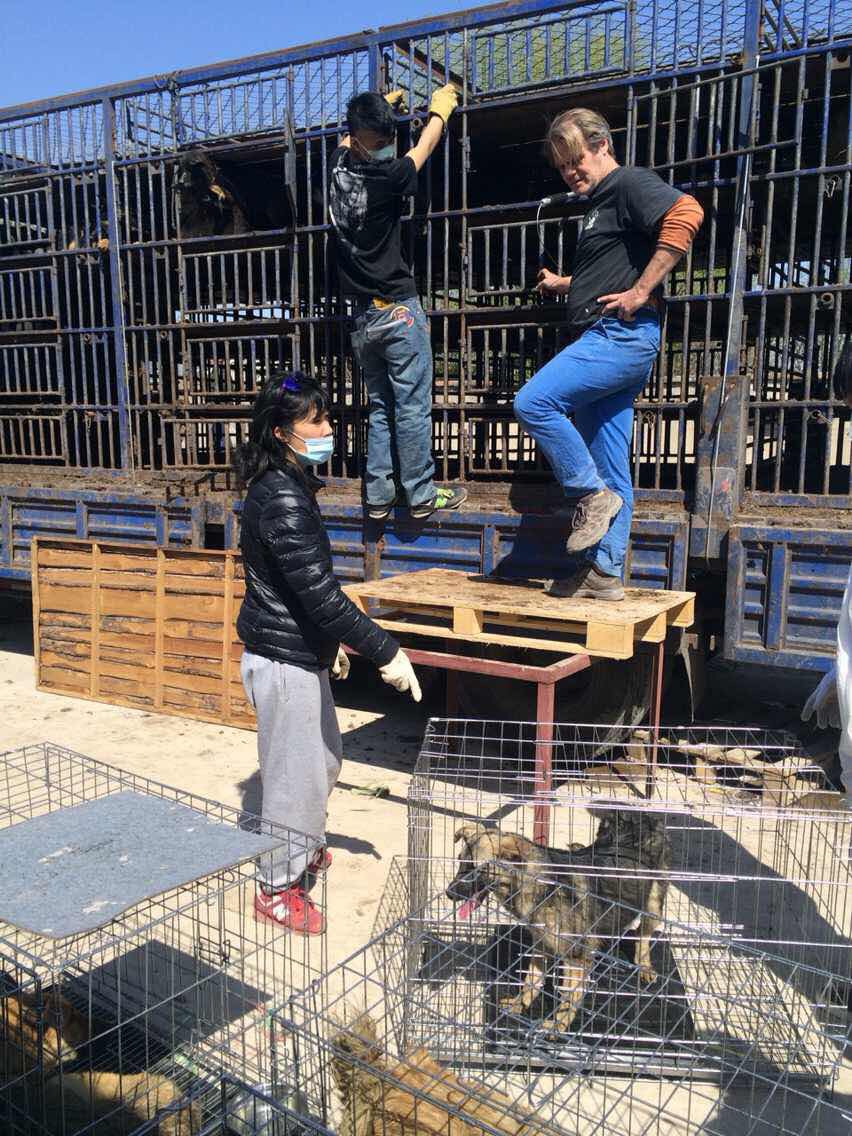 We Do the Hardest Rescues First

We have rescued groups of dogs from construction sites, the municipal dog pound and all manner of dangerous situations, including dogs trapped in underground drainage tunnels, on roads and highways, aggressive dogs, fearful construction site dogs, badly wounded dogs and difficult to catch dogs in harm's way.





We Keep Our Promise to the Animals

We are very responsible about each dog we rescue, and are widely known in China as an organization that takes care of each dog no matter how what it takes. We never leave dogs behind. We never give up. We are No-Kill, and give every dog a promise of adoption or lifelong sanctuary. We adopt within China and internationally.





We Now Need to Get Above Water Financially, so We Can Build a Stronger Organization

Since 2014, we took part in several rescues involves large numbers of dogs with distemper, other illnesses and serious injuries. As a result, our veterinary expenses grew quickly and we began carrying rather large outstanding bills, even as we were paying for new rescue costs.

How We Will Use Funds from This Fundraiser
With your help, we would like to use this fundraising drive specifically to pay off as much of our previous veterinary bills as possible, so we can focus on moving forward.

*** UPDATE 20180612: We have an URGENT NEED to repay approximately 31,000 USD for unpaid rent on Shelter 3 and Construction fees. If people are okay with this, we would like to expand the use of funds on this fundraiser to help cover those costs. We still have bills and new expenses in all departments, but these payments are extremly urgent. ****
We have large outstanding bills at: Dongxing Hospital - Main Branch, Dongxing Hospital - Fengtai, Beck and Stone - Shunyi, Quanxin Quanyi Veterinary Hospital - Beiyuan Branch, 
Dr. Zhang's Loutai Clinic and Chongfuxin (East-West Center/Huilongguan)



Christopher Barden is the founder and CEO of Little Adoption Shop, and all funds will be withdrawn by him, and any tax liabilities will be born solely by him. (We are not yet registered as a non-profit, so your donations are not tax-deductible, however, we are currently starting the process of registering as a non-profit in California.)

UPDATES:
Funds used from current fundraiser so far:

- 55,000 RMB to Beck and Stone Shunyi
July 16,2017.
- 13,000 RMB to Beck and Stone Shunyi
July 25, 2017
- 5000 RMB to Dongxing Fengtai
July 31, 2017
- 7,500 RMB to Beck and Stone Shunyi
August 2, 2017
- 6000 RMB to Beck and Stone Shunyi
August 15, 2017
- 5000 RMB Aug 21, 2017 to Beck and Stone Shunyi
- 2500 RMB Aug 21, 2017 to Beck and Stone Shunyi

SUBTOTAL:  94000 RMB (USD 14,022)

UPDATED PARTIAL LIST OF VETERINARY EXPENDITURES/VETERINARY DEBT PAID SINCE WE
STARTED FUNDRAISER (includes the 7 payments listed in previous update)

TOTAL: 
360,420 RMB (USD 56,262)

DATE
AMT IN RMB

20170716
55,000
BECK AND STONE SHUNYI
20170725
13,000
BECK AND STONE SHUNYI
20170731
5,000
DONGXING FENGTAI
2017/8/2
7,500
BECK AND STONE SHUNYI
2017/8/2
255
BECK AND STONE SHUNYI
2017/8/12
167
BECK AND STONE SHUNYI
2017/8/15
651
BECK AND STONE SHUNYI
2017/8/15
6,000
BECK AND STONE SHUNYI
2017/8/21
2,500
BECK AND STONE SHUNYI
2017/8/21
5,000
BECK AND STONE SHUNYI
2017/8/21
664
BECK AND STONE SHUNYI
2017/8/21
2,000
BECK AND STONE SHUNYI
2017/8/23
9,000
BECK AND STONE SHUNYI
2017/8/23
3,000
BECK AND STONE SHUNYI
2017/9/2
1,136
BECK AND STONE SHUNYI
2017/9/5
1,886
BECK AND STONE SHUNYI
2017/9/7
2,000
BECK AND STONE SHUNYI
2017/9/9
192
BECK AND STONE SHUNYI
2017/9/14
774
BECK AND STONE SHUNYI
2017/9/15
3,000
BECK AND STONE SHUNYI
2017/9/17
73
BECK AND STONE SHUNYI
2017/9/22
2,418
BECK AND STONE SHUNYI
2017/9/24
5,470
BECK AND STONE SHUNYI
2017/9/26
7,482
BECK AND STONE SHUNYI
2017/9/26
3,000
BECK AND STONE SHUNYI
2017/10/2
5,812
BECK AND STONE SHUNYI
2017/10/4
4,482
BECK AND STONE SHUNYI
2017/10/5
365
BECK AND STONE SHUNYI
2017/10/7
3,800
BECK AND STONE SHUNYI
2017/10/7
14
BECK AND STONE SHUNYI
2017/10/7
9,750
BECK AND STONE SHUNYI
2017/10/9
273
BECK AND STONE SHUNYI
2017/10/11
4,000
BECK AND STONE SHUNYI
2017/10/19
13,000
BECK AND STONE SHUNYI
2017/10/20
54
BECK AND STONE SHUNYI
2017/10/22
866
BECK AND STONE SHUNYI
2017/10/23
1,000
BECK AND STONE SHUNYI
2017/10/23
1,681
BECK AND STONE SHUNYI
2017/10/28
741
BECK AND STONE SHUNYI
2017/11/1
8,500
BECK AND STONE SHUNYI
2017/11/1
1,500
BECK AND STONE SHUNYI
2017/11/3
600
BECK AND STONE SHUNYI
2017/11/3
102
BECK AND STONE SHUNYI
2017/11/5
1,000
BECK AND STONE SHUNYI
2017/11/6
279
BECK AND STONE SHUNYI
2017/11/9
54
BECK AND STONE SHUNYI
2017/11/9
360
BECK AND STONE SHUNYI
2017/11/9
1,915
BECK AND STONE SHUNYI
2017/11/9
1,570
BECK AND STONE SHUNYI
2017/11/12
2,241
BECK AND STONE SHUNYI
2017/11/13
136
BECK AND STONE SHUNYI
2017/11/13
1,840
BECK AND STONE SHUNYI
2017/11/14
140
BECK AND STONE SHUNYI
2017/11/17
192
BECK AND STONE SHUNYI
2017/11/17
81
BECK AND STONE SHUNYI
2017/11/22
2,362
BECK AND STONE SHUNYI
2017/11/26
473
BECK AND STONE SHUNYI
2017/11/29
1,140
BECK AND STONE SHUNYI
2017/12/1
588
BECK AND STONE SHUNYI
2017/12/3
3,613
BECK AND STONE SHUNYI
2017/12/3
607
BECK AND STONE SHUNYI
2017/12/6
616
BECK AND STONE SHUNYI
2017/12/7
5,000
BECK AND STONE SHUNYI
2017/12/10
1,200
BECK AND STONE SHUNYI
2017/12/12
224
BECK AND STONE SHUNYI
2017/12/14
48
BECK AND STONE SHUNYI
2017/12/16
1,000
BECK AND STONE SHUNYI
2017/12/16
3,493
BECK AND STONE SHUNYI
2017/12/16
107
BECK AND STONE SHUNYI
2017/12/16
1,953
BECK AND STONE SHUNYI
2017/12/17
546
BECK AND STONE SHUNYI
2017/12/17
2,460
BECK AND STONE SHUNYI
2017/12/23
189
BECK AND STONE SHUNYI
2017/12/26
1,166
BECK AND STONE SHUNYI
2018/1/2
45,000
BECK AND STONE SHUNYI
2018/1/3
2,000
BECK AND STONE SHUNYI
2018/1/4
435
BECK AND STONE SHUNYI
2018/1/8
1,678
BECK AND STONE SHUNYI
2018/1/8
3,047
BECK AND STONE SHUNYI
2018/1/12
60,000
BECK AND STONE SHUNYI
2018/1/14
1,000
BECK AND STONE SHUNYI
2018/1/19
1,427
BECK AND STONE SHUNYI
2018/1/26
710
BECK AND STONE SHUNYI
2018/3/11
385
BECK AND STONE SHUNYI
2018/3/11
219
BECK AND STONE SHUNYI
2018/3/23
875
BECK AND STONE SHUNYI
2018/3/27
1,893
BECK AND STONE SHUNYI
2018/4/1
428
BECK AND STONE SHUNYI
2018/4/3
110
BECK AND STONE SHUNYI
2018/4/7
110
BECK AND STONE SHUNYI
2018/4/17
4,368
BECK AND STONE SHUNYI
2018/4/28
663
BECK AND STONE SHUNYI
2018/5/3
385
BECK AND STONE SHUNYI
2018/5/3
5,000
BECK AND STONE SHUNYI
2018/5/16
385
BECK AND STONE SHUNYI






RMB SUBTOTAL
360,420


USD EQUIV
56,262
(at exchange rate on 20180613)





Organizer
Christopher Barden
Organizer
San Mateo, CA