Help Ari Develop LionBot! Let's Promote Education!
September 2021: We did it! The bot was rewritten with the help of an amazing developer, new features were added, and most importantly: the bot is now PUBLIC and any community can add it. As soon as we released the bot to the public, close to 200  communities added it! The bot reached 60,000 students in less than a week, helping students from all over the world to study better and become more accountable. 

NEXT STEPS: We are increasing the goal from 750 to 3500 and we have a list of goals and dreams we want to reach
- Creating a visual user interface for the bot (check the picture below!)
- Creating a website synced with the bot
- Adding many more core features to the bot: Pomodoro timers, automated homework corner, achievements, server goals, study streak, new stats system, student profile cards and so much more! 

Here is a sneak-peak of the future User Interface we are already working on.

All donors who will help us reach our goal will get a special, limited edition color for their future user interface cards, which no one will be able to get after reaching the goal.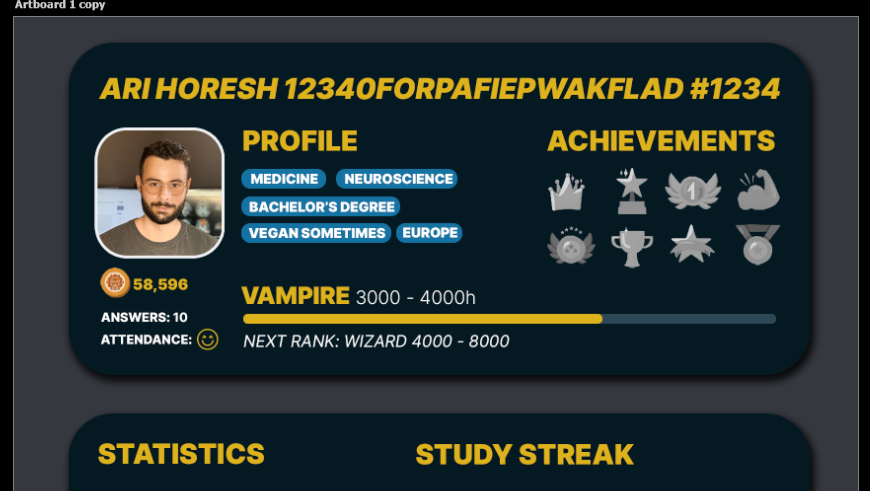 Education Is a Right, Not a Privilege

Thank you for supporting my projects and dreams,

Ari.

Fundraising team: The Study Lions (6)
Ari Horesh 
Organizer
Raised €540 from 17 donations
Pavia, Province of Pavia
Izabella Kis 
Team member
Raised €35 from 5 donations
Bilge Karakoccedil; 
Team member
Raised €5 from 1 donation
See all