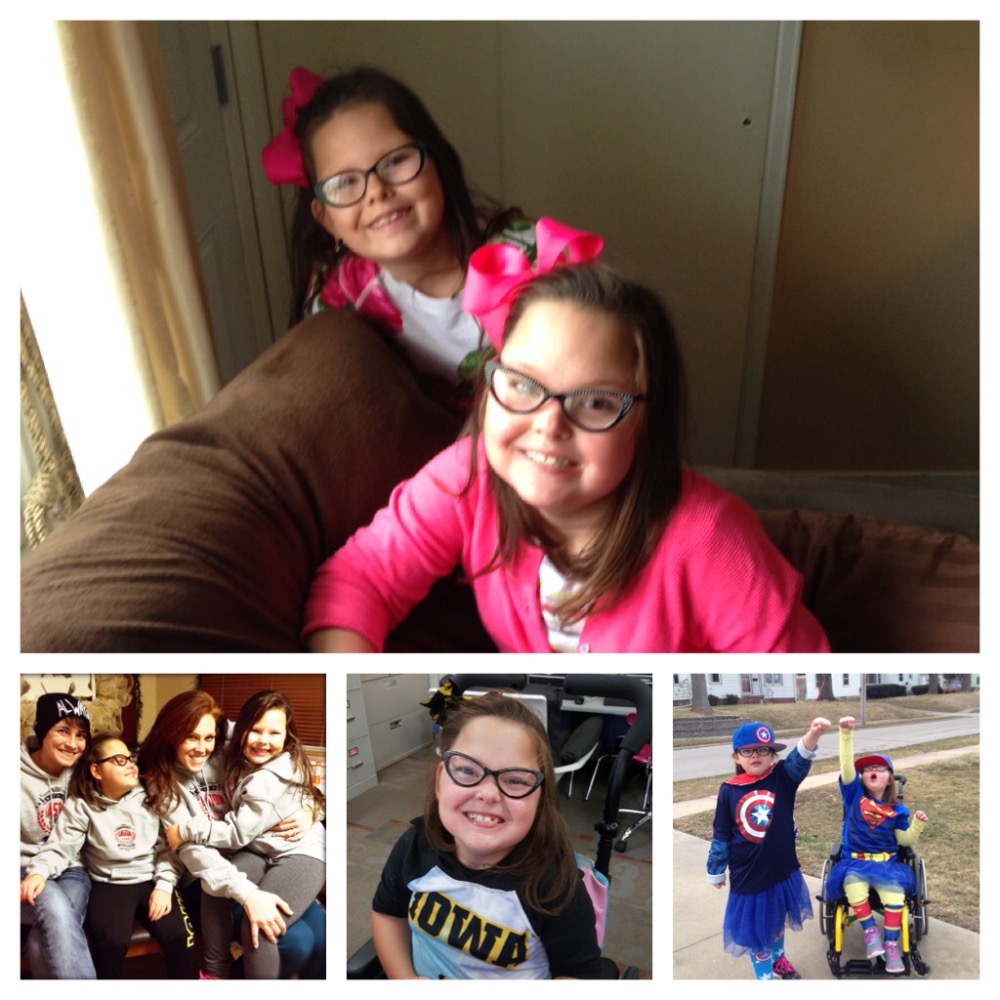 Every once and while we stumble across situations that touch us, the other day I read a post on a team members Facebook page about a little girl needing help to buy a very special and very expensive bike. In talking to my wife about it, and to my surprise, I found out that this girl and her family were actually clients of our salon (Bombshell Bettys Salon in Des Moines). My wife begain to tell me stories about how this little girl's family brings her into the salon with her sister and carries her from the styling chair to the shampoo bowl and back so that she can have that quintessential "salon" experience that almost every young girl loves. Needless to say we were moved and together with several of the staff at Bombshell Bettys we decided we wanted to use our business and our network to help raise money to pay for Lily's bike.
We asked her parents to write a bio so you could meet Lily who more than anything wants to be just like any other kid, this is what they wrote:
On first meeting Lily you would never know that she has overcome more in her meager 7 years than most of us face in a lifetime. Born 4 months early and not even weighing a pound, Lily was given less than a 20% chance of ever leaving the NICU, where she spent the first 6 months of her life, let alone ever walking, talking, or laughing. Seven amazing and miraculous years later, far from living in the vegetative state predicted by the doctors, Lily is for all intents and purposes just like any other kid. She has undergone more than 40 surgeries and has to contend with many medical afflictions due to the circumstances of her birth, but Triplegic Cerebral Palsy, Epilepsy, Hydrocephalus, Scoliosis, Developmental Delay, and the wheelchair that she has to rely on to get around do not define this little girl! Lily is the most joyful, sweet, and fiercely determined little girl you could ever meet! She loves music and spending time with her family, she's brilliant when it comes to knock knock jokes, and has a refined grasp of sarcasm that is well beyond her years! Lily struggles to do every day things that most take for granted, but rather than complain she just keeps working - living up to her motto, "Don't Back Up! Don't Back Down!" Just like any other kid her age, including her sister, Lily wants to ride a bike! Not only would a bike do wonders for her self-esteem by providing a means of socialization and a freedom she has never experienced, but the special adaptive bike that you are so graciously helping provide for Lily will change her life. Complications of Cerebral Palsy have left Lily wheelchair bound. She is able to walk with a gait trainer and two person assistance, but she can only go a very short distance and even just a few steps causes her a great amount of pain. An adaptive bike will allow Lily to use those muscles without pain while also providing a sense of security by taking away any risk of falling. Being able to use and stretch those muscles in a pain free way will help her to combat the complications of her Cerebral Palsy, strengthening her muscles, and be the key to her ditching that wheelchair forever. Most importantly to Lily though, with this bike she'll be just like any other kid!
For every donation over $5 you receive an invite to our "End of Campaign" Soriee for Lily where we will have free food, drinks and will even be doing a live auction and drawings to win a product package worth $300 from Cosmoprof, or a $250 gift certificate from Bombshell Bettys Salon, or one of two $150 product packs from Goldwell, for $20 we will reward you with a free in-salon Goldwell Kerasilk Conditioning Treatment (plus the drawing entry), if you donate $40 or more we will reward your kindness by performing a free Blow-Out (plus drawing entry). 100% of your donation goes directly to Lilly's family, and can only be withdrawn by Terra &Sara Frank who are Lily's mothers, minus any fees gofundme charges. The actual cost of the bike is approx $7000
Feel free to call the salon with any questions.