www.lildevilslounge.com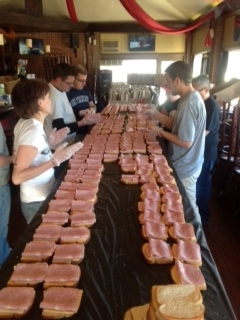 Community.
Two years ago, the doors to Li'l Devils Lounge swept open for the first time. The opening of the doors symbolized all that we envision for this neighborhood bar in the historic Baker District in SOBO. We wanted to create an inviting, friendly venue in which people from our diverse community feel welcome and at home. 
 Ironically, the building that houses Li'l Devils originally was built as a turn-about station for trolleys on the Denver Tramway line. As is always the case with start-up small businesses, including in the highly competitive bar and nightclub industry, Li'l Devils has reached its own turn-about.
 Some of you know the efforts the crew at Li'l Devils, together with volunteers, undertook to turn what was a dreary spot into the inviting venue serving the social, networking and charitable needs of the community.  Built in 1913, and not always well-maintained, we spent over four months remodeling the building to bring Li'l Devils to life. We created an asset, not only for the gay community, but for people from all walks of life. We literally designed one of the brilliant gems in the up and coming SOBO – South Broadway – art, entertainment and business district. This includes one of the most highly acclaimed patios at any Denver venue – complete with an incomparable Caribbean feel. 
 Thanks to the commitment of our sterling staff, together with fine beverages – including local craft brews – Li'l Devils is the social destination of choice for a significant swath of not only men and women in the neighborhood but people from across the metro area. As has been the case of some establishments that serve an LGBT clientele over the course of the past 50 years, Li'l Devils is much more than a place to obtain a well-made beverage and to socialize with friends, who oftentimes become family.
 Overseeing the creation and development of Li'l Devils, as a social and community focal point, are Tony Fleith and Justin McConnell. Tony brings 25 years in the nightclub and bar industry to his untiring efforts on behalf of the community at Li'l Devils. In addition to designing and maintaining a venue at which patrons feel comfortable and relaxed – at home – they created a business that takes an unflagging leadership and service role in the community at a large.
 Throughout the course of any given month, a variety of important charitable organizations rely on our stylish venue for events and activities. Examples of these groups include:
·         Feeding Denver's Hungry, an organization that relies on the Li'l Devils space and many volunteers to pack lunches for 2.400 homeless men, women and children annually. 
·         Medical Wings staged its annual fundraiser at Li'l Devils and raised money to fully fund a dental station to care for over 2,000 children in Central America. We were recognized for this effort by receiving a Medical Wings Angel Award in 2014.
·         My Fairy Dawg Mother raised money to ensure that our furry best friends find loving homes. 
·         Remembering our heritage in the LGBT community, Li'l Devils helped facilitate the National HIV Behavioral Survey, a study done every three years for the Colorado Aids Project.
·         Li'l Devils has held fundraising events and activities for a range of other organizations like Wounded Warriors, Operation Gratitude and many others.
 As mentioned, we have reached what might best be described as a turn-about in our existence as a venue that entertains and assists people in the community. We want to continue our broader efforts to serve our friends and neighbors not only by providing a comfortable and attractive place to socialize but through support of not-for-profit endeavors as well.
 In order to continue to achieve these important goals, we need the support of the community in a number of ways, including financially. Through this special GoFundMe campaign, we ask you to contribute to the efforts of Li'l Devils in providing a true community center that connects people in a number of different, important ways. A contribution of any amount is sincerely appreciated.  For every $500 contribution, you will receive two tickets to our special private VIP celebration.  Experience the ultimate Cat's Meow Roaring 20's, Speak Easy event in spring 2015. We will take you back to the prohibition days when the Charleston, flappers and fedoras were popular. An evening of live entertainment, great food and an atmosphere Al Capone would  "die" for.
Become the first supporter
Your donation matters
Organizer
Tony Fleith
Organizer
Western Hills, CO