Life Saving Donations to Save Pups!
First of all, thank you for being on this page and reading the story of our precious rescues. 
 Please help us help these sweet babies.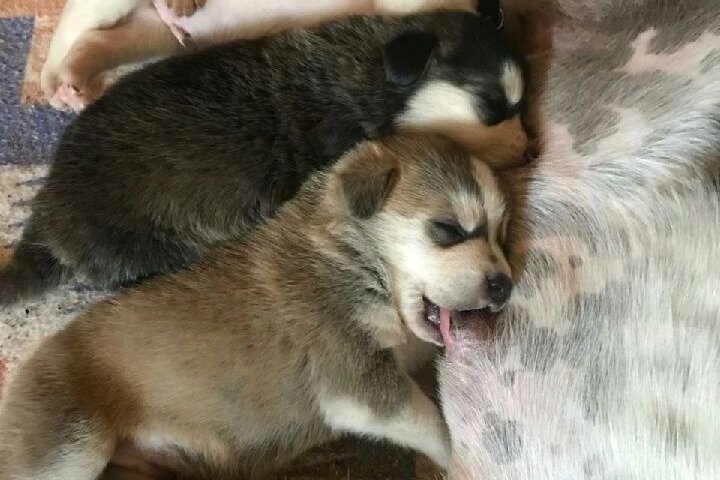 My sister, Tammy, and I have taken on the task of caring for 20 newborn puppies and 2 surviving momma dogs.  They all came from a terrible "home" that was basically the grounds for animal hoarding. There were many many many dogs, all of which were not cared for and left to fend  for themselves.  They were un-vetted, not spayed and having litter after litter, un-neutered males attacking the others, severely malnourished, covered in parasites, filled with intestinal worms, multiple wounds on puppies and momma's, and scared of everything.  On this property were some dead puppy carcasses and at least 1 momma dog had died.  And the fed up neighbors were steadily shooting any of the dogs that crossed over from this property.
So, this large number of puppies comes from about 4 different litters and these two momma dogs,
Penny & Abigail
, have graciously cared for them all as best they can.  Abigail especially has even done an amazing job defending them against wild animal attacks that were trying to eat their puppies.  We didn't get much notice of this group coming to us, so we converted a horse stall into a "puppy nursery".  This allows the mommas to have room to spread out, but also stick close to their brood and each other since they are besties. 
Since Penny & Abigail were very malnourished upon arrival, neither of them were producing enough milk to fully care for the puppies.  To help these sweet momma's with this huge task, we have been bottle feeding them all to supplement their needs. All the puppies and both mommas had wounds of one kind or another of varying severity's. For instance almost all the puppies had burns on the pads of their little feet, most likely from being in filthy conditions with concentrated amounts of urine burning these delicate pads. Momma Abigail had many wounds, one of which was half of her ear ripped off.  But she's still beautiful I think!
They all had some kind of skin issue due to the lack of nourishment too, the momma's bellies were dry, scaly, rough, and scabby.  We are
VERY
happy to be able to report that in the few weeks we have cared for them, they are all healed now!!! (now is the task of getting the 2 mommas up to proper healthy weights and fully vetted) Well, all but 1, sweet little bitty
Mira
(short for miracle if she survives)
Mira
came to us in such bad shape we just knew she wouldn't make it, but we had to do all we could to at least give her a fighting chance.  According to her vet, he believes the terrible infection that ate away much of the flesh on the back end of her little body came from a wound she suffered within 24 hours of her birth.  He described this type of infection as what came from a scratch or bite, and when it happened the infection was introduced under her skin and grew from there.  It ate away under the skin where it was almost undetectable, and then after the damage was done the top layer would die away and peel off, revealing the horrible damage underneath. 
IT WAS ABSOLUTELY HEARTBREAKING!
  Long story short, he confirmed everything we had been doing for her was right and she would have died without the care, along with the other puppy carcasses left behind. 
These innocent little lives are helpless and had an very rough start to their little lives, they still need alot of care.  Unfortunately, that care comes with cost, and with 20 puppies and 2 momma's that cost is more than we can handle alone.  (on top of our regular animals and 2 previously rescued dogs that were found heartlessly dumped out here that we haven't gotten adopted yet)
PLEASE HELP US SAVE THESE PRECIOUS LIVES!
They deserve a chance at life.
Penny now realizes she doesn't have to hide & cower, or shake from fear anymore!
These precious eyes are full of gratitude for being rescued.
We are not asking for much, just help in covering their vet expenses, LOTS of food, puppy formula, de-wormer medicines, and other materials used in getting them all healthy.
They are all up for adoption too, and can leave to their forever homes once they are fully weaned and healthy.  We have calculated "expected expenses" that we have already paid for and need to pay for in the near future and came up with the 'GOAL" amount.  
Tammy and I seriously appreciate any size donation you can make.  Every little bit helps a little life!!
We will post updates!!!!!

Organizer and beneficiary
#1 fundraising platform

More people start fundraisers on GoFundMe than on any other platform. Learn more

GoFundMe Guarantee

In the rare case something isn't right, we will work with you to determine if misuse occurred. Learn more

Expert advice, 24/7

Contact us with your questions and we'll answer, day or night. Learn more