Support the Liberia Marathon
The Race Continues... but only with your support.
The Liberia Marathon needs your help to continue to happen.
"It was one of the best days of my life by reaching the finish line."
(Frank, finisher 10k in 2021)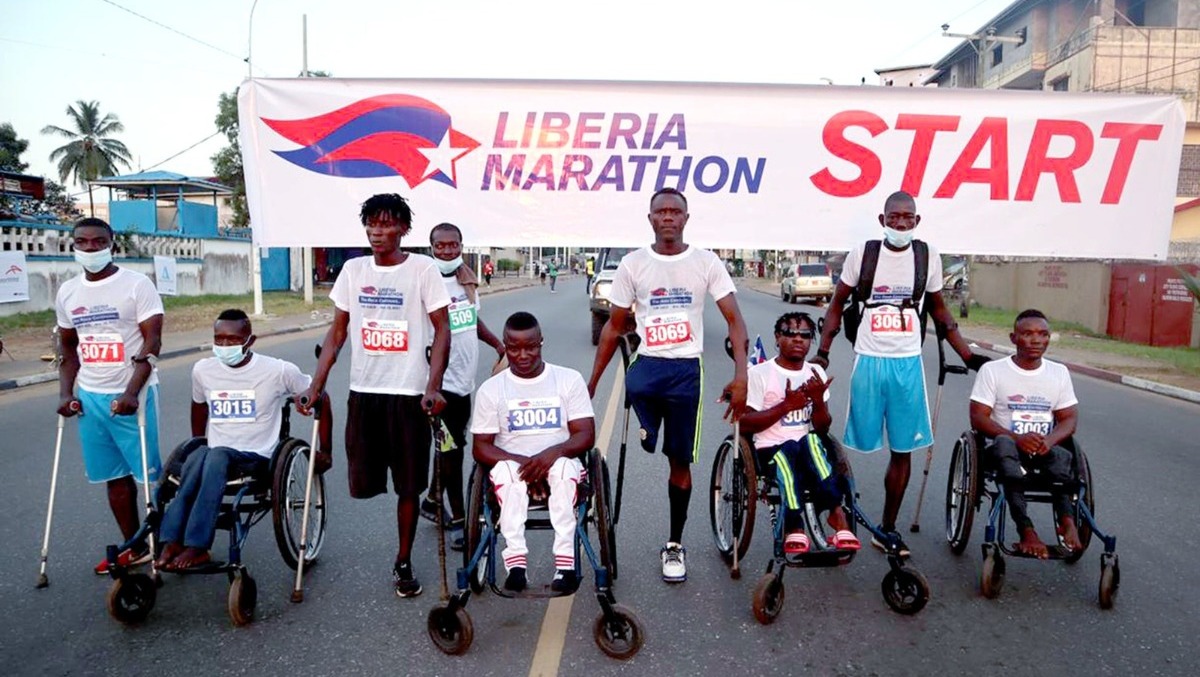 What is the Liberia Marathon?
The Liberia Marathon is an inclusive, uplifting public event started in 2011 to celebrate Liberia's developing success story. The event includes a full marathon, a half marathon, a 10K foot race and a 10k race for persons on wheelchairs or crutches. Created for Liberians of all genders, ages and status, it is the ONLY marathon race in Liberia, West Africa and the only official public long-distance event. 
The next Liberia Marathon is scheduled for summer 2023 and we expect a record number of runners to participate. However, to keep the race affordable for all, we set the entry fee below 5 USD. This is not enough to cover the costs of the event. That's why we need your support to make this race happen! 
Why is it so important?
It only takes one race to make a difference for thousands. 
Sports can have a huge positive impact on the physical and mental health of people and societies, creating a strong sense of belonging, promoting mutual respect and boosting self-confidence.
But, access to sports is not always a given. 
While athletes in developed nations have easier access to sport clubs and events, many in Liberia do not. Liberia is still ranked as one of the poorest and least developed countries in the world, and access to large-scale public sports events is highly limited.
That's why the Liberia Marathon matters.
The Liberia Marathon offers this rare access. This event is the only opportunity for Liberian elite runners to compete in a long-distance race at international standard. It is also the only chance for thousands of Liberian amateur and fun runners to experience the joy of long-distance running together.
Each donation will be rewarded with a special thank you from the Liberia Marathon. You can also support the race by visiting
our Webshop
 . For any questions, please contact us here, via
our website
or
Facebook
 .
To learn what we're all about, check out this amazing footage from our amazing race day in August 2022:
Why do we need the money?
Organizing a quality and safe running event in Liberia is expensive and requires an average expense of 40 USD per participant. This might sound high, but it's actually below the average cost for a race of this standard in other parts of the world. 
However, in line with our mission to keep the race accessible for all, we have set the registration fee for Liberians to below 5 USD. Our revenues from registration will be hence limited. External support is necessary to compensate the funding gap.
Corporate partners support us to lay the foundation for the race, but it will be YOU to make it possible that EVERYONE can run. Every Dollar, every Euro assures that more athletes can cross the finish line.
"It wasn't easy. I never imagined myself engaging into such sporting activity. But I did it and it's a motivation that anything is possible!" (Malema, female finisher 10k in 2021)

"I ran 21k. It was a great feat for me, an amateur. I was very proud of myself when I completed. […] This was my second marathon. I look forward to partaking in the next one" - Maima, female finisher Half Marathon in 2022)
What will the money pay for?
The entire money goes directly in the organisation of a safe and quality race event.
Each runner cost us about 40 USD in average. This per capita expense per runner is composed of costs for (a share of) water provision, course and post-race refreshment and snacks, road security logistics, medical supervision and treatment on-site, volunteers compensation and food, fliers, stickers, banners, signage, start and finishing arches, runner and volunteer t-shirts, medals, race numbers, electronic chip timing, prize money, trophies, porta-potties, sanitation equipment, stationery, vehicle rental, fuel expenses, aid stations, transportation for runners and volunteers, waste management costs, security at start and finish, pre-race medical check-ups, registration drives, weekly training offer, communication for team members, social media marketing, radio and newspaper and general printing costs.
The entire organizing team works voluntarily and is committing all their time and energy at no cost. We love this dedication - it is really a race from Liberians for Liberians. 
*Juliane Weymann is a board member of the Liberia Marathon Trust and has been involved with the race since 2012. Any USD/EUR raised (minus small fees to be paid to GoFundMe) goes directly into organisation of the Liberia Marathon 2023. Any surplus funds will be saved for next year's event.