LGBTQ+ PRIDE for the Holidays
Purpose
The holidays are supposed to be a time when family members unite and celebrate together… but for some who feel rejected or cannot be out, it can be a time of loneliness and heartache. We've made progress as a society to support LGBTQ+ people (youth and adults). But many continue to experience rejection, discrimination, heartache, and hear messages of hate. 
Some people are able to be out, but others cannot come out because they are not ready or do not feel safe. Some may even have to go back into hiding when they go home for the holidays.
I know many of you want to lend an extra helping hand this holiday season, but aren't sure how. That's where this campaign comes in.
Together we can raise money to send free copies of the LGBTQ+ affirmative PRIDE Coloring Book to any person who is struggling during this time of the year. 
Many people don't have the financial means or cannot risk online purchases of LGBTQ+ affirming material. Yet, these are the ones who need messages of love, inspiration, and hope the most - especially during the Holiday Season. 
We want them to know they are not alone. 
We want to do everything we can to bring messages of hope and inspiration to those who are struggling. We want the LGBTQ+ community to realize there are many people who love and support them. And even though a coloring book may not change their circumstances during the holidays, the book's love and affirmations can let them know they are in our hearts and minds.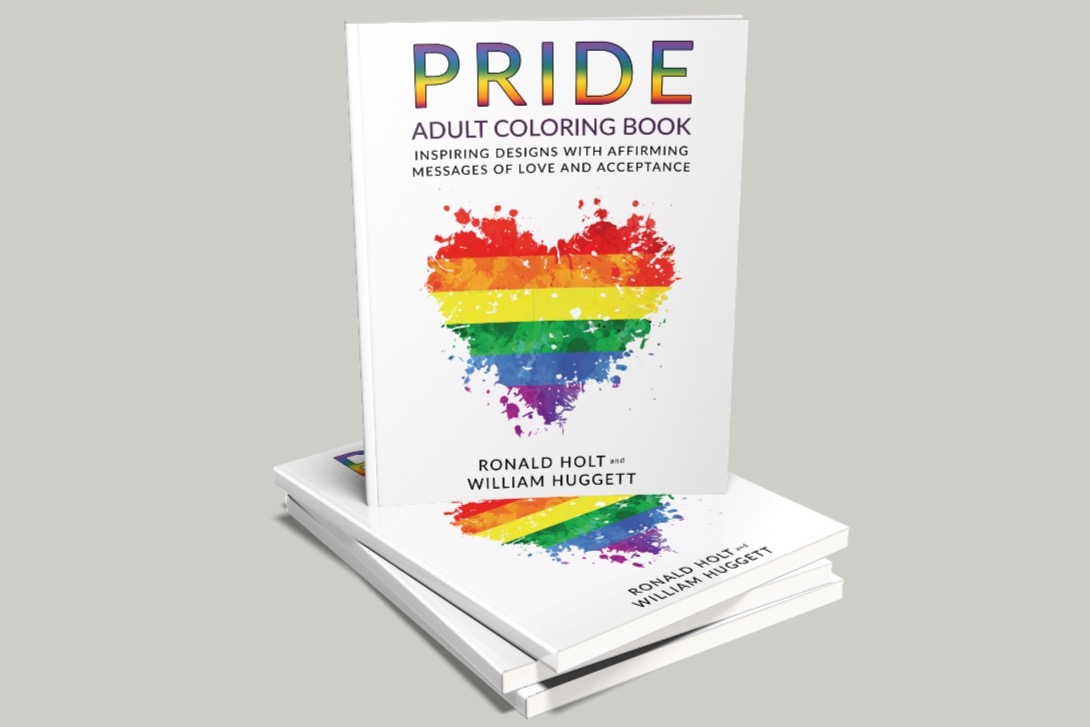 The Inspiration
My name is Ron Holt. I am a gay man and a psychiatrist. Along with my husband, we've created coloring books that provide messages of love and affirmation for LGBTQ+ people. 
When I was young, I struggled tremendously with accepting my sexuality. Being raised by a homophobic father made it very difficult to love and accept myself. I came out to my father during the holidays when I was a first year medical student. Coming out to my father was so excruciating that my then-partner and I were forced into physical hiding. I will never forget how alone and rejected we felt. If only there could have been someone or something to show us unconditional love and acceptance. 
In January 2018, I was invited to be in the audience of Ellen's 60th birthday show. She invited people who had participated in her "Million Acts of Kindness" campaign. 
If you know Ellen, then you know she is a generous person. On her birthday, she gave everyone in the audience an equal amount of prize money. And when she announced the gift, she suggested we "pay it forward."
This is how I came up with the idea of the coloring book giveaway. I know that, even today, there are countless LGBTQ+ people who are still struggling with self-love and acceptance. There are still many who cannot be themselves when they go home for the holidays and some who aren't even welcome home at all… just because of who they are. I may not be able to change their circumstances, but with your help, we can let them know that we love and care for them through a coloring book full of love and affirmation. 
We can all agree with what Ellen said on her show Nov 19th: "For all the people out there that are not accepted by their family, you are loved by so many people. And we love you for who you are exactly. So know that. And anybody struggling out there, just be proud of who you are." 
The Need
As the holidays approach, I am receiving many requests for the coloring book from LGBTQ+ people across the US and Canada.  Unfortunately, many don't have the means to purchase these books and many don't have independent resources. They have contacted me because they would like to have the book as a resource for the times they are alone or feel isolated during the holidays.
The Cost
Each book costs about $6, which includes tax and shipping.  I am donating my time to make this campaign a success. All money raised will go directly to providing coloring books to those who need them most. We will post updates to this site so you can see the progress we make together.
How You Can Help
There are two ways you can help. 
1.  Donate to this campaign.
2.  Spread the word about this campaign through word of mouth, social media, and/or your contacts.
Any size donation is appreciated
. Everyone who donates will receive a personalized thank you note from me via the GoFundMe platform.
To entice donors who live in the US or Canada, I am throwing in some reward levels: 
$100+ donations get a mailed copy of my book PRIDE: You Can't Heal If You're Hiding From Yourself.
$250+ donations get a mailed copy of both my book PRIDE and the companion PRIDE coloring book.
$500+ donations get mailed copies of all six of my books.
I will pay for these rewards out of my own pocket, so 100% of your donation goes towards buying and shipping books to those in need.
Our goal is to get as many of these books as possible into the hands of those who want them, regardless of their financial means.
Due to the limitations of distribution, we are not able to ship books to other countries outside of the USA and Canada. You can, however, download a free pdf of the coloring book by scrolling to the bottom of this
page.
  This is our gift to you for helping us with this campaign.
Partnering With You
Together we can provide these coloring books to as many  LGBTQ+ people as possible. And we will do this regardless of their ability to pay.  
We will be raising money through December 20, 2019. This will allow time to get the coloring books into the hands of those who need them before December 24. We will start fulfilling requests for books the week of December 9.
Thank You
Thank you for your dedication to helping. No words can express how grateful I am for your efforts in making this campaign a success.  Whether you donate money or spread the word, I am grateful to you from the bottom of my heart. 
Together we can make this campaign a great one and deliver coloring books to all the people who need them. LGBTQ+ people need our help now more than ever.  
Together, we WILL make a difference in their lives!
Donations

Organizer
Ronald Holt 
Organizer
San Francisco, CA
#1 fundraising platform

People have raised more money on GoFundMe than anywhere else. Learn more

GoFundMe Guarantee

In the rare case that something isn't right, we will refund your donation. Learn more

Expert advice, 24/7

Contact us with your questions and we'll answer, day or night. Learn more