Hi fellow cat lovers/owners and friends,
PLEASE read the following:

This is Lucky, my baby boy. He is three years old, very patient, loves to play but is currently hurting and in need of your helping hand! 



Lucky has had bloody stool, occasional diarrhea, and been vomiting bile and food, for the last couple weeks and has not been himself for the last few months. Regrettably, I have not taken him to the hospital to receive the proper care or medication he desperately needs because I just do not have the means.  Even when I was able to save some money up, I had to invest every dollar in rent, phone bills, electricity bills, car insurance bills, etc. and now I am filled with guilt and anxiety because I know that I have put this off for so long and he has not been getting any better.
However, I did go in for a wellness exam back in July and the most recent one last weekend and the veterinarian had simply told me that they would need to run a few tests on him to see exactly what the underlying issue is. It's almost impossible to tell from the outside. It could be anything from constipation to colitis or IBD (Inflammatory Bowel Disease). I am so afraid that it could be parasites or maybe even worse.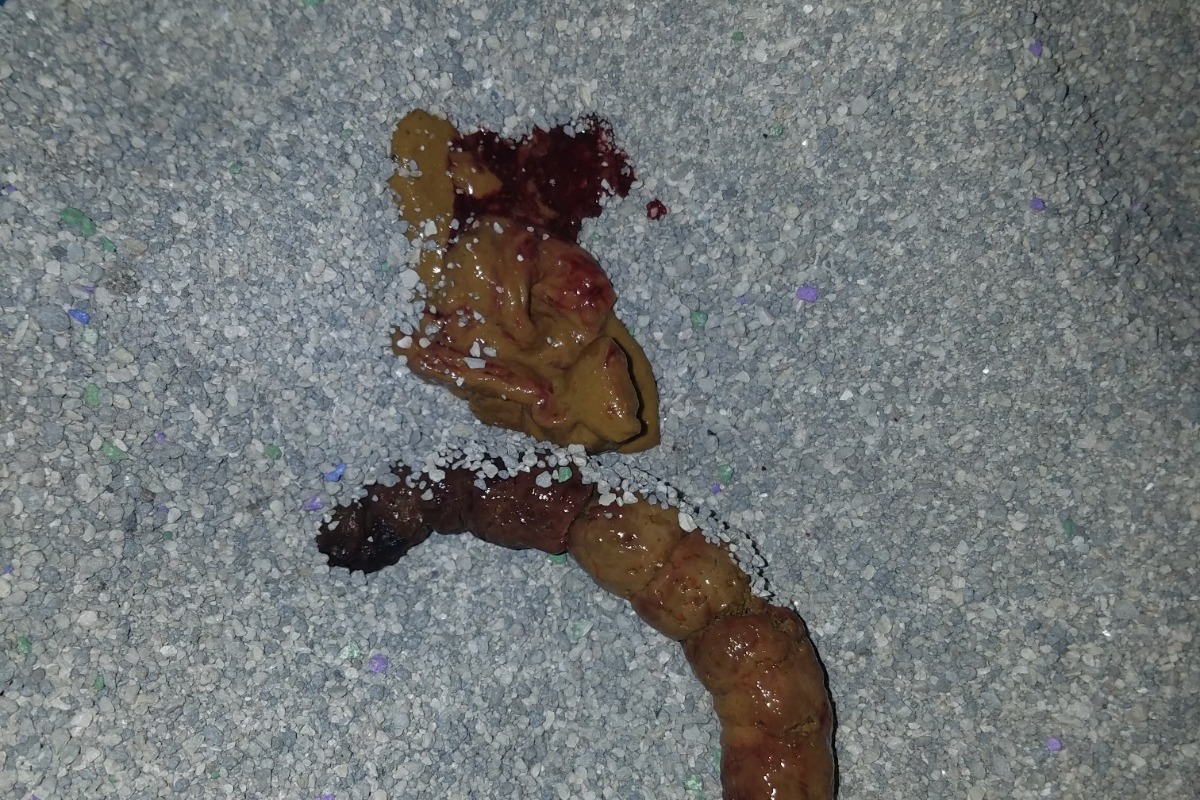 (I'm sorry for the disturbing stool photo!)
I feel like the worst person ever but I also knew that I still had ways to provide for him so that's why after much contemplation, I decided to ask the gofundme community. It breaks my family's heart to see him in this state.  Please consider donating and help be a part of Lucky's healing process!!
(Here are some pictures of Lucky to show you all just how handsome and adorable he is.)







This post/fundraising is meant for Lucky but something in me wanted to go ahead and tell you guys a little bit about my Honey! (This was taken right after we saved her and got into the car!)

She was a stray that my sister and I ended up rescuing from the streets in July and this precious thing was only about 3-4 weeks old.  It took almost an hour of chasing her around a Chase bank parking lot because she kept running in and out of bushes, onto the street, underneath cars, just completely everywhere! But by God's grace, a lovely woman/friend named Wendy had some cat food in the back of her car so we were able to get her close enough to us and grabbed her quick but gently. My sister and I knew we couldn't take her in so we tried to get in touch with the local shelters and rescues immediately but all the people I've spoken with actually encouraged me to either find someplace else or raise her myself because they were overwhelmed with thousands of mom cats and kittens already and were euthanizing on the daily.  So after much debate and discussion, my family decided to keep her. Honey received her first set of vaccinations last month but she still has to get shots for upper respiratory infections, rabies, feline leukemia, rhinotracheitis, calcivirus, and panleukopenia & in about two to three months, she will need to be spayed. Unfortunately, she is extremely overdue for her checkups and fecal exam, blood tests, and necessary shots aforementioned. We also think she's dealing with ear mites or fleas as we recently found out she has hair loss on her ears along with her constantly shaking and rubbing her head and the foul scent that we smell time to time. She has to be seen by a vet as well but we haven't been able to do that for her either. 



Honey is sleeping on our other cat, her second older brother, Mocha! (He's full of energy, mischievous, and so lovable and most importantly, healthy so we're so thankful for that!) I hope you guys don't mind me sharing a few more pictures. Haha




Every day, my sisters and I ask ourselves if it's better for Honey to be taken to a shelter and hope that she gets adopted or to raise her despite not being able to be the perfect home for her. So please, please, please, donate to our cause because we want NOTHING more than for our cats to be in the best state, happy and healthy. *If you are unable to donate, please consider sharing this story or lifting up a prayer for Lucky, Honey and my family. Every share, every prayer, every one, every thought counts!!!

(Lucky, Mocha, Honey)

Thank you so very much for taking the time to read this and again I hope you find it in your heart to share this or make a small contribution! God bless.
Donations

Organizer
#1 fundraising platform

More people start fundraisers on GoFundMe than on any other platform. Learn more

GoFundMe Guarantee

In the rare case something isn't right, we will work with you to determine if misuse occurred. Learn more

Expert advice, 24/7

Contact us with your questions and we'll answer, day or night. Learn more