HELP JERRY DESVOIGNES RETURN TO HEALTH
HELP JERRY DESVOIGNES RETURN TO HEALTH
WE ALL KNOW JERRY but we don't all know each other. Such is the over-arching influence Jerry has had in Vancouver over the past forty years. We know him from concerts, chanting sessions, satsangs, Solstice Celebrations, labyrinth walks. I am quite new to Vancouver but whenever I mention Jerry someone always says: I know Jerry, .......
I believe we have all been touched by his music and his optimistic and determined personality. His soaring voice captivates whether singing a Beatles song or a sacred chant.
Many of us know that Jerry suffered serious brain damage from a series of accidents in the 1980's. Despite these traumas he has managed to carry on performing, writing music, and teaching chant and throat singing.
"Baba Hari Dass always told me to "sing for God and Divine Energy will help you!"
So through several illnesses I realized more and more that in fact that was true! Much more fun to be Singing from that place than singing to impress people!!"
For many years Jerry's health has been precarious and in the past few years he has suffered devastating crises where he is unable to eat, loses weight, and can't maintain his music which is not only his soul calling but his bread and butter. The medical establishment has been unable to diagnose or treat this condition which shuts down his digestion and attacks his muscles. Treatments from holistic practitioners have literally kept Jerry alive.
In the past, concerned friends have helped cover costs for these treatments, and they have helped—make no mistake about that.
WHAT'S NEEDED NOW is an over-arching plan for treatment and recovery, and the funding to accomplish it. In one of those vicious circles illness leads to lack of employment which leads to further illness. We hope to break the circle and help Jerry set a new course.
Please read this account in Jerry's own words, I have done only minor editing. It's a sad story of accident, the failure of I.C.B.C. to live up to its obligations, and the short-comings of our medical system when dealing with brain injuries. It's also a story of determination, hope and creativity and an enormous amount of personal will on Jerry's part in coping with life's challenges.
JERRY'S STORY
In the 1980s I was struck four separate times by cars. Two times in my car. Once on my bicycle and once walking as a pedestrian.
The two in my car were severe, I suffered whiplash and nearly paraplegic spine injuries. My neck in both those accidents was pretty bad and I had therapies for several months each time. In 1986 I was struck on my bicycle. Aside from having physical injuries I also had a brain injury - closed head injury as they used to call them. I was not myself after that. I struggled daily with simple reasoning and chores, identity issues, dizziness, slight memory loss and confusion.
In 1988 I was knocked down in a crosswalk as a pedestrian while walking across on the green-light. A car came from the wrong direction and knocked me into the air. That last accident created a more severe brain injury and trauma which included severe physical pain, neck issues and spine issues that went on for years. This brain injury was more severe and complex. I found myself with short term memory loss. I couldn't recognize friends or confused friends with each other. I didn't remember what happened half an hour earlier, that kind of thing.
I had an identity crisis where I wasn't sure who I was, my past was vague, and my childhood seemed to be someone else's. Almost like a movie that wasn't related to me. Headaches were sometimes severe, and were constant for those 5 to 7 years. I battled with suicidal thoughts, which apparently is common with severe brain trauma. I often could not finish thoughts or sentences, could not link words and thoughts together. If I were going somewhere I was always lost, I would get confused and I had no sense of direction. Panic set in. I felt odd and separate from people and separate from myself.
All the while I battled daily and weekly with ICBC and bad lawyers. I never got support or help, never got any of the services that I was supposed to get so essentially I was on my own. I often couldn't remember how to write or spell my name. Shock and fear was daily and intense but I tried to hide that from people and act as if I was normal. Whatever that is?
Eventually I was diagnosed with trauma to the left frontal lobe. I could remember words to songs from the past but found it difficult to learn new things because nothing would stick and if I had learned it, 10 minutes later it was gone. I could no longer walk properly so I had to retrain myself through Pilates and other techniques learned from a brain trauma specialist to regain function of my body and try to re-organize my brain.
The good news is that I had been doing lots and lots of yoga and meditation and breathing pranayama exercises since the late 70s so my body was very strong. I also have a very strong will. I had discovered the use of sounding with vocal harmonics (overtone singing or throat singing). Working with those subtle frequencies started to have a profound effect on my brain and psyche. After a year or two I was beginning to put sentences back together and connecting to thoughts and impulses. I was able to complete sentences and ideas while speaking to people. All the while battling unsuccessfully with ICBC.
I began the MantraVani Orchestra and Chanting In The Round about that time. To be honest though, I often forgot what I was doing but I worked so hard to try to be centred and tried not to let people see what was really happening with me. I lost friends. I was accused of being to blame for those cars hitting me. Why did I create that for myself, etc.?
So I battled mightily to heal myself, to recognize myself. I suffered for at least a year early on such an intense loss of identity that I was afraid that I was going to slip into madness. I was determined to not let that happen.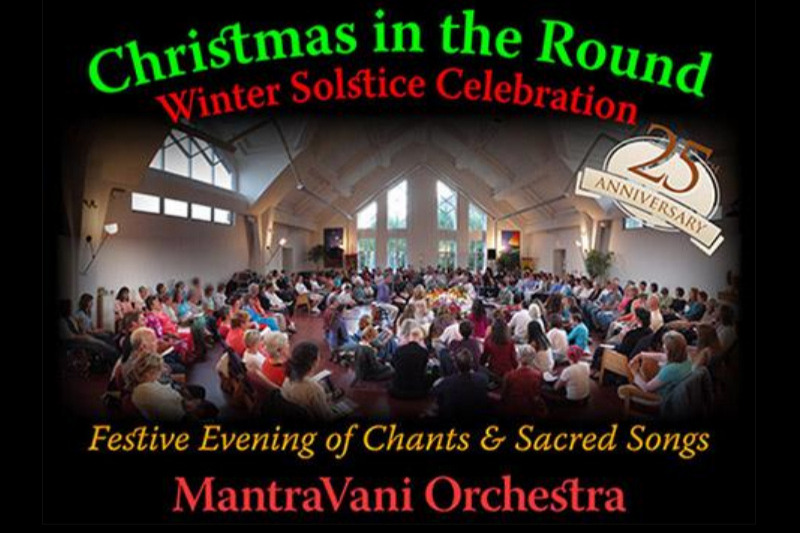 Christmas in the Round 2017
As you may know my life has always been music and I used to sing in jazz clubs around the city. One day I ran into the owner of one of these clubs. He said, wow Jerry I haven't seen you in a long time. We were all really concerned about you! I asked him why. He told me, it was nice to see that I was no longer doing drugs. I told him that I didn't do drugs that I had a brain injury! He couldn't believe it. He said for sure everyone thought that I was doing cocaine or heroin or something! That blew my mind and was also very disappointing to think that I was that messed up and viewed in a certain way. I noticed that people were confused sometimes about me but I had no idea some in the community thought that!
Jazz in the 90s
So all the yoga, all the meditation, the introduction of overtones/harmonics into my soundscape. That all had kept me sane and brought me healing.
Eight or nine years ago my entire digestive system shut down. I couldn't digest a thing and within a couple months I had gone from 165 pounds to 120. I had gone to emergency in the last several years 11 times by ambulance due to extreme allergies to foods that I had never had an issue with before. Everything turned upside down. Out of the zillions of blood tests, x-rays and scans most often nothing was ever found. Bacteria, parasites and several therapies were tried. Some worked some didn't. So it's mostly been self diagnosis. From time to time I would get better and regain 10 or 15 pounds and then it would slip again and I would get really sick and then I would somehow manage to come out of that to some degree—this consistent battle with my gut and associated things like peripheral neuropathy which affects your feet and legs. I am so grateful for the support during this time from friends!
Some years ago. Dr. Shiva Varma saw me one day on the street and told me to come to his clinic in Richmond. For seven or eight months I went in to get Myers cocktail IV and also oxygen each time because my lungs were also filled with fluid of some sort. Had that not happened I surely would have died! 
So it appears that those conditions have returned.
For the past couple of years I've mostly been living on goat milk Kiefer and various broths. From time to time attempting to eat more solid food. The last month or so my digestive system shut down once again. It essentially means there's no peristalsis and the system just stops. So no nutrients. Extreme loss of weight and muscle mass begins to happen.
It would appear that after this long while the main culprit is all those accidents and brain trauma, including spine damage and damage to the Vegas nerve which controls so many things in the body especially brain and stomach issues. They are not separate though they often seem to be. Neuropathy (nerve damage with inflammation that doesn't allow information to get into the muscle) that's been affecting my legs and feet for several years is also the culprit that keeps on shutting down my gut! That seems to be the best diagnosis from several specialists and also it begins to make sense to me finally. All the years of yoga and meditation etc. kept me balanced and safe from this hitting me much much earlier in my life.
At least at this moment there is a clear or clearer understanding of what's actually happening to me, being that the sympathetic nervous system is messed up due to the brain and spine injuries from years back and that is what has been causing this issue with my stomach and digestion and legs and other combinations of things. I am seeking support, diagnosis and therapies from Dr. Eric Posen and one or two specialists in this field. I hope to get weekly Myers cocktail IV and other supplements to sustain me while looking for remedies to help with my neurology and sympathetic nervous system. I have done lots of research and I am aware treatments are often very expensive.
Singing is a wonderful therapy. Also teaching and sharing the amazing and beautiful qualities of the human voice. But it would appear that other therapies are needed! I've noticed that I can't sing when I don't eat! Or have no muscle to support me.
Thanks for taking the time to read this
Jerry
Red Monkey Trio, 2018THE PURPOSE
of this Crowd Funding is to create a financial reserve to cover immediate treatments and fund an ongoing wellness program which will allow Jerry to resume his life and become self-sufficient.
He will be working with Dr. Eric Posen, ND, who is familiar with his case and has ideas for short and long term treatment. Some of the treatment possibilities are leading edge and only recently available. Dr. Posen is offering his services at a reduced rate.
OUR GOAL
is to raise $25,000 to put a treatment plan in place for the next year, then to re-assess the situation. This will only be possible if this campaign reaches far and wide to those who have worked with Jerry, meditated with him, been audience members, chanted with him, simply love his music, or are sympathetic to his unique situation even if they've never met him. We are sending this appeal to as wide an audience as we can but I know there are many of Jerry's fans and friends who are not on current email lists.
PLEASE FORWARD
this link to everyone you can think of. Even small donations will be significant if there are many of them, like building a wall one stone at a time. Like building a Tower of Song.
With appreciation and gratitude
Carole Harmon & Gary Sill
Fundraising team (5)
J. Gary Sill
Organizer
Raised $2,395 from 26 donations
Vancouver, BC
Jerry DesVoignes
Beneficiary
Kathie Scott
Team member
Raised $2,035 from 15 donations
Carole & Gary Harmon & Sill
Team member
Raised $270 from 4 donations
This team raised $8,247 from 89 other donations.