Let's Get New Lungs for Debbie!
Hello! Thank you for viewing this campaign to raise funds for my sweet Momma. As many of you know, Cleveland Clinic has found my mom to be a candidate for a double lung transplant. She has not been listed yet, however, we know this will occur in the future, and even as soon as this summer. We are so excited at what getting
new lungs
would mean for my mom. It would mean NO MORE LINES/PUMPS delivering continuous medications to keep her lung's blood vessels open. It would mean she could actually submerge herself in a tub, a pool, the ocean. It would mean no more oxygen at night. It would mean being able to confidently take the stairs. It could potentially mean more years on this beautiful planet to be in love with my dad, to watch her kids achieve their dreams, to be the best grandma to her grandkids.  These hopes are accompanied by massive fears. The statistics of the operation are scary.  Patients with pulmonary hypertension are more likely than those getting a lung transplant for another condition to die during or just after the surgery. However, patients with PH that make it to the 1 year post-op mark are more likely to live longer than those with other diagnoses.
We still have immense hope.
Lung transplant patients, and their caregivers, are confronted with quite a bit of costs associated with the transplant. In fact, we were informed that patients should have the amount of $15,000 available in order to cover the costs associated with pre-op, the surgery, and for the first few months post-op. This number does not include the ongoing costs that will accrue for the rest of my mom's life after the transplant. (Not to mention the costs insurance will cover, thankfully. If you're curious, the average cost of a double lung transplant is $1.19 million!) An example that we recently experienced: An unexpected extended stay in Cleveland for the week. All affordable housing options were booked and we were on the hook for an expensive hotel stay.
Here are some of the costs to consider
(copied from Cleveland Clinic):
*Transportation to and from Cleveland Clinic's Transplant Center for you and your support person
*Emergency visits to the Transplant Center
*Parking expenses for visits to the Transplant Center
*Accommodation expenses or temporary housing expenses associated with being accessible to the Transplant Center (for you and family members)
*Food expenses for family support person
*Post-transplant medicine costs
*Post-transplant follow-up tests and appointments
*Lost wages (from my dad)
Can you help us reach our goal?

All funds raised will be held in a separate account to only be used for costs associated with Cleveland Clinic and the transplant. If you would like to avoid the credit card processing fee, please feel free to reach out to any member of our family and we will be able to accept any donations in person, by mail, or via venmo.
If you are unfamiliar with my Momma's journey, here is the
back story
:
In February 2010, you would have found my mom unable to walk short distances without becoming short of breath, with a protuberant abdomen that didn't make sense as just being "scar tissue" from her recent bariatric surgery reversal, and emotionally drained from hearing, "just lose weight, you'll feel better." My dad finally brought her to the ER at Beaumont Hospital where the physicians were aghast at her condition. She was immediately admitted and received the diagnosis of Idiopathic Pulmonary Arterial Hypertension.
The first couple years after her diagnosis were tumultuous. She had many hospital stays and med changes, and eventually transferred care to University of Michigan where some of the best PH specialists reside. She continued to maintain her health with the help of her physicians and medications. In the fall of 2016, my mom passed out in the driveway. This set into motion a series of hospitalizations that ultimately led to a slight change in her diagnosis to Pulmonary Veno-occlusive Disease (PVOD), a different type of pulmonary hypertension. PVOD is a more severe diagnosis and it limits the therapies we can use, therefore, her wonderful PH specialist recommended her for lung transplantation evaluation. We began the extensive work-up at UofM, learned of all those new hopes and fears, and eventually was denied due to low platelet counts. My mom's PH specialist didn't like this answer and she encouraged us to check out Cleveland Clinic. They believe she is indeed a candidate for transplant!
**Enjoy the photos!**
[One of my most treasured pictures. My mom was so sick here. This is right when she was first diagnosed in 2010, at Beaumont Hospital. I spent my spring break at her bedside and I was honestly terrified when I had to go back to school.]
[Oh, how these two love each other. Oh, the storms they have weathered together. They are exceptional and can conquer anything when they rely on each other.]
[From my mom's most recent heart cath this past November. She has been through 7 of these procedures; through her neck, groin, and wrist. She's my hero.]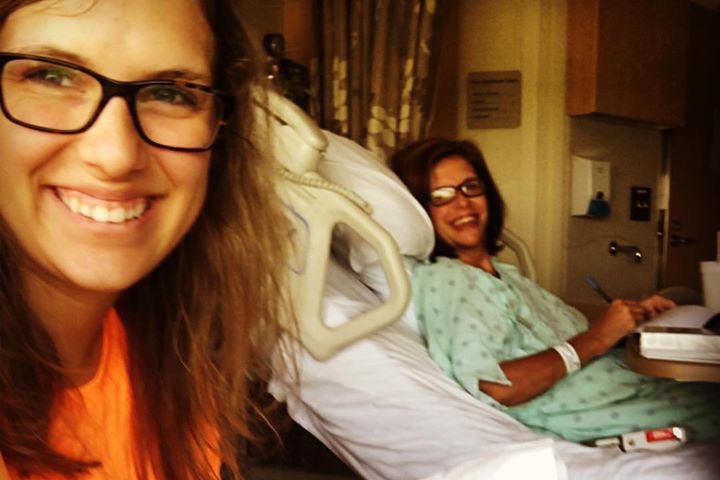 [Sometimes we end up having fun in the hospital, too. My mom has always hated hospitals, yet she always has a smile on her face and she is everyone's favorite patient to take care of!]
[We've even been to the ER in Nashville, TN with a central line infection during vacation!]
Thank you for taking the time to read about my amazing Momma and her journey!
Chili/Silent Auction Fundraiser 
Organizer
Chel Sey 
Organizer
Brighton Township, MI
#1 fundraising platform

More people start fundraisers on GoFundMe than on any other platform. Learn more

GoFundMe Guarantee

In the rare case something isn't right, we will work with you to determine if misuse occurred. Learn more

Expert advice, 24/7

Contact us with your questions and we'll answer, day or night. Learn more