Let's Make Jam - 2021 Film
COVID 19 Resources
For up to date and accurate information about COVID safety, visit the CDC or WHO websites.
Hi there!
Welcome to the GoFundMe Campaign for Let's Make Jam, an indie short drama film written and directed by Vanesa Moreno!

Let's Make Jam:
When a depressed lesbian escapes away to an artist residency cottage with her girlfriend to avoid staying home, she faces the truth about her instincts to escape as she struggles to cope with the death of her father with her emotionally unavailable mother.
THE PROJECT 
Our project consists of a 10 drama film of a queer Latina dealing with the loss of her father with her emotionally absent mother. This film centers around Paloma, 19 and her cumbersome relationship with her mother and her girlfriend, Ophelia, as she works through her grief from losing her father and learns to find peace with her distant mom. With half of it set in an idyllic cabin and a suburban home, Paloma and Ophelia reminisce on spirituality and love and with Paloma's mother it's all about one thing: acceptance and healing. 
There are few films showcasing the internal battles queer women of color have. Our female crew of all VCU Cinema alumni is dedicated and devoted to telling a story that deals with emotional vulnerability and realness from a queer Latinx lens. We hope the story sticks with you. Please give us some love on our
Facebook page
,
Instagram
  and
Twitter
. 
WHY DONATE?
Our team is looking to raise the funds necessary for hiring actors, getting props, set pieces, wardrobe, and film festival fees for local and nationwide festivals we aim to submit to.  It is our goal to have it enter the film festival circuit, submitting to festivals like NFFTY (National Film Festival for Talented Youth), Raindance Film Festival, Outfest Fusion LGBTQ BIPOC Film Festival, Female Voices Rock Film Festival, Richmond International Film Festival, Inside Out LGBTQ Film Festival and all the queer, Latinx and female based festivals we can get!!
All money donated will be used to bring
Let's Make Jam
come to life. You'll be supporting emerging female filmmakers and why not take that chance? We will be offering some perks for those who donate to
Let's Make Jam
, such as credits in the film and access to BTS photos and footage. 
- Donations of $20: Receive a hand-written letter with an
Let's Make Jam
exclusive sticker! Please contact us through email to receive this perk.
- Donations of $50: If you would like to have your name listed in the credits you may list your name on your donation or by contacting us (our email is listed on our FaceBook page).
- Donations of $100: To receive BTS photos and footage please contact us or email us with the email address that you would like to receive this perk on!
As we are living during the COVID-19 pandemic we are keeping the safety of our cast and crew in mind. We are complying with CDC guidelines  and protocols from the Virginia Film Office, as well as staying up to date with any and all changes with COVID-19. Our team will be tested before and after the shoot and be asked to get vaccinated if possible beforehand.
DIRECTOR'S STATEMENT 

As COVID-19 took a turn for the worst, I also decided to take a leap of faith in one of the worst times a filmmaker can make a film: in a pandemic. I desperately wanted to make it my mission to make a film before I graduate film school and with the immense supposed access that we have as film students, it was clear we weren't able to make anything on our own due to COVID. One night after a long day, I put on my Instagram story if anyone would be willing to help make this short film about a lesbian and her girlfriend happen.  The story quickly shifted as I am went through many rewrites, now making it a film about a mom-daughter relationship but it still applied just the same. I applied to my university for a research grant and got rejected so I took another step and said hey, I'm already planning out and writing the film, why not just make it regardless? This risky behavior led me to texting my producer friend
Ashley Dean
, who loved the pitch deck I wrote up and she decided to help me make the film! With my connections with Richmond filmmakers and social media presence, our team has been able to continue crowdfunding this film for awhile. I'm genuinely ecstatic to come out of my last year of film school with the pride and joy of making my own short, independently and with a bad ass female crew and cast.
BUDGET
Our estimated budget of $2,330 would include the cast day rates, zoom rehearsals, paid lunches for 3 days, and things for our own little crew such as crafty snacks for our 3 day shoot, PPE (Personal protective equipment for COVID protocol), misc. funds to pay for the perks, and art things!
VISUAL STYLE

Director, Vanesa Moreno is heavily inspired by Eric Rohmer's simplicity and natural flow and aura in all his films. She hopes to recreate some of this with Jam!

BRIEF SYNOPSIS

If you're curious as to what the film entails, Paloma and Grecia both have an iffy tense relationship and due to the death of the light of the house (her father), it's difficult for them both to have a moment to connect and comfort each other. Loosely inspired by Vanesa's own familial relationship, she's excited to show this dynamic in her films more as she never saw it growing up watching media and tv.
THE WORLD

Where the hell are we? 
COMPS/TONE

Desert Hearts is the director's favorite queer film that she could not resist to have it as a comp for pure inspiration on the vulnerable love women loving women have.
ABOUT THE CHARACTERS

Who are they?
CINEMATOGRAPHY STYLE

With our 3 day shoot, we will be shooting exterior and interior in two different locations. Our crew will be using Vanesa's own BMPCC 4K Cinema Camera with Zeiss Distagon lenses she impulsively purchased for herself as Christmas presents. Lighting is all borrowed from the amazing local RVA director
Jason O' Hara
from
Ghostseventyfour
  (Thanks for your generosity Jason!). We hope to have the best shots possible from our camera operator
Hanna Kivlighan
and VCU Cinema camera workshop leader/lovely DP
Carly Kaderli
.
INSPIRATION FOR OUR SET LOCATION AND WARDROBE DESIGN
VISUAL INSPIRATION FOR PALOMA'S BEDROOM AND COTTAGE

By our Peruvian-American production designer - Sophia Lizarzaburu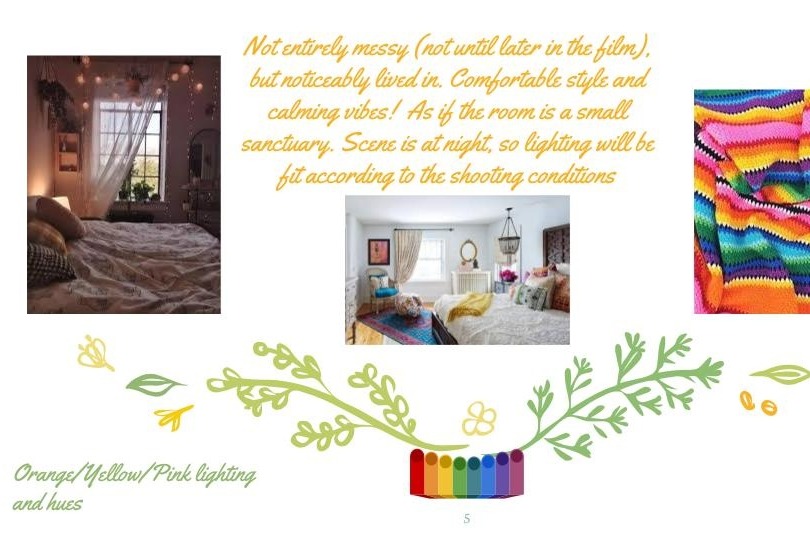 PICTURES FROM OUR GORGEOUS COTTAGE AIRBNB LOCATION

We are so thankful to be able to shoot here for free! Thanks a bunch Jonathan for believing in this vision!
Organizer
Vanesa Moreno
Organizer
Richmond, VA