He is known as Don, Donald, Donnie, Quag, Dad or Mr. Wonderful and Don Quagliaroli needs our help.
Donald finally received a left lung transplant on Saturday August 18th. This Gift of Life from an anonymous donor will make an enormous impact on Don's quality of life and allow him to live a normal life without being connected to oxygen 24/7. Don's lung disease is a direct result of his battle with Scleroderma which he was diagnosed with 8 years ago. This disease did not stop him from being the husband, father, son, friend, and person he is. Donald took the precautions he needed to and continued to work to support his family, and as always, a helping hand to friends and family. Unfortunately, Donald has Systemic Scleroderma, which affects his organs. Basically, the organs turn to stone. Donald's lungs were affected and almost 10 months ago he had to stop working.
This gift doesn't come without an immense financial impact. Don and his wife Lisa have tried to prepare for this moment by saving and  scrimping  with Lisa working 3 jobs after Don had to stop working and lost his medical insurance. Lisa's insurance is covering much of the cost but Don won't be eligible for Medicare until 2020. The transplant was performed at Columbia Presbyterian Medical Center in New York where Don is slowly getting used to the new lung. He has a long road of recovery ahead of him with Lisa and his children Jessica, Eric, and Angela by his side.
 As Lisa said during the second night sleeping in the waiting room:
"These kids...... They have been my rock through all of this. So much so that I have to remember that THEIR DAD just had a lung transplant. Can't wait to celebrate this all together. Donald will be so proud of the children we have raised."
Donald is the father that read his kids a book every night when they were little, teased them in public, encouraged them to be who they wanted, & danced with his daughters from little girls, to his oldest daughter on her wedding day. Not to mention walking her down the aisle without his oxygen! (Something he was determined to do)   
For years Donald worked overtime, side jobs and whatever it took so he could provide for his family and allow Lisa to stay home to raise their family. Once their 3 children were in school Donald supported Lisa in her pursuit of child education and encouraging her to find her fit job outside of their home.
Donald is also a Windsor Locks Volunteer Firefighter. His dedication to his department, is inspiring, from taking time away from family to fight a fire at any time of day or night, being an inspiration to young firefighters. A quote from one such young men he fought fires with, "Don's a hell of a fireman and apparatus operator", taking others under his wing "the man who has been a father to me ever since I met him", to running the Hot Dog/Hamburger Stand every year for the yearly Windsor Locks Fire Department Carnival, to inspiring his own son to become a firefighter.
Donald is the man that will always be there for you. A big "family" man. His family is EVERYTHING to him. That family includes all of his friends. Our joke is, he's married to one, but husband to many. If anyone of his sister-in-laws or nieces called him, he is there.  He is giving, selfless, loving, hysterical, supportive, and always the first to be there to help those that needed him.
Now comes the added expenses; hotel, food, gas, as there are weekly and then monthly NY trips to come, uncovered medical, anti-rejection drugs etc.
Lisa and Donald are NOT asking for this. Your thoughts and prayers are the most they want from you. We, their family, are trying to ease their financial burden. Anything you can give is wonderful.
Donald got the left lung of a HERO. We call the donor and their family heroes because of the gift they so selflessly gave. The gift of life was given to A MOST DESERVING MAN,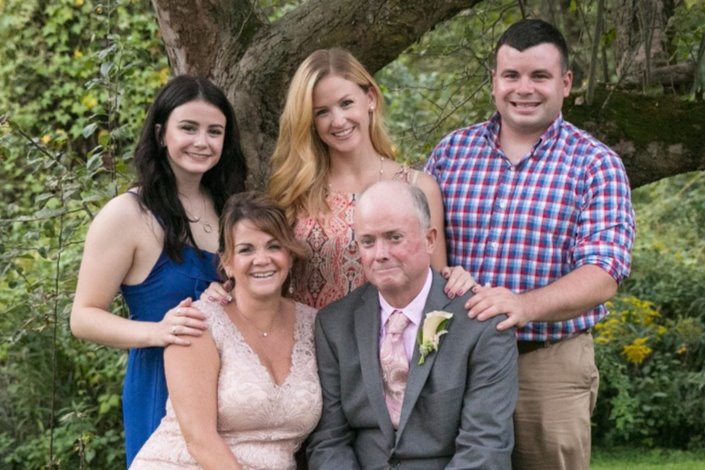 This Go Fund Me account has a zero platform fee, Go Fund Me will ask for a tip which you can choose to add or not to cover their costs. If you wish to send a check directly made out to:
JoAnn MacDougald
70 Dibble Hollow Lane
Windsor Locks, CT 06096
 Thank-you for your prayers and help. Give the Gift of Life: Become an organ donor.
                    Donald's Family
Organizer
JoAnn MacDougald 
Organizer
Windsor Locks, CT