Learning with Lemurs: the Wild Side of Education
What do you imagine when you think of Madagascar?
The place vanilla comes from?The title of a Dreamworks movie with a catchy tune?An island off the coast of Africa rich with biodiversity  like leaping lemurs, giant chameleons, and alien-looking baobabs?
For many kids living in Madagascar, the land we imagine is not the country they know. Many Malagasy children have never seen the unique biodiversity that sings, dances, and slithers through the rainforests and spiny deserts of their country, nor do they realize how special it is—the majority of Malagasy wildlife is found nowhere else in the world, and its numbers are rapidly declining.
Children are thought to be the hope for the future—they will be better, do better, than we did. In the case of Madagascar, this means that many believe that children will be the ones to save the country's biodiversity and environment.
But how can they, if they don't know it? Why would they, if they don't have a connection to it?
In the words of David Sobel, "let us allow children to learn to love the earth before we ask them to save it." 
Where do I fit in to all this?
Teaching is messy :)
My name is Kylie, and I am an MSc student studying primate conservation with an intense focus on conservation education. After years trying to determine whether my path was in primatology (I decided I wanted to be Jane Goodall when I was ten) or education (I've worked for several years in early childhood education and loved every minute of it), I've decided, why not do both? To complete my dissertation for my MSc degree,
I am working with a non-profit organization in Northeast Madagascar to teach kids about the unique creatures that live in Madagascar, including many lemur species such as the Critically Endangered silky sifaka (Propithecus candidus).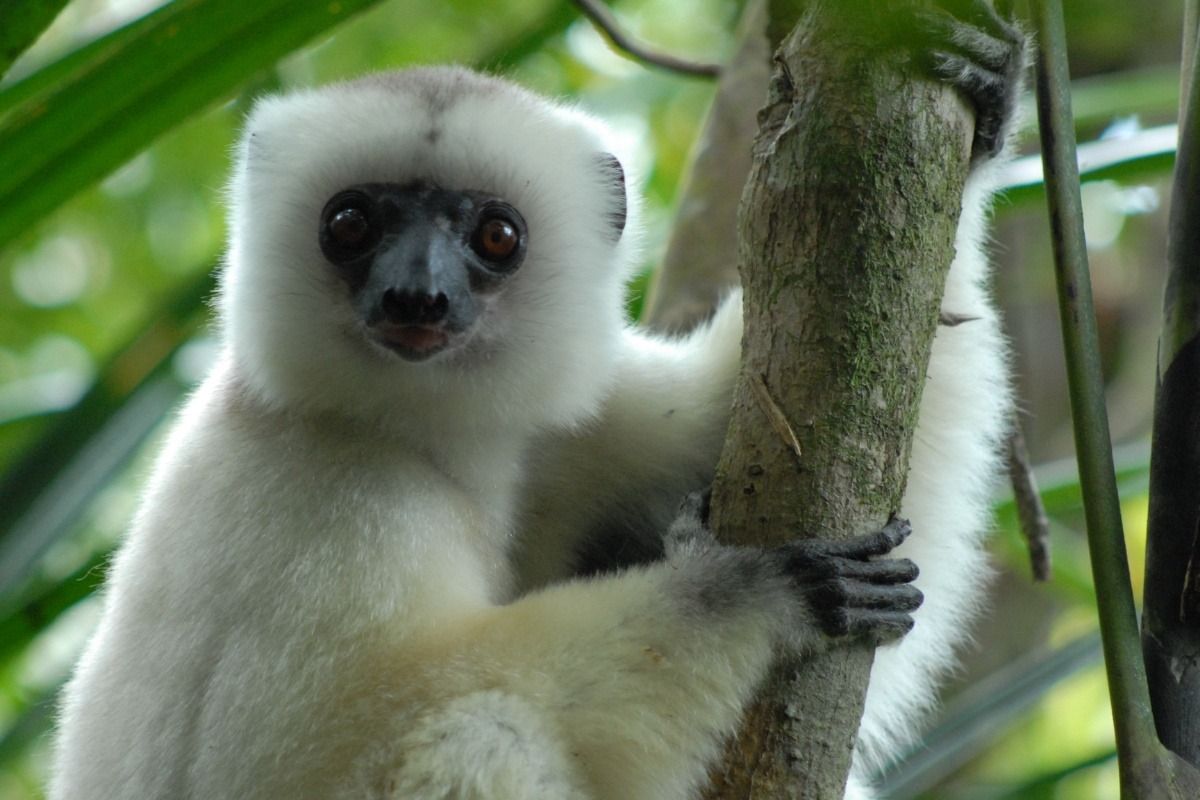 There are less than 1,000, and maybe as few as 100, silky sifakas left. 
The kids that participate in this program will be taken on three-day trips to the rainforest, a first-time experience for many of them and a once-in-a-lifetime trip for all. They will hike, camp, play educational games and learning activities, and experience the stunning wildlife of Madagascar, including many lemurs and endangered animals, firsthand. I
t is my intention that, by the end of their trip, children will come out of the rainforest with a dose of creativity, inspiration, joy, critical thinking, and more love and understanding for their earth that will translate into a long-term motivation to help protect it.
For the completion of my MSc, I will analyze the impact of this program on participants understanding and empathy for nature and lemurs and will contribute significantly to our understanding of evaluative and evaluative efforts in conservation education, an area of research within conservation that is critical but severely lacking. 
Why am I fundraising?
There are many costs associated with this incredible opportunity. While the non-profit with whom I am working is covering many of the costs of the educational camps, and I have received some funding from the Primate Society of Great Britain, I still need more to cover the expenses. 
What will your donation be used for?
Your donation will be used to fund
educational supplie
s for the overnight trips, especially drawing materials, as well as the costs for some of my medication and
equipment required for safe travel
to Madagascar
, and
daily living expenses
. Please see the full breakdown below:
Why should I donate?
Your donation will contribute to a project that will give
kids the incredible opportunity to experience the amazing biodiversity of Madagascar and to grow as learners and conservationists, not only during the camps but for the rest of their lives.
Additionally, your donation will help to facilitate my research and will contribute to our understanding of the impacts and efficacy of conservation education projects now and in the future. 
And I would be incredibly grateful and appreciative. 
All donors will receive special written
updates
on my project in Madagascar that will hopefully contain many adorable lemur pictures! I will also post regular updates on my
Facebook (Kylie Sorenson
) and
Instagram (@Kylie.Sorenson)
pages. All donors will receive a newsletter after the completion of the project detailing its results, will be thanked in the final dissertation, and will be notified of all conference presentations and publications resulting from this project. 
Thank you again for your donation!
Become the first supporter
Your donation matters
See all
Organizer
Kylie Sorenson
Organizer
Lewiston, NY