-Leah's Everest⛰- (Charity Champaign)
Hi, I'm Leah :-) and I'm 12years old(
just turned 13
). On the
02 April 2022
, I will be achieving new heights (17,598ft to be exact) by raising money for worthy causes, with a High Altitude, Himalayan trek to
Mount Everest base camp
.
This mountain-sized challenge covers
8000m (26,500ft)
of ascent and descent over
82miles
. Its icy cold climate and low oxygen environment are well known to its challengers, for
altitude sickness
,
frostbite
, and
hypothermia
.
My
12-day expedition
starts from Tenzing–Hillary Airport in Lukla, Nepal, known as the
most dangerous airport in the world
! Not only will this epic adventure be
physically and mentally demanding
, but I'll be also fully immersed in the Himalayan culture. Living and eating like the local Sherpas, crossing dodgy suspension bridge, following trails of Yaks; while privileged to the most awe-inspiring mountain range in the world.
100% of ALL funds
raised will be
split equally
 for my three, carefully chosen, charities:
·       
The Gurkha Welfare Trust
·       
The Quinism Foundation
·       
The Dogs Trust
Your support to these worthy charities will directly
benefit those that need help, at the very coalface of struggling
. Any donation (however small) would not only
mean so much to me personally
, but your kind generosity will
positively impact the health and wellbeing of so many lives
.
You'll be able to Follow my adventures, with regular updates on, preparations, training, vlogs,  videos, live tracking, and much, much more. 
DON'T FORGET to SHARE the link to this page 
https://gofund.me/9e3e7c37
 and pledge your donations today, so others can have a better future!
Thank you, soooooo much! ❤️
Leah-Mai X⛰
WHY THOSE CHARITIES?The Gurkha Welfare Trust.
This is a great way of giving back to the people of Nepal, where my 10-day mountain expedition will take place. From the moment I arrive in Kathmandu, I will be under the kind hospitality of the loyal Nepalese people and will no-doubt meet several honorary veterans from the
Brigade of Gurkhas
along the way. As our most loyal allies, roughly 19,000 Gurkha soldiers have died during the many wars they have fought at Britain's side. Many thousands more have been wounded, and more still have returned to a life of hardship in Nepal.
This is why that your generous donations will help support our impoverished Gurkhas veterans, with clean water and sanitation, medical aid, residential help, and education. This is the least we can do, for those soldiers that have given so much, including those that have paid the ultimate sacrifice. #LestWeForget #Gurkha #Nepal
Follow The Gurkha Welfare Trust on
Facebook
,
Twitter
,
YouTube
, and
Insta
The Quinism Foundation.
There is no hiding I was born and raised in a military family (I guess that where I get my crazy sense of humor from) My Dad's my hero!❤️‍He served in the ‍♂️British Army for over 24years and deployed on various Operations around the world, including the mosquito-ridden jungles of Sierra Leone, West Africa.

It was during this 
Operation
 that Dad became unwell, using the Army's anti-malaria drugs, 
Mefloquine(Lariam)
. He 'soldiered on' but the adverse effects of the drug left Dad with a permanent injury to the brain. The Quinism Foundation is the world leader in researching this type of 'quinoline' drug toxicity, which can often be misdiagnosed as PTSD, or mild Traumatic Brain Injury in many Veterans and travelers to malaria endemic areas.

The Quinism Foundation helps veterans and clinicians (internationally) with the much-needed education and research into this type of neurotoxic brain disease (similar to lead poisoning). Dad left the Army in 2014 and now helps many other veterans and civilians, around the globe, who have also suffered Acquired Brain Injuries (ABI) as a result of quinoline drug toxicity. #Quinism #Lariam #Mefloquine #Tafenoquine
Follow The Quinism Foundation on
Facebook
,
Twitter
, or subscribe to their
newsletter
The Dogs Trust.
Doggies! Everyone loves dogs (well not everyone) but they are soooo loving, loyal, and the most amazing fun. We have two crazy 'Sprocker Spaniels' and we'd be lost without them making our house, a happy (and often wet & muddy) home.  The Dogs Trust is reliant on voluntary donations to care for over 15,000 dogs every year. They help thousands of abandoned dogs find their forever loving homes and ensure all dogs enjoy a happy life, free from the threat, or unnecessary destruction. Your kind donations could help with veterinary treatment, vaccines, training, treats, food, and comfy accommodation before they're finally rehomed with a loving family. #ChangeTheTale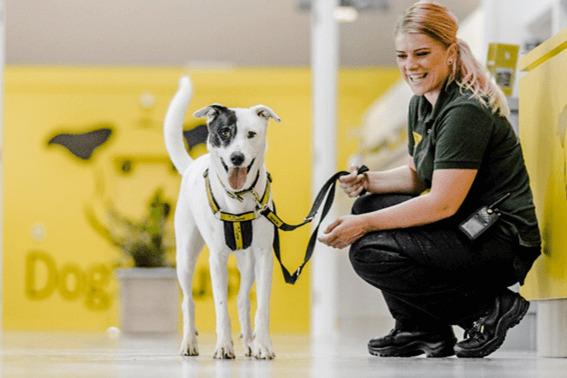 Follow the Dogs Trust on
Facebook
,
Twitter
,
YouTube
, or
Insta