Lost son & job, soaring bills, need help
Fire, loss of family, loss of job, financial hardship, and medical bills have turned what should have been the greatest time for our family into the worst couple years on record. We are truly looking forward to the end of the year in hopes that the next might bring better times.
In June / July 2012, we were evacuated for 7 days as the Waldo Canyon Fire brought Colorado Springs, CO to a standstill. While we were fortunate that we had no loss of property, as the fire was stopped across the street from our apartment, I did lose time from work and incur expense that could not be recovered through our renters insurance. This was compounded with our plans to be moving to a new apartment at the end of July - the existing apartment had, after having been there 7 years, decided that a $120 monthly increase was reasonable and thus forced us to quickly find a new place to live.
Later in October 2012, we were thrilled to find out we were expecting our first child due on May, 27th 2013 - two days after our 5th anniversary. Shortly after finding out, we broke the news and presented my parents and my wife's parents each with a blue and pink sock with the note that the matching sock would be given once we found out whether it would be a boy or girl that we would have. We took progress photos of my wife each week, had multiple positive visits with my wife's doctor and were able to present the matching blue sock to our parents along with the ultrasound pictures of or son, Calvin.
In mid-January this year, my wife had an occurrence that she originally attributed to incontinence related to the pregnancy, but requested we go see her doctor when she thought it could be something more substantial. We arranged a meeting at the doctor's office, and saw one of the nurses. She attributed our concern with being first-time parents and appeared to only appease our concerns and told us nothing was wrong, nothing to worry about. She ran a swab test for amniotic fluid and it came back negative. On January 24th, my wife had, what appeared to be, increasingly debilitating cramps - I rushed her to the ER and we found out that she was in the early stages of labor - nearly 4 months early. The reason the amniotic fluid test the nurse ran came back negative, was because there was no amniotic fluid. While at the time, Calvin had a strong heart beat and checked out fine, the prognosis was not good. My wife had a severe infection due to the lack of amniotic fluid and there were no suitable solutions to preserve the pregnancy. If they had attempted to keep Calvin, there was very high risk that my wife would not survive, and if they proceeded with the birth this early, there was nothing they would do to preserve our son as he was only 22 weeks and 4 days along, their threshold to try to save an early pregnancy was 24 weeks.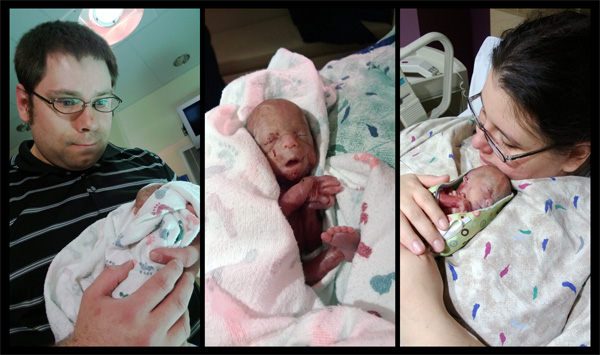 Our son, Calvin was born January 24th, 2013 at 7:08 pm - he survived for the following 74 minutes. We held him in our arms for the entire time - it was the most remarkable and heartbreaking time we've ever experienced. My wife stayed at the hospital for 2 days after for the infection to be attended to. While she would recover quickly from her physical ailments, she would not be so resilient from the emotional scars left by the loss of our son. Additionally, the medical bills incurred were in the thousands of dollars.
On March 12th, 2013, my wife's father was admitted to the hospital. On March 15th, his 63rd birthday, he was diagnosed with an advanced stage of cancer and was in rapid decline. The Doctors had no offer for a course of treatment, only to make him as comfortable as possible. Only a week later he passed away. Between the loss of her father and the loss of our son, my wife was deeply depressed. I consulted our insurance provider for recommendations on someone to talk with and was put in contact with a wonderfully helpful professional who she now sees regularly.
On June 12th, two hours into my work day I received a call from my manager. She proceeded to read off a canned corporate statement that due to organizational restructuring my services were no longer needed and that I was to pack up and ship off all my company property, effective immediately I was laid off. This just past 4 and a half years with the company and with the highest volume of positive customer satisfaction feedback and professional growth I have had during my time with them.
Minutes following my layoff, I registered for unemployment. It arrives regularly, every two weeks, but it quite literally allows us to pay for our rent, car, renters and auto insurance, leaving us with $1 remaining. In the 4 months since being laid off I have submitted nearly 150 resumes and applications, attended job fairs, and had a total of 3 responses to my job inquiries, resulting in 0 jobs. I've been selling off what old collectable toys and computer equipment I had to stave off the inevitable, but that's just about run out. I have also been marketing myself as best as possible via local venues to offer my IT expertise for personal and small business needs - unfortunately, with little result.
In August, my uncle died from a long standing heart issue. I took a trip with my father from Colorado to Illinois to attend the funeral. The trip sent me in a downward spiral of depression as well, while I am making strides to contend with our situation and move forward, my biggest concern is the health and wellbeing of me and my family. I am an IT professional with 15 years of experience, multiple industry technology certifications and more than 100 OEM service certifications. My wife holds a BA in History and has training as a Veterinary Assistant. We both try our hardest at everything we do, but it seems the hand we've been dealt hasn't been the best.
We have been in talks with our creditors, attempting to make the most amicable resolution in a very poor situation. We've already lost our internet connectivity, as Comcast has zero interest in making any attempt to work with a customer they have had for 8 years. Our inquiries have fallen on deaf ears, unwilling to make any accommodation at all. My wife's mother saved us days away from having our electricity turned off and my parents have been sustaining our phone service. Our other creditors, while slightly more willing to work with our situation have little to work with considering my unemployment doesn't even go far enough to feed my family, let alone even attempt to meet the obligations of our negotiated terms. In addition to our creditors, we have run out of funds in order to continue our medications - my wife on medication for her depression and me on medication for high blood pressure, high cholesterol and COPD-like symptoms. With mounting debt from medical bills, general living and day to day expenses incurred while I look for work on top of the stress and depression that has nearly brought my family to the brink of collapse, we are looking beyond our pride and find ourselves in a situation where our only option is to ask for assistance.
Our parents have assisted all they can, in doing so, digging their own holes in the process. Presently we are looking for any assistance that can be had, as we are very close to having no opportunity but to declare bankruptcy and then still have to work with insufficient finances to even feed ourselves. We greatly appreciate any assistance that one is willing to offer as anything helps us while we work to turn things around. We truly thank you for your time and any consideration you may give us.

Organizer
John Koller 
Organizer
Colorado Springs, CO
#1 fundraising platform

More people start fundraisers on GoFundMe than on any other platform. Learn more

GoFundMe Guarantee

In the rare case something isn't right, we will work with you to determine if misuse occurred. Learn more

Expert advice, 24/7

Contact us with your questions and we'll answer, day or night. Learn more