CCH - Eviction Assistance Fund
I'm Omari al-Kadaffi, a Community Organizer in Richmond, Virginia.  The Community Council for Housing Eviction Assistance Fund is a homelessness prevention initiative that pays funds towards court costs to provide low income families 3 additional months to avoid homelessness and prepare a proper defense for their wrongful eviction.
That means that if a public housing resident's income-based rent is $65,  it might only take around $195 to keep them in their unit.  That might as well be $1M when you have no support. We will also provide counseling on the legal process (disclaimer: not legal advice) that could very likely help them mount an effective defense since typically people get railroaded in General District.  Appeals go to Circuit Court.
A sudden financial emergency can result in homelessness if you are on a fixed income. Even a 3 week lapse in employment can be very damaging.
I estimate that this funding request will keep 17 families from becoming homeless. That will keep families from the conditions at our City's shelters. 

Monthly updates (without personal information) will be provided on our media outlets listing the families who have been helped along with success stories.

Thank you  for helping us, as a community and world to address the affordable housing crisis, which the United Nations says is a human rights crisis!
*********************************************************
In 2017 the  CCH led the following housing efforts while not funded:
>>Contributed to the legal efforts of many low-income tenants in Richmond, Virginia.
>>Organized a successful effort to oppose an oppressive proposal to target low-income residents with regulatory costs.
>>Started a public and media awareness campaign that oranized Mayor Levar Stoney, Councilwoman Ellen Robertson, the Department of Public Works, Property Maintenance Code Enforcement and impacted residents to correct longstanding unsafe slum conditions in an apartment complex and driveway.
>>Saved bus coverage to 3 neighborhoods (Mosby Court, Fairfield Court, Oakwood) including the bus stop at Armstrong High School.
**********************************************************
Info attained from Leaders Of The New South - Community Council for Housing

The Urban Institute's Housing Assistance Matters Initiative is funded by Housing Authority Insurance, Inc. (HAI, Inc.), to provide fact-based analysis about public and assisted housing.Source: http://apps.urban.org/features/rental-housing-crisis-map/detail.html?fips=51760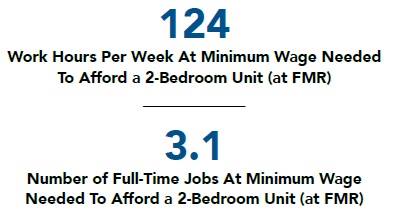 Source: http://nlihc.org/sites/default/files/oor/OOR_2016.pdf

Source: Affordable Housing and Smarter Growth in the Richmond Area (http://www.virginialisc.org/wp-content/uploads/2013/06/Affordable-Housing-and-Smarter-Growth.pdf)


Organizer