Le festival des clowns de Montréal
Le festival des clowns de Montréal is thrilled to be celebrating its third annual event featuring numerous performances from both established and emerging artists in a full spectrum of clown styles. Partnering with MainLine Theatre, the clown festival will take place September 12 - 16, 2018. Other festival supporters include Cirque du Soleil, Caisse de la culture and Clowns Canada, but we are still a young and growing festival and need your support.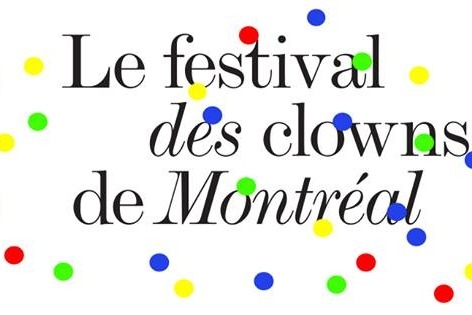 The role of the clown is not to be funny, but to be honest.
To solve the impossible with the ridiculous, and to hold the mirror up to society so we may look at our absurdity. To embrace an emotional journey, and externally physicalize the experience in full embodiment. To lead with a small brain and a big heart. Le festival des Clowns du Montreal extends our hearts to all or the clowns and artists at our festival, and welcomes you into our fold. Together we create friendship and community, and together we celebrate!
Le rôle du clown n'est pas d'être drôle mais d'être honnête.
De résoudre l'impossible avec le ridicule, de tenir un miroir devant la société afin d'y constater notre absurdité. Nous faire voyager émotionnellement en étant toujours très engagé physiquement. Les clowns sont des petits esprits aux très grands cœurs.
ABOUT 
The Lovers of Laughter, we are the passionate gatherers of fools.
Produced by MTL Clowns, the annual Le festival des clowns de Montreal strives to reflect the diversity of our city within the clown community, and encourage equal and proportionate representation. The festival presents local, national and international clown artists, and maintains and creates links to Montreal with clown communities throughout the world. The festival is designed as a grassroots festival that creates opportunities for emerging artists and professional artists to meet, experiment, perform, and exchange clown practices.
MANDATE
Founded in 2016, the mandate of MTL Clowns is to create space for all levels of performers to present original works that fall under the Clown, Bouffon or Physical Theatre spectrum. In the breathtaking backdrop of Canada's Circus Capital, Montréal, our community of artists are able to give life to a festival celebrating the diverse creation of the Clown. Our goal is to showcase artists both local and abroad, creating a link to communities of Clowns throughout the world.
Included in the mandate we welcome people of all genders, but are making an effort to increase representation of women-identified, gender-non-conforming and trans performers. With this in mind, we will make an effort to strive for equal and proportionate representation in our space. We are dedicated to cultivating a multi-cultural program, welcoming French, English and Nonsensical Clown Language, as well as a vast multitude of other cultural Tricksters.
À PREPOS 
Amoureux du rire et passionnés rassembleurs de fous.
Fondé en 2016, le mandat du Festival des  de Montréal est de créer un espace pour tous les artistes de différents niveaux où ils peuvent présenter leur travail et matériel en lien l'art clownesque, le bouffon et le théâtre physique.
MANDAT
Ayant Montréal, Capitale de cirque du Canada, comme toile de fond, notre communauté d'artistes a réussi à mettre sur pied un nouveau festival célébrant la diversité de l'art clownesque. Notre objectif est de mettre en avant-scène des artistes d'ici et d'ailleurs permettant du même coup de créer des liens entre les communautés de clowns à travers le monde.
Nous incluons aussi dans notre mandat l'intégration de personnes s'identifiant à tous les genres sexuels et désirons ainsi faire grandir la représentation scénique de femmes, personnes-non-binaires et personnes trans. En gardant cela en tête, nous aspirons à créer un espace de performance représentant équitablement tous et chacun. Nous sommes aussi dédiés à développer une programmation multiculturelle incluant le français, l'anglais, le langage inventé de clown ainsi qu'une vaste diversité de d'autres provenances culturelles de saltimbanques.
HELP A CLOWN, HELP YOURSELF
Going into it's third year, Le festival des clowns de Montréal has already proved itself to be an invaluable asset to Montréal's vibrant arts scene. We've partnered with MainLine Theatre and have received generous support from organizations such as Caisse de la culture and Cirque du Soleil but we, as of yet, operate without the any municipal, provincial or federal grants. MTL Clowns has presented the annual clown festival each year since it's inception in 2016 through the generous and laborious efforts of a team of volunteers dedicated to creating a space for the presentation of contemporary clown performance, to furthering the education and understanding of the art of clown in its various forms and to offering a place for the vibrant clown community to gather and share.
A word from Co-Artistic Directors "Glitter & Glue" (aka Kendall Savage & Vanessa Rigaux)
"There are so many 'off-duty' clowns hanging around Montreal, and we share in the joy of laughter by creating hope and light in a world that is clearly off its rocker. The political implications and nuances of clown are endless and we need to revisit the historical role of the clown to get by, to create change, and to educate and encourage our world. It's seriously time to look to the clowns to get us out of this mess." - Kendall Savage
"The end goal of course, is that our hard work will pay off and everyone from the producers to the artists will receive a salary. Next year the grants will pour in! But we recognize the long game necessary to establish a healthy festival. It's a community-driven festival by artists for artists, and it is pretty magical. We want more people to come check out what clowning can be!" - Vanessa Rigaux
The directors have big plans: start an association of Clown festivals across Canada, which is already in the works with The Toronto Festival of Clowns (now in its 13th year) and Edmonton's Play The Fool Festival (started the same year as Montreal's festival). As the "circus capital of Canada", Montreal is a perfect city to play host to clowns from across the province and the country. This year, they established a board of directors to help with the operation of the budding festival. Says Rigaux, "we are a small company with a goal to build a sustainable festival that promotes clowning, education as well as providing a space for exchanging ideas and knowledge."
LE FESTIVAL DES CLOWNS DE MONTRÉAL  September 12 - 16, 2018

Partnering with Montreal darling indie theatre and Fringe Festival producers, MainLine Theatre, this year's clown festival will bring together seasoned and emerging performers in a spectrum of clown styles. Headlining this year's festival is the physical comedy, Snooze by Francois-Guillaume Leblanc (Theatre Biscornu), a clown with over 500 Cirque de Soleil performances under his belt with Ovo from Quebec City; a collective of seasoned Montrealers performing a feminist bouffon show, Les Zoubliettes under the guise of Coop les ViVaces; and Canada's top clown-sister duo Morro and Jasp (Toronto), presenting their take on Steinbeck's classic tale with Of Mice and Morro and Jasp.
The festival program also includes four double-billed shows, with an additional 7 companies presenting an array of genres from slapstick (Bibi and the Beast: Mariage RSVP); dance (Les Dancing Queens featuring Maxine Segalowitz); clown melodrama (Nicole Ascroft: Desolita); physical comedy (Grand Salto Theatre); visual delights (Toxique Trottoire: Le Ciel Rue); and funny puppets (Lost & Found Puppet Co.:Beaver Dreams) from Montreal, Quebec City, Toronto, and Santiago, Chile!
Several events are also programmed throughout the bilingual festival. A panel discussion on women in clowning is planned for Thursday, September 13th at 9:30PM (FREE), featuring a panel of artists lead by Sonia Norris; and the popular talent show, Le Grand Imbecile, will be on Friday night at 9PM in the theatre (FREE). The winner of the contest gets a trophy and a 15 minute spot in the following year's festival. Last year's winner, Ivan Pavel Eterovic Diaz, returns to Montreal with his full body puppets all the way from Chile! The closing cabaret on Sunday evening will feature artists in the festival and pull in other clowns who have been producing their own Cabarets throughout the year. The Closing Cabaret, directed by clown musical-personality Soizik, will require purchasing a ticket.
Info & Bios -
www.mtlclownfest.com
Tickets / Billets - 
www.mainlinetheatre.ca
OTHER WAYS YOU CAN HELP
If finances are a bit tight (and trust us, we understand!), you can still contribute by helping us to spread the word - please share the link to this campaign on social media or mention us to someone you think might be willing and able to support.
Follow us on our social media platforms to like, share and retweet!
instagram
facebook
twitter
WHO WE ARE / QUI NOUS SOMMESMTL Clowns Board of Directors / Conseil d'administration
Jen Quinn (President), Kendall Savage (Vice-President), Ander Gates (Secretary), Josh Miller (Treasurer), Trevor Barrette, Heloise Binnette, James Douglas, Vanessa Kneale, Kathy Slamen, Vanessa Rigaux, Kenny Streule, Maggie Winston
Festival Organizing Committee / Membres du comité
Kendall Savage (Co-Artistic Director), Vanessa Rigaux (Co-Artistic Director), Trevor Barrette (Venue Manager and Box Office), Steve Day (Volunteer Coordinator), James Douglas (Head Technician ), Ander Gates (Social Media and Web Design), Kathy Slamen (Photography and Social Media), Mahalia Golnosh Tahririha (Artist Liaison), Jed Tomlinson (Technical Director)

Organizer and beneficiary