Laughter In the Park 2021
NYLaughs and Laughter In The Park (#LITP) is BACK!
NYC Needs laughter more than ever.   
Health and happiness are our best post-pandemic roommates.
Want to join me in making a difference?  I'm raising money for the 15th season of NYLaughs' FREE outdoor comedy series, "Laughter in the Park" and any donation will help make an impact.   
2020 left us all isolated and in crisis mode, feeling a lack of hope and leadership and at times toilet paper.   While some got by on baking loaf after loaf of sourdough and others lost themselves in volumes of adult coloring books, we know that you're probably part of the crowd who sought refuge online in comedy while you were stuck inside. We really hope that as you reflect on how much humor was able to get you through a rather relentless 2020 you'll join our fundraising campaign because if you're able to donate, you will be helping to bring a smile to some who may still be working their way back to normal. 
As things are turning around, we're getting to a place where the things we love can finally return. AND WHO DOESN'T LOVE LAUGHTER IN THE PARK?!?!  NYLaughs has been committed to bringing quality outdoor daytime performances featuring prime comedic artists at no cost to our audience.  As a 501(c)3 nonprofit organization, we rely on grants from city funding, city philanthropic institutions and look to the generosity of donors like you to make it happen.   
Thanking you in advance for your support!
Grants:
Recipient (4x) of NY City Council Funding
Recipient (2x) NYC Department of Cultural Affairs Grant
Recipient (13x) Creative Engagement Grant from the NYS Council on the Arts and the NYC Department of Cultural Affairs via the Lower Manhattan Cultural Council
Recipient of the City Parks Foundation's Partnership for Parks Grant
Recipient (4x) of Washington Square Park Community Arts Grants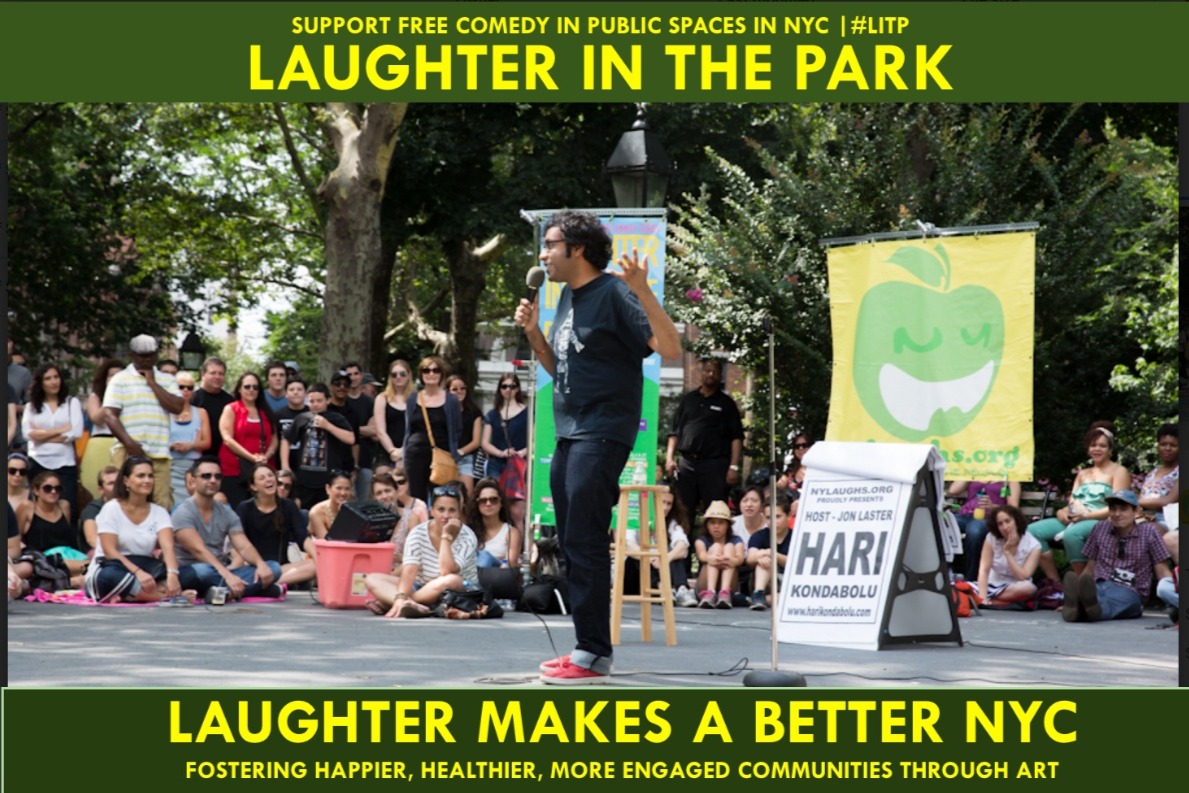 Laughter in the Park 2021:
Sunday, June 20 @2p - Wagner Park, Battery Park City
Sunday, June 27 @4p - Wolfe's Pond Park, Staten Island
Sunday, August 15 @4p - Washington Square Park, Manhattan
Sunday, September 19 @2p - Wagner Park, Battery Park City

About NYLaughs:

The one and only original free outdoor comedy series that has been bringing standup comedy, good vibes and goodwill to New York's unexpected public spaces since 2007.
NYLaughs is dedicated to enriching the lives of New Yorkers and visitors through laughter, cultivating new audiences & deepening an appreciation of stand-up comedy as a unique NY cultural asset.  We believe that when laughter is part of a collective experience, it builds community, strengthens bonds, and is a path to greater health both individually and collectively. Our work uses laughter to increase the quality of life for NYC, while simultaneously broadening NYC's cultural landscape.  And we do it all in public spaces, free of charge, to ensure our work is accessible to all citizens, regardless of race, gender, age, physical ability, or socioeconomic status.   
Laughter in the Park 2021 is made possible in part with public funds from  Creative Engagement, supported by the New York State Council on the Arts with the support of Governor Andrew Cuomo and administered by LMCC.  LMCC serves, connects, and makes space for artists and community.   Additionally, this program is supported, in part, by public funds from the New York City Department of Cultural Affairs in Partnership with the City Council.   We thank Councilmember Borelli for his support.   Support is also provided by the Battery Park City Authority and grants from the Washington Square Park Conservancy. 
===========================
Our COVID-19 Work:
Over the last year we were able to produce an online event to raise funds for The Actors Fund to help struggling comedy professionals with the support of Wanda Sykes, Ray Romano, Judd Apatow and more!  You can check it out on our site –
nylaughs dot org
Organizer

Registered nonprofit
Donations are typically 100% tax deductible in the US.