Kyla Rose's Medical Support Fund
On February 25th, 2015 after weeks of breathing difficulty that was believed to be pneumonia, Kyla Rose was diagnosed with dilated cardiomyopathy (DCM).  DCM occurs when disease affected muscle fibers are enlarged or stretched (dilated) in one or more chambers of the heart. As the heart enlarges, it decreases its efficiency in pumping blood through the body. When the disease progresses to congestive heart failure, fluid can build up in the lungs, as is the case for Kyla. 
The first echocardiogram was done during her very first visit to pediatric cardiology in Roanoke at Community Hospital. On Monday, March 16th, she had surgery to plant a subcutaneous implantable cardioverter defibrillator in her chest at UVA Medical Center in Charlotteville, VA.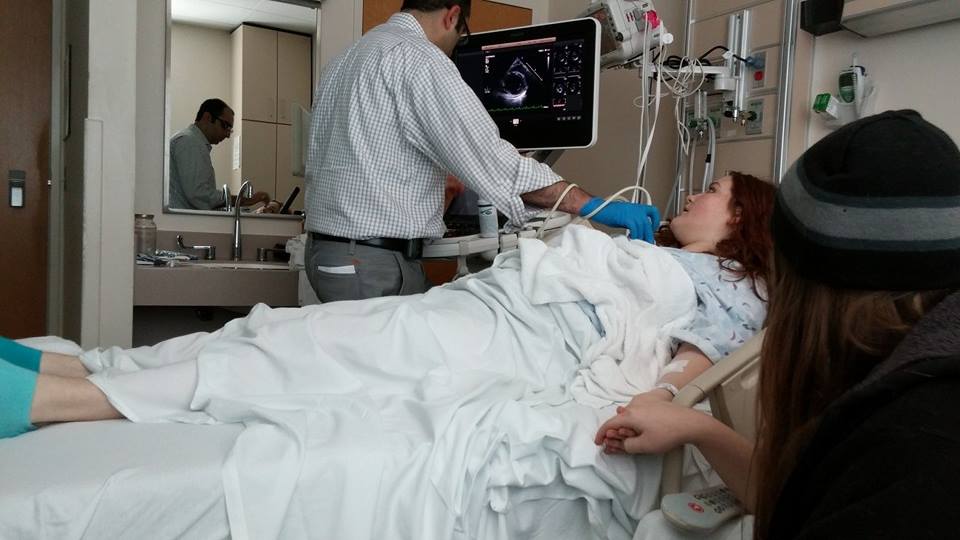 This device will help her stay alive, but it will not fix any of the problems with her heart. It is there to shock her heart if it goes into ventricular fibrillation. The doctors have called it a 1/3, 1/3, 1/3 scenario: 1/3 of a chance for getting better, 1/3 of a chance for staying the same, or 1/3 of a chance for getting worse. The lifestyle choices she makes, and medicines she continues on will be what might (a big might) help her improve
This fund will go to help support the family in this time of upheaval. Bills still need to get paid, rent and food covered, and the time in recovery and traveling to and from the hospital adds up quickly in expenses.
Thank you all for your love and support. Please continue to hold Kyla, Mara and all their family closely in your hearts and pray they are guided through this process with gentle hands.
Update on Feb 6, 2016
Update on Kyla:
It is my sincere hope that the week-long treatment Kyla received at UVA last week will allow her a respite, however brief, because the excess fluid that was contributing to her symptoms has decreased. She was on IV diuretics the entire time she was at UVA and lost about 10 pounds in a week, most of which was fluid build up. She's now on stronger diuretics and we'll be keeping a close eye on her potassium levels to make sure they stay as stable as possible since they have a direct effect on her heart function.
While we were there, Kyla was denied entry into UVA's transplant program because she is, at this time, deemed "too weak" to survive the surgery. We are actively seeking a second opinion and will likely be pursuing evaluation at Duke because their criteria is different than UVA's. For example, they have performed heart transplants on patients in their 70's. UVA does not accept transplant recipients who are over 70.
As we left the hospital on Wed (literally only an hour or two after she was discharged), we received a call from a neurologist Kyla saw last August through a MDA clinic. They performed another series of genetic tests that were evaluated at Emory and those tests revealed other genetic mutations, possibly resulting in a condition called "Bethlem's Myopathy." I am in dialogue with Kyla's genetic counselor at UVA, who is cross-comparing the new info with the results we received in June in consultation with Kyla's neurologist at UVA, as well as (hopefully) the researchers at Emory who found the other mutations. We will meet with him next Thurs, Feb 11, after Kyla's post-hospitalization follow-up with the heart failure clinic. We will also be following up with her neurologist in Roanoke on March 8th. In the meantime, I am aggressively seeking referrals to Duke's transplant program and working with Physical Medicine and Rehab doctors to (hopefully) determine Kyla's ability to strengthen. It appears as if she will be able to, carefully, since the cardiac condition precludes any strenuous physical therapy. But at the moment that's still anyone's best guess. Reducing the fluid may help some with her symptoms but will not address the issue of muscle wasting.
We deeply appreciate being home with our strong support system in Floyd. Though we were considering a potential move to UVA, given the need to be as close as possible if she were accepted for transplant, that decision is currently in stasis. We're about 3 hours away from both Duke and UVA at the moment and have a decent maintenance program close by that will take care of immediate needs. If necessary, Kyla can be stabilized at a hospital close to home and transported to Durham or Charlottesville. She rode in an ambulance from Radford to UVA last week given that she was not stable enough to be transported without life support equipment close by.
The process of uncovering the latest diagnostic information in order to reach a prognosis will involve a whole new bunch of minds in the mix, and considering the circumstances, the more people participating in the dialogue the better.
For now, we're monitoring Kyla's weight and vital signs closely and reporting them to our team at UVA on a daily basis. We'll be reassessing her physical therapy program based on transplant criteria and working towards that goal in whatever ways we can. And as always, we are so grateful for the love and support from all of you. Thank you for walking this difficult road with us and for bearing witness as we move forward.
~Mara

Organizer and beneficiary