Kya's Surgery/Chemo Cancer Treatments
My name is Kya Papaya.  I am 13.5 years young and I am fighting cancer - successfully right now but I have racked a lot of medical bills that I really need help with so I can keep fighting cancer.  I'm at day 100 of surviving cancer and I just finished five rounds of chemotherapy - with flying colors too!
I hope you take the time to read my story and you can also follow me at:
https://www.facebook.com/raeraesways/
Why This Gofundme
I'm making this Gofundme because my Mommy applied to Animal Cancer Therapy Subsidization Society (ACTSS) for me to help get funding for my treatment and my application was rejected.  We made the application in November 2018 and in Feb 2019 we found out that they said I was not a good enough candidate - this upset both my Mommy and me because in our minds we feel we were excellent candidates!
My Mommy provided the following information to ACTSS on the initial application and also provided it after the rejection but never got a response from ACTSS.
Evaluation
Human/animal bond:
  Considering that Kya was one of the 1st of over 1000 dogs/cats that I rescued from First Nation communities, the bond I have with her is undeniable and she represents the start of what became some of the biggest and most rewarding things I achieved in my life. 
Owner's Need for Financial Assistance:
I support 18 special needs and super senior animals.
Age of Pet:
13.  Yes, she's a senior and young in my house. My dogs all live to be 17-19 years old.  All her vets say she looks and acts like a puppy.  On Jan 26th, Kya and I resumed our daily 5km walks and we will continue doing this after the cold weather breaks.  
Prognosis:
It varies.  Anywhere's from 6-18 months, with chemo treatments. In human years, that's  3.5 years - 10.5 human years.  
Quality of life:
She's a happy 13 year old dog, that's full of spunk and energy.  All her vets would attest to that and if you followed her page on FB  or met her you would have seen that also.  
The Expenses
This is the hard part - my Mommy has spent approximately $15,000 on me since Nov 30.  It is all sitting on her Visa card and a line of credit.  I know a lot of people will question why spend $15,000 on an animal? But my Mommy will explain this to you.  To her, my life or any life should not have a dollar value associated with it. 
At the end of the day it should be the clinic who charged $6000 for the splenectomy that should be questioned for ethics.  Other clinics charge $1500 - $2000 but because my surgery was required in the middle of the night, my Mommy was forced to pay this because she valued my life.  This same Clinic was also charging $1000/chemo treatment, but my Mommy did some research and found another top-notch Clinic in the city for $500/treatment.   I am on special diet, supplements, and I am on metronomic daily chemo also.  I have on-going check-ups (bloodwork, x-rays, and ultrasounds to make sure I am staying healthy).  
In addition, to my health issues several of my furry siblings also ran into problems needing Vet Care. 
My Mommy has spent $18,000 on us since the end of Nov! 
It's not normally like this, just a series of bad events all at once!  Our Mommy has supported all of us for our entire lives without ever asking for help.  
My History - a Really Neat Story!
Thirteen years ago my human Mommy trapped me in a kennel in a rural community that has lots of dogs roaming free.  My real doggy Mommy got rescued too. I was a big puppy with bad demodectic mange.   At the time, in the Edmonton, Alberta area, there were not many rescue groups in the city.  In fact, the groups wanted nothing to do with me because of where I was from and one group wanted to euthanize me because of my severe mange. 
My Mommy was appalled and after not being able to get help for me she actually started a non-profit and went on to rescue over a 1000 dogs and cats like me over the next decade. 
She actually self-funded the non-profit from 2004-2011.
Fast forward to the present.  After enjoying close to 13 years with my Mommy in perfect health, my Mommy noticed me pause in the hallway one morning at the end of November 2018.  She knew something was wrong, so she brought me to my Vet later that day - an ultrasound and bloodwork showed something was wrong with my spleen.  The next night I had an emergency surgery to remove my spleen due to an hemangiosarcoma.  This is known to be an aggressive cancer.  Without chemo, I would have only had 30-90 days.  With chemo, the hope is 6 months.  In some cases, though, dogs go on for 12-18 months. 
I'm at day 100 surviving cancer!!  
Remember 6 months in human years is 3.5 years!  And 12 months is equal to 7 human years!  That's why my Mommy thinks this is worth the battle.
I was in perfect health in the days before this happened - walking 5 km a day with my Mommy and the other dogs in my family.  
My Family is Really Big!
My family consists of 18 of us - we are super seniors and many of us are special needs/end of life pets.  Many of my family members were the unadoptable animals from the non-profit my Mommy ran.  My Mommy gives us all of us the best Vet care, the best food, and the best of everything.  She does not have a human family, so we mean the world to her.  
My Life is Worth It
At the end of the day, the real question is: is my life worth it?  To me it, is.  To my Mommy, it is.  For my Mommy, I'm that dog that represents the start of a non-profit that saved so many lives and also has brought such happiness to the many families that adopted over the years.  Also, although I'm 13, you almost would not know it - you can even ask my Vet.  Thirteen is actually young in my household - my oldest sister is 18.   
Remember 6 months in human years is 3.5 years!  And 12 months is equal to 7 human years!  That's why my Mommy thinks this is worth the battle.
No dollar value can be put on any life.  All lives are of value.
If you can help me with a small donation - I know it will take some of the stress of my Mommy's plate and it will help me continue to fight my battle with cancer.  
Note

All Vet Bills are available to be viewed! You can also speak to my Vets!  


Mommy says I have the most expressive eyes


Smiling at the vet - hoping I look cute enough for a treat


Checking out the treat drawer while waiting for one of my chemotherapy sessions


A chemo session


Mommy and me laying on the floor during my chemo session


Doing research on how to beat cancer!


Senior gal puppy pose


My favorite thing - holding hand with my Mommy


Holding hands - my favorite thing


Ellie and me - I love my cat siblings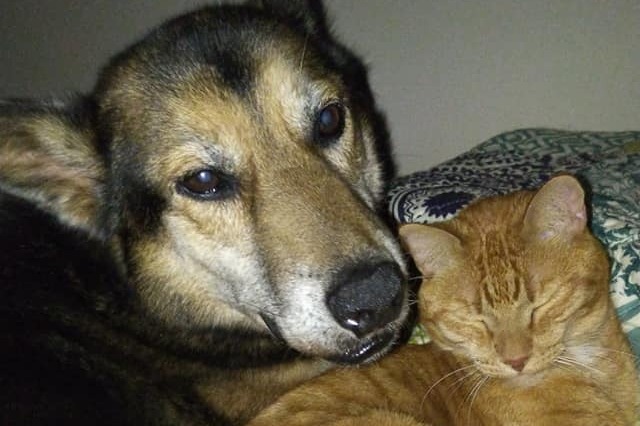 Jakie and me - I love my cat siblings  (Jakie almost died in Nov 2018 from a severe diabetic complications)


That's me?!


Smiling


Part of my Canine Family


Part of my Canine Family!


And the other part...!


My Supplement and Prescription Line-up


13 years ago I was rescued in 2006; rescue groups wanted to euthanize me because of severe mange but my Mommy said no


13 years young and still loving life!

Become the first supporter
Your donation matters
Organizer