Archeological dig in South Africa!
Pinnacle Point, South Africa
Turning your entire life around at the age of 29 is not easy. It takes work, money, more work, stress, blood, sweat, and tears.
And money. Did I mention money?
I've spent almost my entire 20's working in food service. Be it coffee, booze, or steak, my living has almost entirely been made by serving the general public something they will ingest. While this is a perfectly acceptable way to make a living... I need more. I'm not getting any younger, and I have a lot more to offer than my winning, customer service smile.
But what's a woman with a BA in Theatre supposed to do? It took me years to finally settle on something I felt I'd be really great at, that I could make a living at, and that would let me contribute to the world at large. After much soul searching and a lot of experimentation, I finally decided to pursue a Master's in Biological Anthropology.  
I hounded a professor at the local university until she agreed to let me sit in on her course (for no credit and no money), and through my participation she agreed to put my name in for a program in South Africa, digging in the dirt for two months at an early, modern human site. When I got the news I had been accepted on her recommendation, I was ecstatic.
Here comes that word again: money. While the program provides us with room and board while there, we are responsible for paying our way to and from South Africa, as well as paying all of our bills while we are gone. I immediately procured for myself three jobs, and began working 70-80 hour work weeks. I've been doing that now for two months, but I am still short (and, honestly, very tired).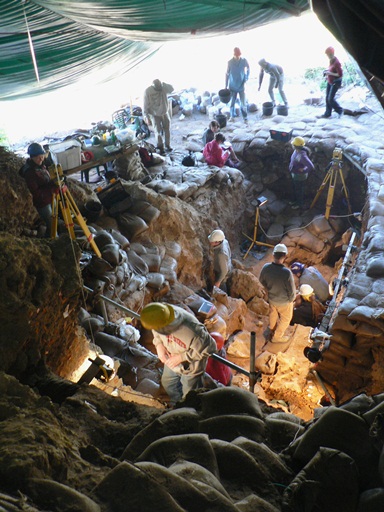 Excavation in progress
I need help and I therefore turn to the internet, in the hopes that you, kind stranger or friend, might see yourself in me. That you may be able to recognize the untapped potential in someone who wants to dig in a cave for the rest of her career, maybe her life, for the small possibility of expanding human knowledge and understanding; someone hungry to expand, to shine her own light in the ethereal darkness. Someone who needs to pay her bills.
Contributing to this endeavor will not be without its rewards. On top of knowing you are helping someone live her dreams, I keep a travel blog. So you will be able to live this adventure vicariously through me to the very best of my abilities. I will try to teach you a little about Africa, anthropology, and humankind.
I will also be eternally grateful, and vow to pay it forward whenever I may be in the position to do so. Should we ever meet in real life, you will receive one very sloppy kiss on the mouth in gratitude.
Organizer