Mom's Care Costs While I Recover
Here's the skinny: (Please, personalize with your own supportive greeting and share this post  with others!)

I am having much-needed surgery within a week and like so many caregivers, I have put me last and Mom first. I have devoted almost eight years during my Mom's decline with dementia, to caring for her. I quit my full-time job two years ago and am working part-time now to focus on caring for Mom as she nears the end of her journey.
I have no family support and never have and like so many caregivers, have gone it alone. I have a few loyal paid caregivers that we really need, but will be unable to work for a few months and not able to lift or turn or help Mom as as usual, since I need to heal. I need financial assistance for medical expenses and additional caregiving for Mom, in my absence. This GoFundMe step was a very big one for me, as I am not used to asking for help, but really need it now... Any support and contributions are greatly appreciated and humbly welcome. God bless all of you for considering and reading this and any donations. 

Here's the story: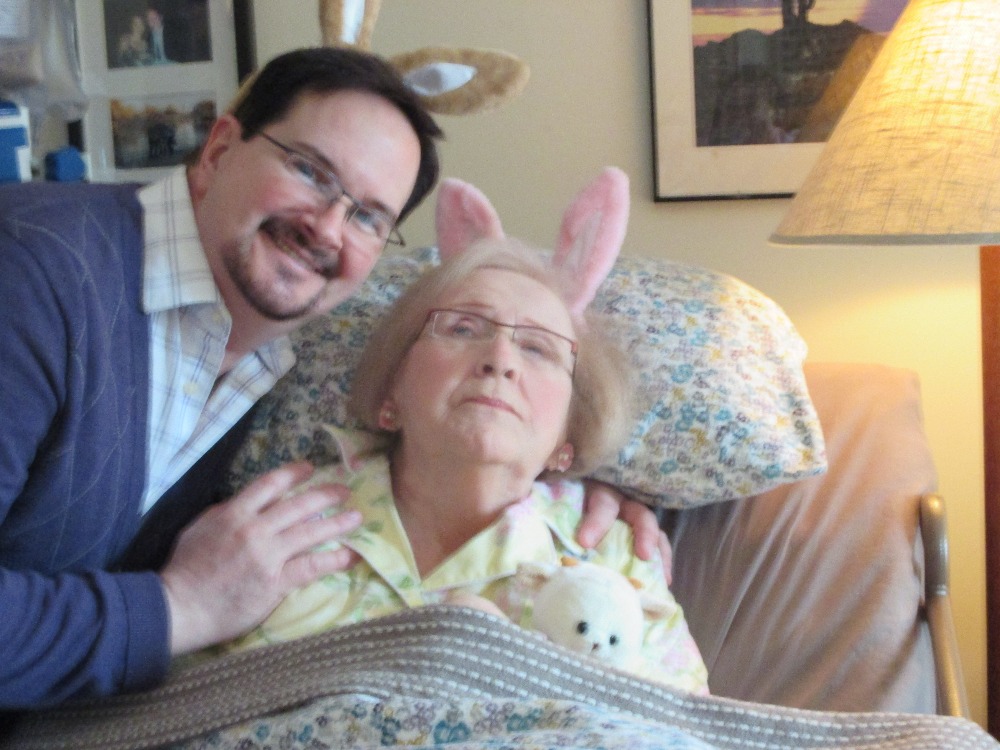 Me and Mom, Easter 2015.  Keeping a good sense of humor, goes a very long way.   I learned that from my parents. 

The most rewarding and yet daunting and consuming experience in my life, so far, has been caregiving for my Mom, who has dementia. I rolled-up my sleeves and stepped-up almost eight years ago, and she has been my sole responsibility and lived under my care, with me, since. Mom always said she never wanted to be alone - we all knew it. It was her greatest fear. Dad had a major stroke and needed to be placed in extended care as he was paralyzed and could no longer care for Mom. He passed away a year later, God bless him, after a brave fight for his life.  After Dad's stroke, I enrolled her in Adult Daycare and continued to work.  Mom's decline has been very gradual, but steady.  I'd rush and get her ready and pack her off on her little bus every morning and wave good-bye as she'd wave back. What a role-reversal, eh?  This lasted for several years until she was no longer a candidate to attend daycare a few years ago. Caregivers were hired to greet her after daycare, until I arrived and when I needed some respite care or to run errands. We were very fortunate to have the same caregivers to this day and a few more along the way. It is very, very hard to find a trustworthy, reliable paid caregiver. We have been blessed with a few very good genuine ones, but have never had free family support, ever, sadly and unfortunately.


Above is a photo of Mom and our beloved caregiver and friend Georgiana, taken in January 2010.  I bought health club memberships for Georgiana and mom.  They were getting ready to work out together in this photo.    

With a a heavy heart, I must report that Georgiana just passed away suddenly on January 12th.  I am heartbroken and saddened.  She was an integral part of Mom's caregiving for almost eight years and like Family to us.   Our lives are forever changed.  Thoughts and prayers out to her family as we all grieve her passing.   Heaven has a new angel to look out for us above... I am now in the process of looking for another caregiver or two, but none will replace Georgiana...
We also were blessed to have the support of a wonderful, very supportive-of-homecare doctor, "Dr K." that mom had for decades in her hometown, that referred to me as an angel and encouraged me to help mom at home. Without her support and encouragement,  I am not sure I could have be influenced so much in the beginning.

I am a growing trend in our nation - men who non-traditionally are caregivers for family members. I am very proud of this accomplishment. 65% of older people who need long-term care rely solely on friends and family and most of the caregivers, (59-75%), are women. Women, unfairly have been leading the cause of family home caregiving for many years, but slowly, balance in society is occurring and men are taking on this challenging responsibility and relieving and sharing this role with women. In "Men as Caregivers," author Betty J Kramer states, "Men are often uncomfortable asking for help." and I am no exception. I always find it difficult to ask for help anyway, let alone help with Mom in any aspect of caregiving. So, it always has been a paid-for-help arrangement. I have learned that it is a common thread for many caregivers, to not ask for help. I am learning to reach out and ask for help. This GoFund Me posting was a very, very big step for me and took a long time to consider.


The devil and the angel - me and Mom, Haloween 2015.

Like so many millions of others today, I have managed to care for and coordinate her care, alone, without any immediate family support, physically, emotionally or financially, Immediate family live nearby, but somehow, feel they do not need to be involved. It is my responsibility, not theirs.  Would I like it to be better?   Of course.  But no one wants to get involved.   And very few speak-up about it.  Why is that ?   I have tried scores of times, right up to this holiday season to ask them to be involved with Mom and show some love and respect to spend time with her.    But no one in my family has reached out to her or me, even at this late stage of life... and it is so sad. Sadly, it is not unique, many scores of caregivers go it alone, but none-the-less it is disheartening and difficult to understand and has no real justification.  Mom needs love and respect and interaction from all of her family. But, it is not just for her, it is for them... and that is also so very, very important for them to understand...  Mom and I, however are evry blessed to have some local "angels" that have provided much-needed emercency care and assistance in recent years I am fortunate to have some had some very close friends  I have known since a child and one close local relative that were there when we needed it most,  I am forever grateful for that!  Thank you Particia, Dawn and Melissa and Betty.  God has blessed us with these angels... 

I worked full-time and was very grateful for The Family Medical Leave Act, that allowed me to take up to three months time, off work, unpaid, to care of Mom's growing health needs. I am also grateful for my then-employer's management team's difficult commitment to accomodate my time-off needs to care for Mom. But two years ago, I ran out of FMLA time at the end of the calendar year and decided to quit my full-time job and gratefully, took on a part-time job, from a former employer, to spend more quality time with Mom as she started to rapidly decline. But she is a survivor and her big heart continues to tick. She is now bedbound, after slowly losing her ability to walk and muscle movements declined. She almost died of pneumonia last year and is now bedbound at home with me. We have a wonderful home care nurse and a CNA to bathe her and help me, and a wonderful home care doctor. When I am not there, we have our caregivers that I am so grateful for. Mom is very clean, comfortable, has no bedsores, is pretty alert and  watches TV. She likes to "dance" with her hands held to her favorite music, from ABBA to Nat King Cole and remains docile and sweet as ever. She doesn't smile much anymore, but her eyes can reveal her contentment.

As all of those afflicted with dementia, mom has declined and has had many other health needs from colon cancer, and all of the follow-up recovery, to staff infections, shingles, pneumonia, heart conditions and so on. She no longer speaks, it was a slow loss over a year or so and she has not spoken for two years. She squeezes my hand in response to my questions often, and communicates that way. Her eyes always reveal something to me too...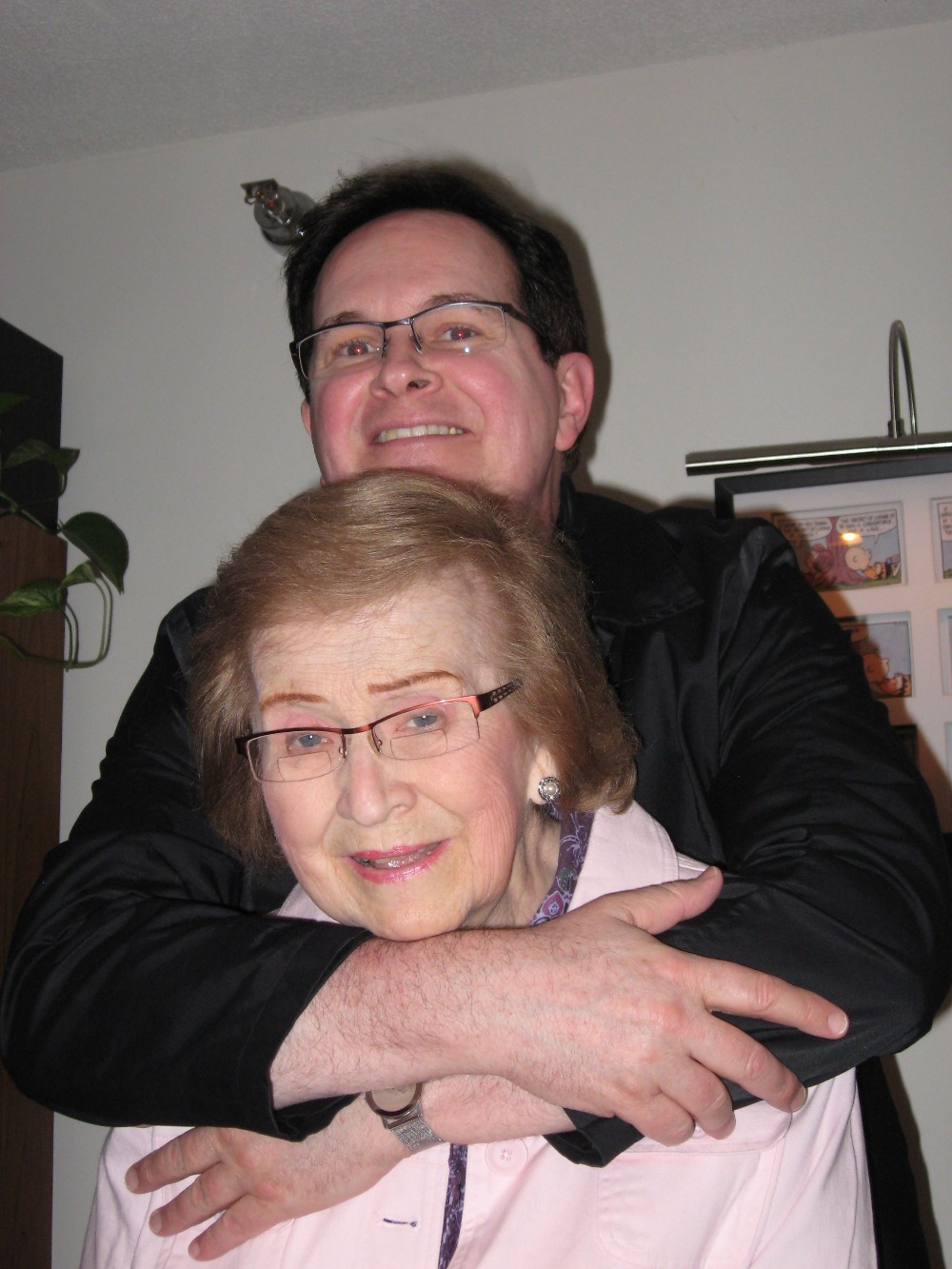 Me and Mom post rehab, in her favorite colors - pink and purple, while she was recovering from colon cancer, April 2011.  She ALWAYS maintained her wonderful sense of humor, and ALWAYS wore her signature earings!  :-)

Many have said to me, "why don't you just put her in a nursing home?" After all, that is so common in our society. And for some, it IS the only answer - I get it. But not for me or for my mom. Every time I walk by her I tell her that I love her and often kiss he on the forehead and give her a hug. That is not possible in a nursing home and a missing huge benefit to home care.  Also, at home, she is not exposed to bed sores that can kill andbe painful, harmful staff infections and germs that are prevalent in nursing homes and widely-documented neglect. Yes, I know there are detractors and those that are pro extended care facilities, but no thank you. If that works for you and your loved one, that's just fine.

A very good ole friend of mine, I have known since first grade, Donna, recently wrote something to me that really put it all in perspective, after sharing a new shadowy, profile photo of Mom gazing forward, in bed, (posted below).  She said "I keep thinking of that photo. Dignity... that is what you have given your mom. She looks serene and dignified.  I do not think that is at all typical of people in her situation. You are giving her that. That is something wonderful." Thank you Donna.  It is wonderful! I read that over and over - it really moved me and I had to sit down for a while, after reading it.  Yes, that was it!  I have given her, her DIGNITY. I did that and was so busy, I did not even realize that, until someone from the outside, who knew and respected me, said that. I am so proud of that too. Yes, I have given her, her dignity...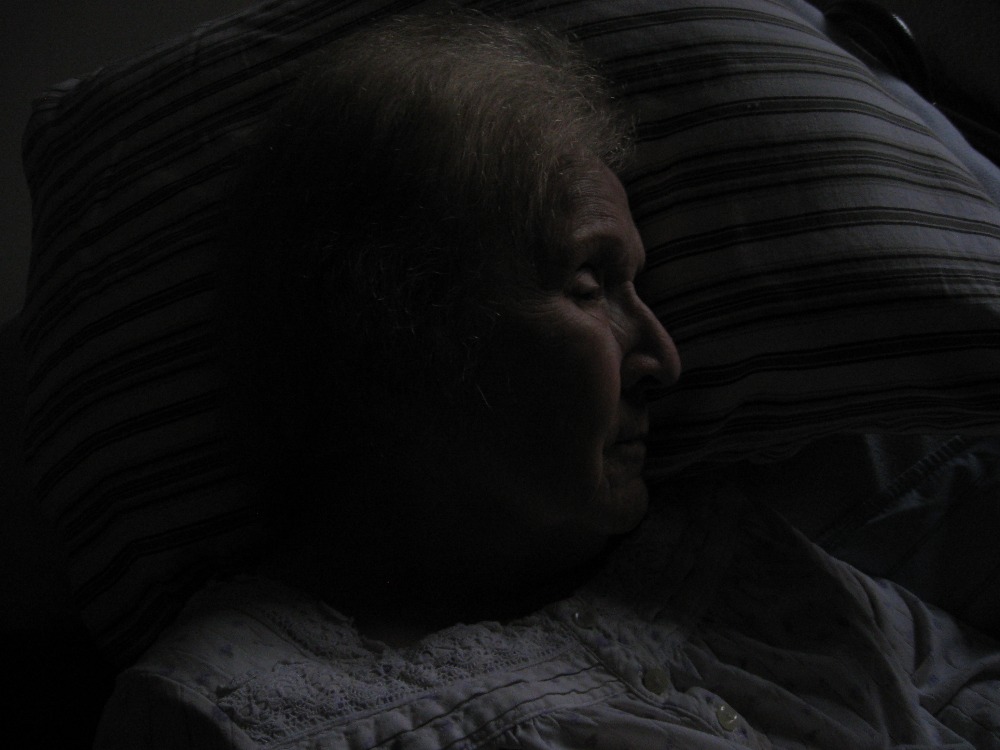 Now through this all, I have been putting off taking care of some much needed medical attention and surgery for myself, as it would require time-away from Mom and my concerns about how she would be cared for. My finances have depleted as well and thankfully, the Affordable Care Act became effective, one month before I quit my job and was a deciding factor. I needed to have health care coverage. I am so grateful for the ACA. Without it, I could not have taken on these responsibilities. 
"Approximately one in five adults in that are caregivers in America, are hidden patients themselves, with serious adverse physical and emotionally demanding work as caregivers and reduced attention to their own health and healthcare. More than half of adult children who provide caregiving are employed. These caregivers have low personal and household incomes and limited financial resources can result in increased caregiver risk and negative outcomes." (From the NCBI Bookshelf - A service of the National Library of Medicine, National Institute of Health. 2012) I am one of these caregivers, but have maintained as positive an outlook as possible, not withdstanding some tough times... One of the gifts for me, is that so many others that have parents with dementia, have come forward to me to ask for advice and I have been able to help them find solutions to their caregiving needs. That is rewarding. I enjoy giving some of this back and helping others that are hurting and so confused.
November 2014 - She smiled and I just had to hug her!
(Photo by caregiver Susan Stioller, who caught the moment - thank you Susan!)

I am having surgery, at the end of this month that I have needed and have put off for some time. I have an affordable healthcare plan, but out of pocket and deductables for surgery will set me back...and I will need assistance to pay for additional caregiving, as I recover. This is where I need help from all of you through this GoFundMe campaign.  Be assured that any donations will certainly be appreciated and go to good use. 

My Mom taught me one of the most important lessons in life. You see, her mother too, had dementia, and without skipping a heartbeat, Mom decided to take her Mother, into her home and hired a full-time caregiver as she and my Dad worked and cared for her, all the rest of the time. I was there too, helping out and saw first-handed the love and respect Grandma got from Mom and Dad and our beloved Angie, the caregiver. Mom taught me what you do in this situation and I did it, naturally, too when it came time to care for Mom. What goes around truly comes around. Mom taught me just what to do through her life examples and now it s her turn...

Mom always said "Feed your faith, and your doubts will starve." I am holding on to that and praying that we will be able to get enough help now... I am grateful for any assistance and know that God will provide. When I go to sleep at night, I do sleep well, I am I thank God that I am able to help Mom and be there, and make her comfortable and give her back some of the love she gave us all, as she was always there for me and my family. I am also grateful. Thank you all for reading this and for any financial assistance that you are able to make, to help us reach our goal. Merry Christmas and a healthy Happy New Year to you all!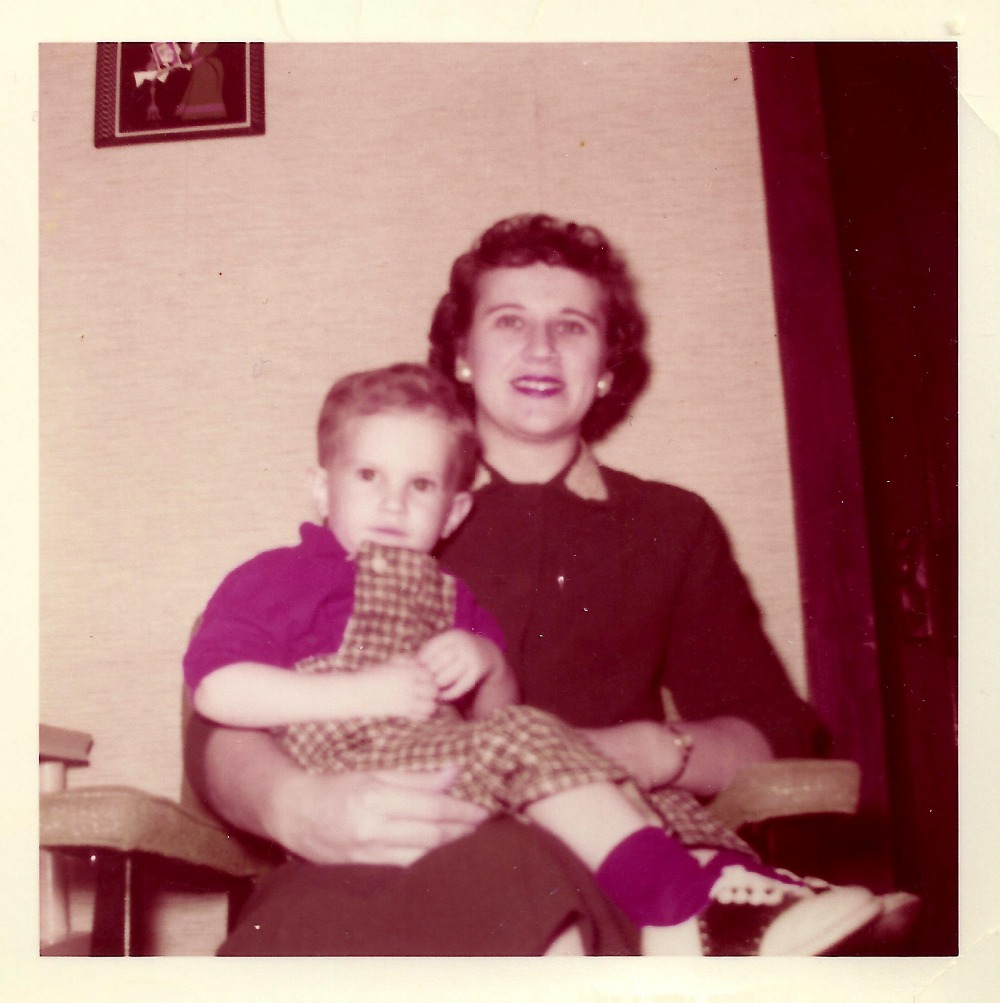 Me and Mom when I was one year old. 
Organizer and beneficiary