HINEMOA CAN HELP US -  PLEASE HELP HER

       ACT FOR CHANGE  

I'm Joanna Paul and I'm a filmmaker lucky enough to be able to support my friend, a women scientist and leader and her quest to join with other women scientists to make a difference to climate change.
I'm not going to try and impress you with a bunch of nerdy facts about how perilous life is becoming in regards to climate change; You only have to look at the media to know tides are rising, islands are going under, icebergs are breaking up and the world is getting hotter!
PLEASE SHARE THIS LINK
Luckily I do know a world-class scientist,
PROFESSOR HINEMOA ELDER
, who is determined to do her bit.  Hinemoa has been invited to participate in
HOMEWARD BOUND PROJECT
a unique year long leadership course for women scientists from all over the globe, culminating in a trip to Antartica where they will gather research, and implement strategy and action to ensure they influence both local and global initiatives to improve the well being of our planet.
 PLEASE GIVE NOW
Dr Hinemoa Elder, Ngāti Kurī, Te Aupouri, Te Rarawa,  Ngāpuhi is a rare breed, a speaker of Te Reo Māori, our Māori language and a practising child and adolescent psychiatrist specialising in the neuropsychiatry of traumatic brain injury and youth forensic psychiatry as well as a researcher in the areas of Māori dementia and traumatic brain injury. 
Dr Elder sums up her desire to join this distinguished team of scientists by the whakataukĪ or proverb:
He
moana pukepuke
e
ekengia
e te waka!
A choppy sea can be navigated , in other words, when we work together we discover solutions!
"When everyone is on board whatever comes along can be sailed through. This is a vital part of leadership in my experience, the ability to build a unity of purpose.  Inherent to this development of collaboration and connection is reciprocity, meeting face to face, and the integrity, honesty and wisdom to explore the direction of purpose and to maintain those connections in adversity."
"I want to broaden my focus as a doctor to explicitly include the
kaitiakitanga
(guardianship) that is inherent
to
our Māori language and culture in the healing of our planet and ourselves. The health of our planet and our on mental health in particular are so intimately linked. I want to bring our Māori knowledge forward, providing leadership models globally."
Crowd funding works by us all giving a little and passing the word along.  We invite you to be part of this effort to save Mother Earth by supporting Dr Hinemoa Elder with a donation and sharing this link with your friends and colleagues. 
Here's the budget breakdown:
 Ship for 18 nights (19 days)   $14,000
 Hotel / Meeting Venue in Ushuaia  $1840
 Faculty Meetings and Travel (design, logistics, airfares, accommodation)  $1500
 Program Administration / Management and Logistical costs $2160
 Gear Antarctic trip  $500 
Total    $20,000  USD PLEASE GIVE NOW

And it's not all one way. For every generous donation over $500 USD you will go into the draw for a revitalisation package from Hinemoa's daughter Millie, @findingmillieelder of NZ's own Jeuneora, 100% Marine Collagen combined with Detoxifying Activated Zeolite and Vitamin C for Maximum Absorption. Beautiful Hair, Skin.  A health tonic for life.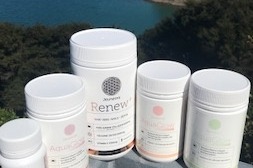 Get started now by clicking donation and please remember to share this link with all your mates.
PLEASE SHARE THIS LINK

Organizer