Help for Kroeger conjoined twins
Please see the latest update on Elijah and Isaac Kroeger for the news of their passing into eternal life, April 6, 2018.
Because of your love and generous support, all funeral and burial expenses have been taken care of. 
Please read latest update for where you can direct any further donations in Elijah and Isaac's memories. 
God bless and thank you! 
This Go Fund Me page has been set up by the Cincinnati friends of Jason and Heather Kroeger.   They came to Cincinnati just one week ago in order to seek specialized medical help regarding the birth of their conjoined twins.  Heather is currently 36 weeks pregnant. 
Here is their story.  Please consider keeping them in your prayers and making a donation for this urgent and serious situation.
Jason and Heather were high school sweethearts.  They grew up and met in Rochester, NY.  After being married in 1999 Jason's job took them to Winston-Salem area in North Carolina.  God blessed them with 5 children (Jacob age 17, Elizabeth age 15, James age 13, Isaiah age 10, and Julia age 4).  Heather and Jason were thrilled this year when they found out they were once again pregnant and due on October 1, 2017.  At the end of the first trimester they were informed that that they were having twin boys and they are conjoined   (see ultrasound photo).  At 35 weeks they were advised to travel to Cincinnati because the hospital near their home was not sure they were equipped to handle their situation.  It was at that time that a group of their homeschool friends came to their home and gave them $500 for gas money and gift cards for food to help get them and their children to Cincinnati. We are grateful that the Jesuits in Cincinnati provided immediate shelter and care during the first few days in Cincinnati.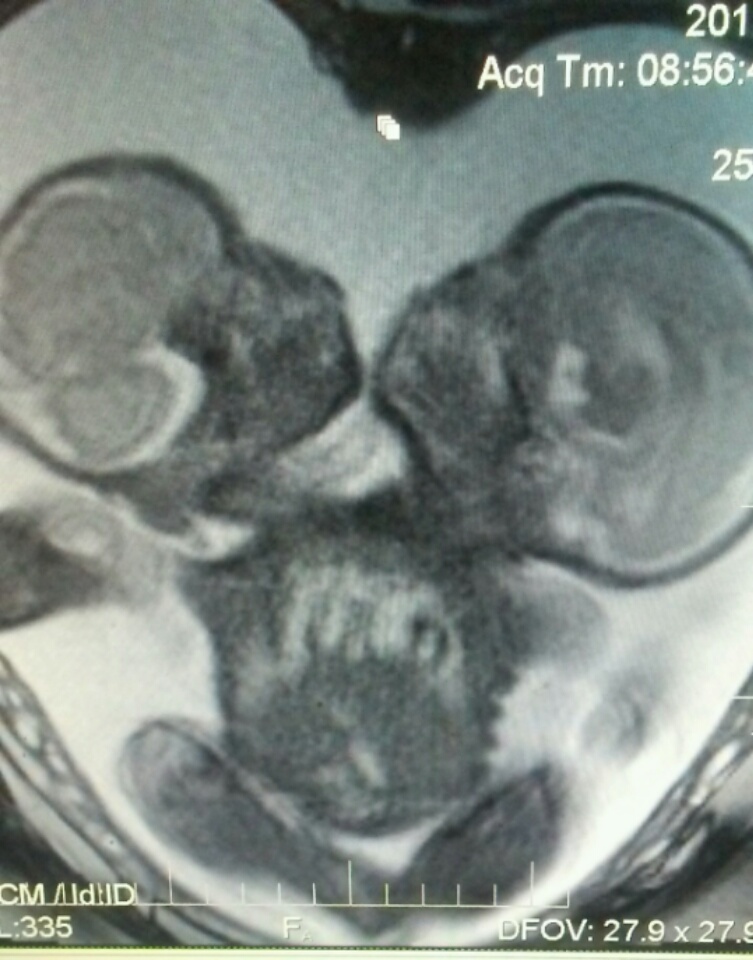 Elijah and Isaac Kroeger

It is no surprise that they have been advised several times throughout the pregnancy to abort these two little precious souls.  They rejected such a thought right out of hand.    We are asking you to consider giving a donation to help this young couple who has been faithful to God's plan for life and love.  They carry a heavy cross right now as they are facing the unknown.  The babies will be delivered at any time.  We are trying to raise funds for extensive pre and post medical costs, lodging, food, travel, and other family needs. Heather and the children are in Cincinnati while Jason has returned to North Carolina to work and be with their older high school son.
Please keep Heather, Jason and their family in your prayers for a safe delivery and that they are sustained by grace during this time of medical uncertainty.  Also pray for the medical teams that will be with them… that they are kind, respectful, and share the deep respect for life that Jason and Heather so strongly embrace. 
Friends, we cannot see what God sees.  Nor can we always understand the "hows" and "whys".  This family has inspired so many of us with their trust in God and love for these babies.  Thanks to all those who have already helped to assist this family since their arrival in Cincinnati just one week ago.  And thanks to all of those who share their belief that every life is precious.  Jason and Heather are very humble and private people.  We asked them to allow us to ask others for help.  They agreed.  The need is urgent and immediate.   Thank you!
For donating by check, please send to Vivian's Victory
http://viviansvictory.org/
  c/o Kroeger Twins,  PO Box 53525 Cincinnati, OH  45253
Organizer and beneficiary