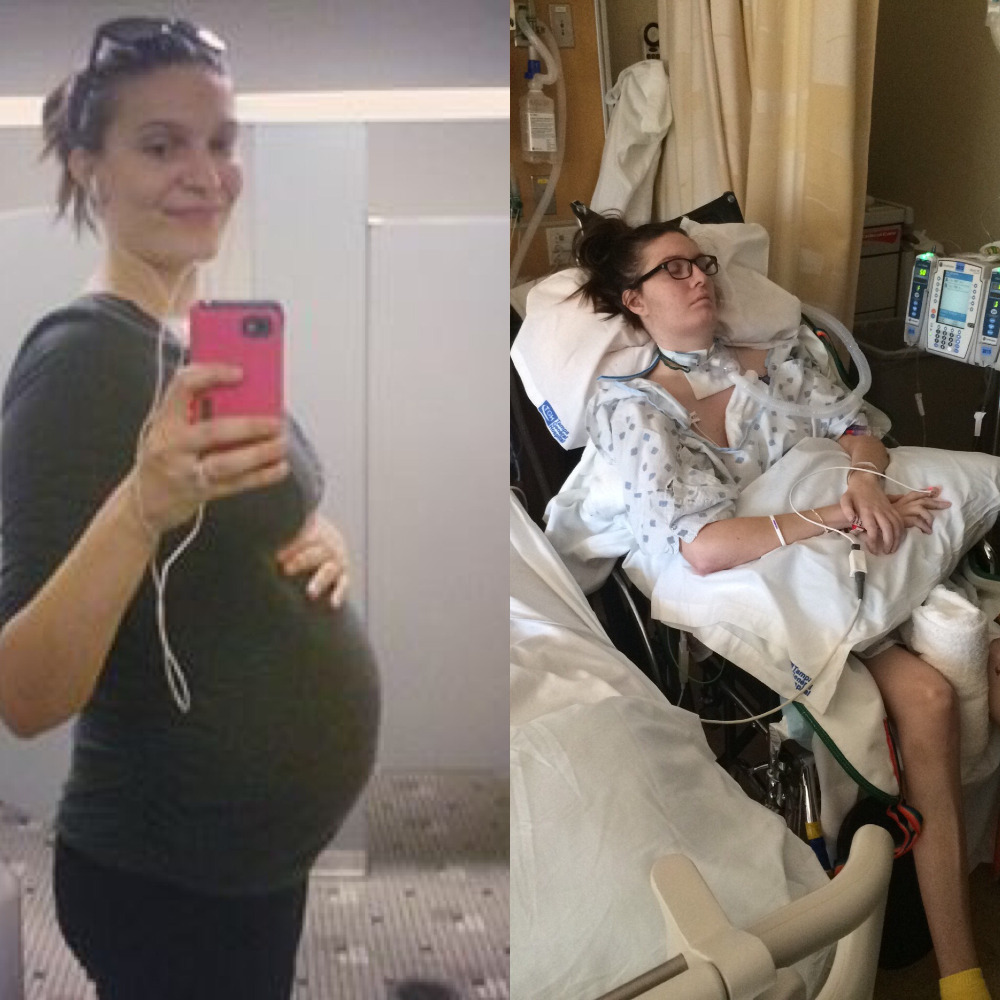 SUMMARY: 
After trying to save her newborn son Lucas' life, 25-year-old mother Kristina suffered a brain stem stroke in October of 2015.  Days later, Kristina's condition worsened and she was diagnosed with Locked in Syndrome, a stroke complication that leaves her 100% aware and  alert but she is unable to move, eat or speak.
While Lucas' diagnosis has stabilized due to aggressive medical intervention, Kristina is struggling with the prognosis of needing 24/7 care for the rest of her life. Their combined medical bills exceed $8,000 per month. Kristin'a family, as her sole providers- are expanding their home in order to better care for Kristina and Lucas. Your contribution helps this Sarasota, FL family who is facing a lifetime of medical 
FULL STORY:
Just days after giving birth, 25-year-old new mom Kristina Brightbill and her husband Jedidiah knew that something was wrong with their newborn, Lucas. Lucas was inconsolable, colicky, had blood tinged stool, was covered in sores, and became chronically ill. Although multiple doctors reassured Kristina and her husband that everything was fine,
the new mom knew in her heart that something was very wrong.
She persevered and fought for her son, seeking expert opinions from all over the country until Lucas was finally diagnosed with Mast Cell Activation Disorder, a disease that renders him allergic to practically everything- including water. Determined to provide a quality life for Lucas in spite of his diagnosis, Kristina, Jedidiah & Lucas flew to California to pursue the top Mast Cell specialist in the US.
By this point, Lucas was being sustained by his mother's breast milk- where Kristina was on an 8 month diet of solely quinoa, the ONLY food that Lucas could tolerate. As a determined mom, Kristina lived on quinoa and nothing else. She was exhausted, malnourished, and battling her own newly-activated Mast Cell Activation Disorder coupled with Ehlers-Danlos Syndrome, a connective tissue disease.
Kristina and her mom, Linda, were packing up to come home after a three month long trip to California when the unimaginable happened.
Kristina's body succumbed to the pressure and exhaustion, and she suffered a massive brain stem stroke in October of 2015.  
The brainstem is responsible for all communication in the body. The brain stem tells the lungs to breath, the heart to beat, the arm to raise and the foot to move.
Due to poor medical intervention, Kristina's stroke was not diagnosed properly for 3 days and  by the time it was diagnosed, the long term damage had already been done
.
Kristina was then diagnosed with Locked-In- Syndrome, an extremely rare secondary disorder to the stroke that renders the patient aware and alert but unable to move, talk or eat.
To date, only two people in the world have been known to come out of "locked in". Kristina is unable to speak, swallow, move, hold or play with her son. It has been an emotionally debilitating journey, but through it all- she has not given up.
That was 16 months ago. Today, Kristina, a physical therapist herself, has been able to prove many doctors wrong. In spite of their grim prognosis, she breathes on her own and  is making slow progress in her physical therapy every single day. Communication is attained by spelling the alphabet with eye blinks, where she is able to turn letters into words and sentences. It is a tedious process, but allows Kristina to have a voice. Kristina's medical care is extensive as our primary goal is to prevent life threatening infections that plague her already compromised body. 
While Kristina's health demands 24/7 care, we are so thankful that Lucas' diagnosis has stabilized due to aggressive medical intervention. Lucas is a spunky 2 1/2 year old whose life is sustained by a strict diet of lamb, red potatoes, 'sacha inchi' oil and  small amounts of broccoli and  banana. Those are the only foods he can tolerate at this time without going into a full allergic reaction and possibly anaphylaxis. Lucas will likely never be able to attend a public school due to his diagnosis and even the time he spends outside is limited due to environmental factors.
Kristina and Lucas are blessed to have family who helps provide care and support them. Kristina's mom Linda Daly, immediately quit her job and she takes care of both Kristina and Lucas's needs full time and is with them both every single day, 24/7 along with her husband and Kristina's father, Jimmy. 
A single day in Kristina's life
includes medications, tracheotomy care, PICC line dressing changes, IV injections, feeding tubes, skin breakdowns and  infection control. The real challenge is advocating for Kristina's needs with insurance companies, social security offices, doctor's offices, medical companies, referrals and prescription refills. Something as simple as getting a medical mattress to prevent bed sores can takes months of emails and phone calls to accomplish. The family has learned the art of appealing decisions and  spend countless hours walking the line between providing physical care for Kristina and advocating for her needs. 
The family is simply exhausted and  have come to the mutual agreement that they need to work smarter rather than harder.
After many months of debate, Kristina's parents have made the decision to expand their home for the sake of Kristina and  Lucas' physical, emotional, and  financial care. The Daly's have plans in the works to build an addition onto their home so that Kristina's care can be better managed and  so Lucas can spend more quality time with his mom. Having everyone under the same roof will cut down on travel time and make their lives more efficient and manageable. Building that addition is an extremely costly endeavor, and all past fundraising has been allocated towards Kristina and Lucas' needs. Today the family is seeking your support. Our  fundraising goal is $200,000.  This will cover the home rennovations, caregiving costs, better rehabilitation equipment, and other various medical costs.
We understand that times are hard for everyone, so if you cannot help financially, please consider what you might possess that could help this family.
Perhaps you are a plumber or own a cabinet company? Maybe you're an electrician, or your brother is a surveyor? Is your neighbor a roofer, or your husband a contractor? Would you like to donate the materials we need? Maybe you have access to purchasing items wholesale? Help spread the word. Share Kristina's story. If we shout from the mountaintops, the valley will hear of Kristina's journey. After all, nobody can do everything, but everybody can do something. Please don't close this page until you have considered any resource that you may be able to contribute to our journey.
Any money that we raise above our goal will go directly to Kristina and Lucas' ongoing medical care and for therapeutic resources to aid in Kristina's recovery. In spite of all the challenges this family has faced over the past 2.5 years, the Brightbill & Daly families are humbled by the outpouring of love and support.    
Kristina would like to personally
thank you
all for your prayers, cards, emails, posts, phone calls and visits. Your support is the fuel that keeps the fire burning for Kristina's fight and seeing her son Lucas grow up is what fans those flames. Words simply fall short to express her gratitude. Thank you all and God Bless.