This is our best friend Erin. And I say 'our' because most of you reading this are part of one or more of her 'bestie groups'.  I could say a lot of things about Erin and her journey over the last 3 years but I am going to make this short and sweet and stick to the important things. 
Because this is one of the most important chapters for Erin, her family, and her future. 
Erin is a breast cancer survivor. She went through chemo, radiation, and a double mastectomy in 2017. Erin is a wife. She married the love of her life, Kevin, in 2018. Erin is a mother. She has a 9 year old son, Collin. And Erin is 29 weeks pregnant, with the miracle baby of her and Kevin's dreams.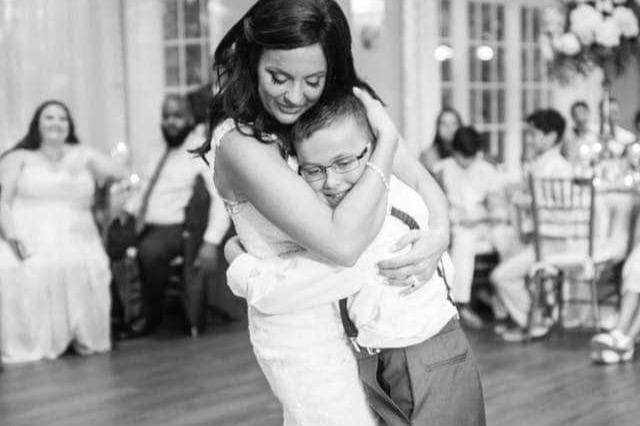 Erin went above and beyond to take preventative measures to keep the hopes alive that her and Kevin would be able to have a child one day after her previous cancer treatments. So you can imagine their JOY when they found out that they were expecting while on their trip to Jamaica earlier this year. Due this October, Erin and Kevin were ready to put the cancer behind them and were excited to start the new chapter of their lives, and Collin was SO excited to be a big brother. 
Ready to expand the family, and be closer to friends and relatives, Erin and Kevin found the home of their dreams in Westlake. Life is perfect, right? 
At the end of June, Erin started having migraines. At first they were controlled by medications and it got to a point where they were relentless and she could find no relief. Pregnant and worried, Erin went into the ER and a BOMB was dropped on her perfect world. THE CANCER WAS BACK. 
They found a brain tumor. The next day the was transferred downtown to Main campus CCF and was on the operating table having brain surgery. At 26 weeks pregnant. The tumor was removed and Erin and baby were doing AWESOME after surgery. 
With hopes of the cancer being contained and the baby being able to make it to full term, everyone was just getting over the shock of this sudden turn of events. 
Erin is trying to process that her nightmare is back. She beat stage 3 breast cancer. She is now fighting stage 4 metastatic triple negative breast cancer. The most aggressive form, as you don't know what triggers it. Which means she will be fighting this FOR LIFE. And be on treatments to help save her for as long as she lives. 
********With a new recent update, Erin had a gamma knife radiation treatment this Tuesday, to eradicate the remaining cancel cells. After the procedure, Erin woke up complaining of major headaches. They tried to alleviate the pressure in her head by releasing fluid from her spine. After more tests they found that the cancer was there as well. The cancer is traveling. 
With Erin in critical condition, the due date of the baby needs to be moved up so Erin can have the rest of the full body scans necessary to determine where else the cancer has spread. The plan today is for the baby to be delivered next week, at 30 weeks gestation. 
Erin is fighting for her life. Erin is fighting for her baby's life. Kevin is trying to hold it all together. And Collin needs his mommy. 
They have enough to worry about. We are making this page so we can lighten their load. To help with the endless amount of medical bills they are faced with. To give them a small piece of mind with a new baby, and a new house, and a new future...........
That they can fight the fight for Erin's life. And we can take care of the rest.
Organizer and beneficiary