OUR STORY
Our attempt to find a new space for my sister Robyn's Parkinson specific non-contact boxing class,
Rock Steady Boxing New West
 , in New Westminster, British Columbia, Canada, has been challenging. So many people and local businesses offered to help and we are very grateful for that. In the end she just couldn't find the right spot that covered all the criteria she required to provide the best possible scenario for her deserving clients. 
Norm "Dr. KO" (red gloves) giving it his all with one of our amazing volunteers, Wayne, at a recent event in New Westminster where we were invited to showcase our cause.
TURNING POINT
The following letter was written by Colin Plumb, the son of Norm Plumb, one of our Parkinson's disease fighters. The letter was part of Norm's Christmas gift. They recently shared it with us. 
"Dear Dad,If I had all the money in the world...I would buy Rock Steady Boxing New West a new home for all the wonderful work they do with all of you. I'd like to see them with a bigger, permanent space that they so deeply deserve. In addition, I'd like to supply them with any new supplies and/or equipment they may need. I think this is an honourable thing to do because it has hit home so closely for all of us. Although I cannot speak from experience with Parkinsons, I do know the plentiful benefits of a healthy mind-body relationship and the self-efficacy that arises from developing that relationship. This is something that needs to be continuously promoted, especially for those suffering from Parkinsons and I wouldn't want to see others not get the chance because of venue space restrictions and funding for new equipment. I know this is something that we will align on, without a shadow of a doubt.With love from your son Colin"


Norm "Dr. KO"
Photo by Doug Plumb
OUR DREAM
This letter really spurred us on to follow our dream of establishing a PARKINSON WELLNESS CENTRE. 
So Robyn made the bold decision to lease her own space. And we found a great one which is becoming quite rare in our community! (ADDRESS: 103-450 E Columbia St, New Westminster, BC, Canada)
Not only will our Parkinson specific non-contact boxing program still be available five days a week we will offer other exercise options for people with Parkinson's, social activities, resources and wellness workshops among other programs specific to the disease. 
HOW YOU CAN HELP


While we don't have all the money in the world we do have the passion to get it done! The only way this will work is for us to gather contributions that are needed to get this off the ground. We estimate the value of this to be around $30,000+.
Our target date for opening is March 19, 2018.
IN THIS CORNER, HOPE...
If you or anyone you know may like to make a contribution we will be forever thankful! More importantly you will be supporting those fighting back against Parkinson's.
To learn more about Parkinson's disease: 
Parkinson Society British Columbia
Parkinson Canada
To learn more about ROCK STEADY BOXING NEW WEST please check out:
Facebook:
https://www.facebook.com/RockSteadyBoxingNewWestmi
nster/ 
Website:
http://newwest.rsbaffiliate.com/
Instagram:
@rocksteadyboxingnewwest
Twitter:
@RockSteadyNW
Feel free to share this with your family, friends, neighbours and co-workers. 
Thank you for your support in KNOCKING OUT PARKINSON'S!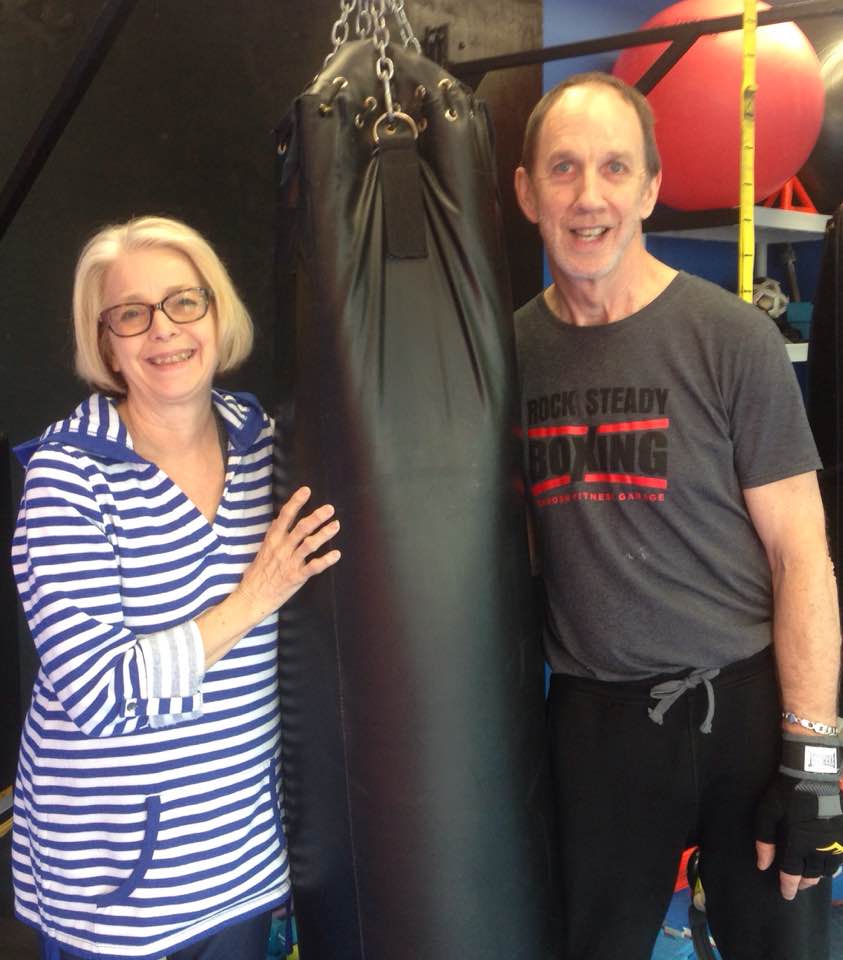 From left: Cathy "Calamity Kid " - volunteer extraordinaire + "Sugar" Jay - Parkinson's fighter!
Organizer
Heidi Clarkson 
Organizer
New Westminster, BC