Attending My Twin's Wedding
Hello, My name is Kelise Kathu Vriesema. I grew up in Grand Rapids, Michigan, but currently Chiang Rai (the Northernmost province of Thailand) is my home. In May 2014 I moved to Thailand to marry my husband, Lek Kathu, and teach English to kindergarteners at a local school.
I am raising funds so that I can go to my twin brother's wedding in August (his name is Jacob). I am very close to my family and it would be terribly difficult to miss Jacob's wedding. The reason why I cannot afford this trip myself is because my salary goes toward student loans and my husband's salary is just enough to live on in Thailand. 
Here are a few reasons why attending Jacob's wedding is so important to me:
1. I kicked him for eight months straight in the womb, so this is the least I could do for him.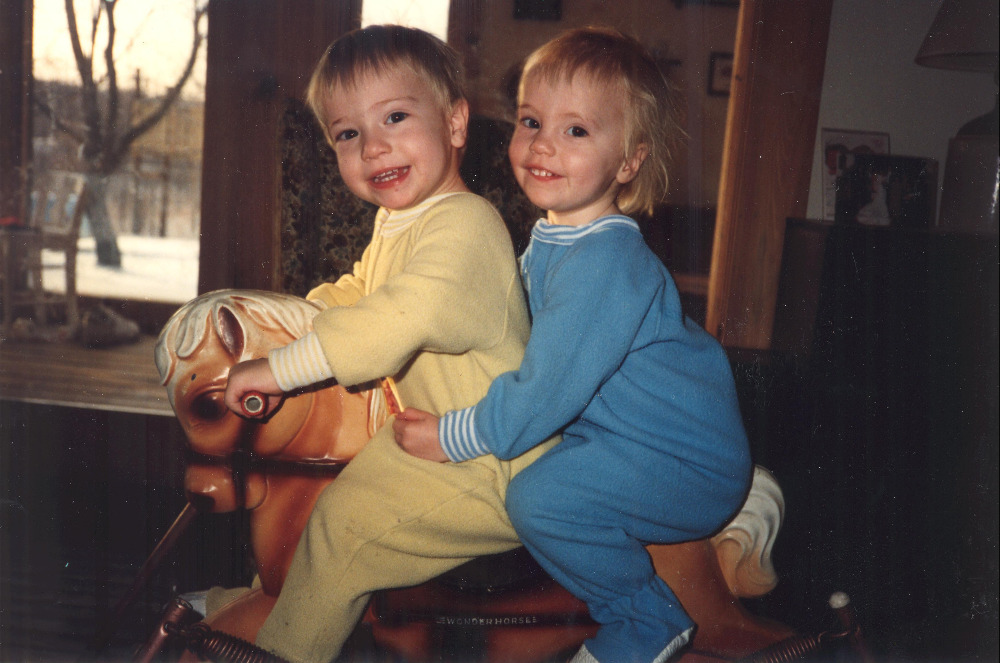 2. When we were little we got muddy in our creek, chased wood bees around on our roof, played cowboys and Indians in our woods and built forts up in trees. I want to be there at the start of the next greatest adventure of his life.
3. In middle school we used our boy/girl twin advantage to find out what classmates had crushes on us. I tried to be his match maker. Now he has found the perfect woman for him (without my help J )
4. When I was a sophomore in high school I saved every penny I had for 8 months to go Japan for an exchange program. At the airport my parents gave me food, prayed for me and hugged me. My oldest brother Jess hugged me and slipped money into my pocket. Jacob grabbed my shoulder, steered me away to a quiet corner and said flatly, "If any Japanese man even looks at you the wrong way I will fly over there, castrate him and feed the bits to the sharks. Got it?" I didn't get a hug but I felt the love!
5. When I was a senior in high school I was at a sauna. It was late at night and Lake Huron was very cold so I dove in quickly, only to find the water very shallow and hit my face against a dolomite rock. My dad helped me back to the cottage we were renting. Jacob hovered over my bloody face for the better part of an hour but didn't say one word. Finally when we were going to sleep I tried to get him to laugh by making a comment about needing a nose job. He glared and said "That isn't funny, you could've died." I tell this memory because Jacob's response made me realize how important I am to him—so let's get me to his wedding!!! J
6. For three years in high school Jake and I car pooled 30 minutes to school and 30 minutes back each day. I spent the time talking with him and he became my confidant and a constant source of laughter. He spent the time trying to get me to be a heavy metal music connoisseur. He failed, but bottom line is that we both enjoyed our time together so much. Come this August I will not have seen Jacob in over a year, and what better time to be present for Jacob then on his wedding?!
7. In college, Jacob and I started a prank war that everybody in our two dorms was aware of. The best example is that in October he filled my room with Hay and made a scarecrow. I put the scarecrow outside and then people began stealing the hay filled pants and they traveled all over campus. It finally came to rest on a dorm roof and in icy December I climbed up on the roof, washed the pants, and got every girl in his dorm and mine to sign it with love notes. It was the cheapest yet best Christmas gift I have ever given him. If humor is a love language—and I believe that it is—then my family is great at communication. How can I make an embarrassing wedding toast from Thailand?  
8. Another important reason that I have to attend Jacob's wedding is because I have so much to tell his beautiful fiancée, Lydia. Before she says "I Do" it is my privilege—nay, duty—to  tell her about Jacob using a women's restroom at a public monument, his flushing of stuffed animals down the toilet as a child, his wicked sense of humor, and so many more quirks. Since she is to be my sister I need to start our sibling relationship on a foundation of openness and honesty.
9. Lastly, Jacob has supported and encouraged me through every step of my life, from the crazy fun to the deeply discouraging. He was one of the first people to support my move to Thailand, and knowing he had my back meant the so much to me when I moved halfway around the world, from the familiar to the unfamiliar. He even came to my wedding in Thailand this past July. Now it is my turn to encourage him on what will be one of the best days of his life.
Please help me make this happen! I use kayak.com as my main flight search engine. The cheapest round trip tickets (Bangkok to Grand Rapids) I could find—their date is August 15--were over $1500. I will also need to fly or bus from Chiang Rai to Bangkok and back which will be another $100. (I hope to raise this money in the next month in case the ticket price rises!)
To everyone who chooses to support me, thank you so much. I cannot express how deeply grateful I am for help towards a trip that is so important to me.
In Thai I would say, KhobKhun ka, Khun Nam Jai Maak. Pratjao Euh-way Pon =Thank you! You are very generous. God bless!
Jonathan and Rachel Laughlin 
Organizer
#1 fundraising platform

More people start fundraisers on GoFundMe than on any other platform. Learn more

GoFundMe Guarantee

In the rare case something isn't right, we will work with you to determine if misuse occurred. Learn more

Expert advice, 24/7

Contact us with your questions and we'll answer, day or night. Learn more