We are KinSculpt, a eclectic group of artists, makers, and amateur enthusiasts in and around Central Oregon. Our group formed in the middle of a very challenging year with one goal in mind: to create something big and beautiful to lift the spirits and inspire the minds of all who come upon it. This vision has manifested itself as Fleur de LUX - a large, interactive, robo-botanical kinetic sculpture that borrows its design from nature, but invokes something fantastical! Like a phoenix rising from the ashes of hardship, we want this piece to evoke new life. 
 Fleur De Lux is an 18 foot tall metallic flower that has 8 articulating petals each of which are inset with colored vinyl panels. With over 3,000 addressable LEDs this flower really blooms at night.
Our team has displayed the flower at several events in central OR, and the amount of excitement and intrigue that we have received so far has been amazing.  Everyone want's to know where it's going next.  
The next goal for our team is to bring Fleur De Lux  to the Burning Man festival in August of 2022.  
Please help us get Fleur De Lux to the playa this year.
Your donation will help make this happen. Your funds will help cover the significant costs of transportation, construction and maintenance,
Please make a donation today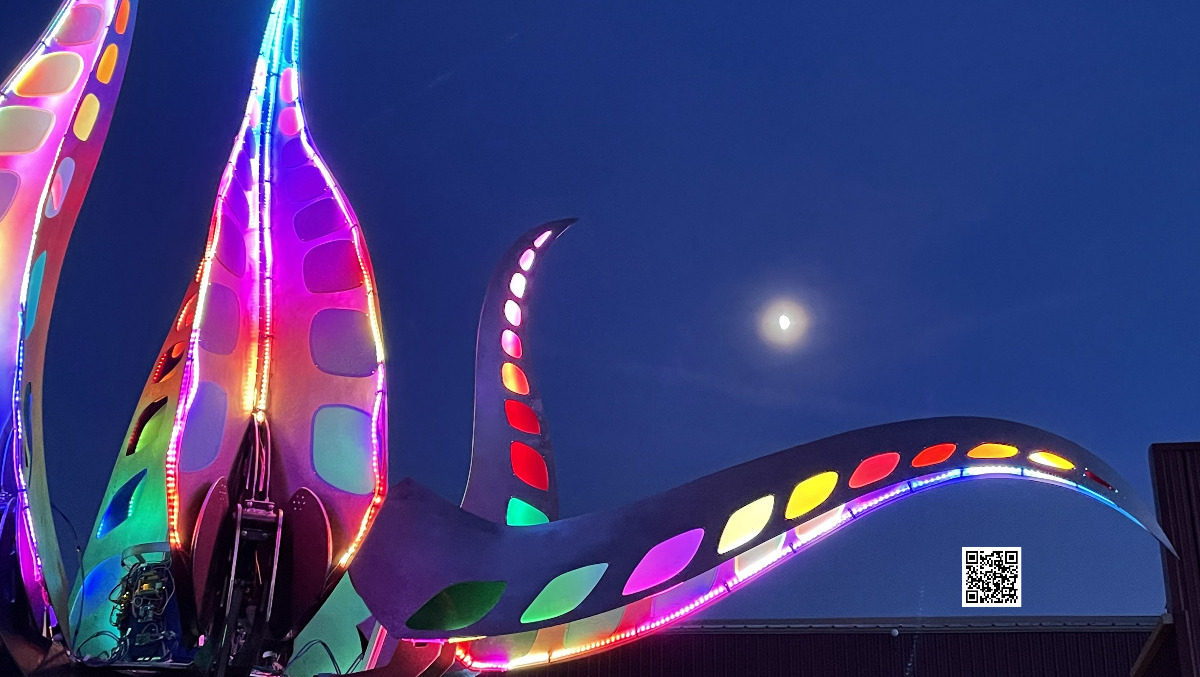 To learn more about this amazing art piece, visit the KinSculpt home page
www.kinsculpt.com
Imagine the Vision
Fleur de LUX invokes the form of a flower, with large steel "petals" that open up to reveal a central "pistil" containing a dazzling embedded LED display, and brilliant "stamen" formed from handmade neon tubing.
Why a flower?
The flower is symbolic of the process that occurred to bring this idea to life. A group of people coming together and cross-pollinating their ideas with one another, and those ideas blossoming into a concept and form. 
The flower is also symbolic of rebirth, regeneration, and connection, which are things that people everywhere are craving after this past year. Fleur de LUX draws the community together by encouraging viewer interaction to control its shape, color and sound
Interaction?
The blooming of the petals and the activity of the lights will be controlled by contactless audience interaction with the piece, allowing creativity and experimentation on the part of the viewer. Our vision is for the viewer to interact with Fleur de LUX to control the light show, the sound, and the motion of the sculpture with the wave of an arm, a swipe of a finger, a click on their phone, or through their voice.
Where can you see Fleur de LUX exhibited?
We are aiming for the grand unveiling to occur at the Central Oregon Maker Festival at the Deschutes County Fairgrounds in November, 2021. This is our primary deadline for completion of the piece. From there, Fleur de LUX will make the rounds at other events in the Pacific Northwest. The permanent location for the piece is yet to be determined.
Ways you can helpPlease Donate!
As we continue to develop our prototype and work on the programming and coding aspects of the project, we are also doing the very necessary work of funding. This is becoming more important by the day, and as we move forward we would like to offer incentives to our patrons.  As a developing project we need your support and for that support we would love to give you, our sponsors, something in return.  In appreciation, we would like to offer a founder's memento to those who contribute during the first phase of fundraising.
As a thank-you gesture from our team to those of you who have followed our vision from the beginning, all founding sponsors, those that contribute by August 31, 2021, will be invited to have their names inscribed on the Fleur de Lux piece. Sponsor's names will be artistically engraved on the piece to further emphasize how this piece represents the community coming together. With your support we can flourish. We truly appreciate each and every person who has helped us make this dream tangible.
Our partnership with High Desert Makers and the DIYCave
KinSculpt is operating under the 501c3 umbrella of the High Desert Makers, a organization dedicated to supporting artists and makers in Central Oregon. We also receive support in the form of shop access and general expertise from the DIYCave in Bend, OR.
Be part of the Fleur De LUX community and donate today. Thank you for supporting the arts.