Kids of Courage's Marathon
Kids of Courage is an extraordinary, unique, non-profit organization that makes dreams come true for children and young adults who are living with serious, debilitating, painful, often life-threatening illnesses, 24 hours a day, seven days a week, 365 days a year.
This January, our campers will be on hand with specialized adaptive equipment walking and running alongside us - inspiring us just like they do every day! It's our collective goal to put on display the unexplainable bonds between camper and counselor, to show the world that limits are merely only words, that illness only causes the end goal to be that much sweeter and that our gear is our hearts, which we so proudly wear on our sleeve.
With the help of Kids of Courage, these children have opportunities to enjoy recreational activities outside of the hospital. All services provided are free to the children and families, we firmly believe that these families have enough burdens in their lives without worrying about the finances needed to participate in our activities.                                                                                
                                                                                                 .
Kids of Courage
 leaves the families that they serve at home to rest up and catch their breaths while their child has the time of their life.
·
Kids of Courage
has previously traveled to Los Angeles, San Diego, Dallas, San Francisco, Miami, Orlando, Washington DC, Virginia, Massachusetts, Vermont, Bermuda, and the Bahamas.
·
Kids of Courage
typically charters a United Airlines 767 and it becomes a "hospital in the sky" to safely fly our Couragers to their dream destinations.
·
Kids of Courage
medical team averages administration of over 1500 doses of medications each day, including infusions for cancer patients.
·
Kids of Courage
typically provides medically supervised trips for 120 campers with life-threatening illnesses and serious disabilities on each trip.
Any donation helps! Please share this link with your friends and family.
https://www.gofundme.com/kids-of-courage-official-campaign
If you have any questions or concerns feel free to contact [email redacted]
Thank you in advance for your support!
Co Sponsors: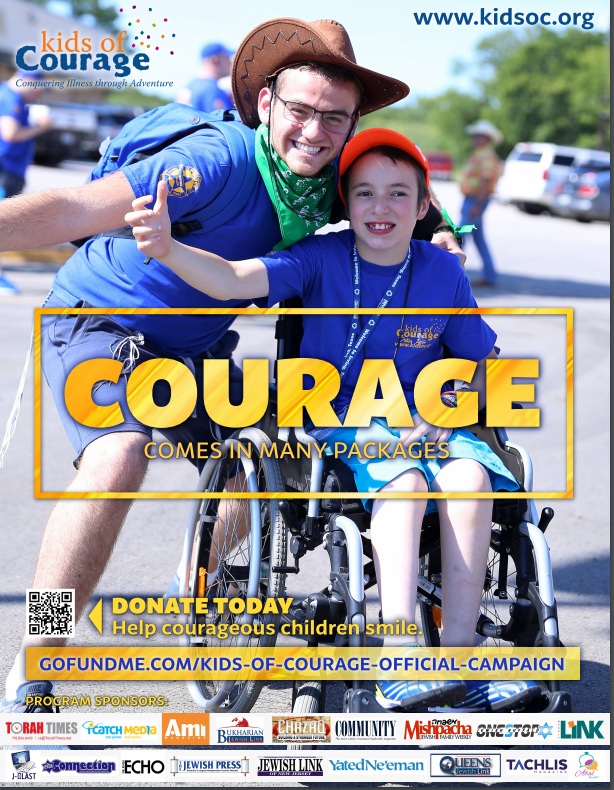 Organizer
Esther Cohen
Organizer
Cedarhurst, NY

Registered nonprofit
Donations are typically 100% tax deductible in the US.