Kickin' Kristi's Cancer! Hope 4 Cancer
After receiving her cancer diagnosis, Kristi commented to me 'God is good. I trust Him through all of this! He knew this was going to happen when I was in my mother's womb!'
What a beautiful picture of a woman who loves God and trusts Him with literally everything.

====

Following is the most recent update from Kristi about her medical situation at this time:
UPDATE 8/20/2020:
Kristi had a surgical colonoscopy and exploratory surgery on August 12th. 
Results are good.  Colon good, intestines good, stomach good, appendix good.  Pain in lower right abdomen still bad and they don't know why.  They may do a bone scan to see if there is something on inner hip.  The pain is annoying and a mystery.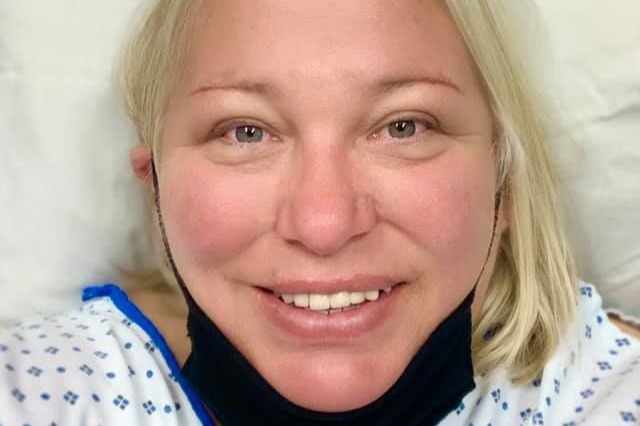 UPDATE 8/2/2020:
Kristi's next surgery is scheduled for August 5th. 
She is recovering from a post operative infection and is not feeling well. 
Kristi was diagnosed with uterine/ endometrial cancer June 14, 2020.  She had radical surgery Just 5 days later on June 19, 2020 with the discovery of a large tumor. The cell type is of an aggressive nature and she is now pursuing some integrative medical therapies to help build her immune system and undergo treatments to target cancer cells.  Kristi is still experiencing pain and will have a few more tests to determine an overall treatment plan. She covets your prayers as she embarks on this journey of healing. Please pray for clarity, wisdom, direction, resources and healing!
UPDATE 7/24/2020
:  After hours of research and  prayerful consideration of the next step,  she has found an option that she feels is the best route to pursue. – 
Hope4Cancer
(www.hope4cancer.com) is a treatment facility that offers an intensive holistic treatment that will specifically target cancer cells with therapies currently unavailable here in the States. The treatment begins with a 21 day inpatient program with 2 follow up visits. 
The money that we are fundraising will go towards any out of pocket expenses for the initial 3-week stay at the facility, the ongoing 11 months of treatment equipment and supplements, the dietary alternatives/schedule, and the travel back and forth to Mexico  3 times for care and treatment. 
Kristi would like to begin treatment by the end of August but in order for this to happen, she will need to have all funding in place before she leaves.  Any monetary contribution would be beneficial. While she covets your prayers, many have asked how  additional support can be extended. Lets come together as friends, family and community and raise these funds needed to get Kristi to Hope 4 Cancer ASAP!
hope4cancer.com
Hope4Cancer hospital is a recognized world leader in holistic & integrative oncology
For those of you who enjoy reality TV...
https://hope4cancer.com/8-days-season-2/

At this time, it's an awesome privilege for us, the body of Christ, to be able to lift Kristi and her family up in prayer to our Lord - and to reach out to them, offering our support and encouragement. Please, use this site as a way to do that. Please also share this go fund me site with other people who you know would want to support and encourage the Nash family as they navigate through this time.

Here is her address and phone:
Kristi Nash
PO Box 1943
Kenai, Alaska 99611
805-907-9171