Khuder Needs a Kidney!!

Khuder and his sweet young family walked in my life just one month ago. They are truly some of the most humble, kind, sincere people on earth. After learning of Khuder's story, I cannot sit idly by and do nothing.

Khuder Ilch, along with his wife and 2 young children recently arrived from Mongolia to visit a brother who is a student at BYU in Utah. Khuder's family sold their ger (round tent/yurt) and everything they had to make the trip.

Sadly, just 2 weeks after arriving here, Khuder was taken to the ER with a failed kidney and pneumonia. He only has one kidney, which is a transplant he received 7 years ago from his sister. He is lucky to be alive, but in order to sustain his life, Khuder now needs dialysis 3 times a week until he can find and receive another kidney transplant.

Khuder's wish is to have a few more good years, so he can be there for his children as they grow up. His family needs him so much. Khuder's family has no insurance and no money to pay for his needed medical treatments or kidney transplant. They also have no home to go back to and they need a place to live. Please help provide for this sweet Mongolian family in their dire circumstances. They will be forever grateful! God bless!

Here is Khuder's story in his own words…

My name is Khuder Ilch. I am a father of two little angels—5 year-old Yesugen and 2 year-old Yesukhei—and faithful husband to my wife Ankhtuya. I am blessed to have a family and to be alive today. I was diagnosed with Chronic Kidney Disease in 2009 towards the end of my full-time missionary service in Ulaanbaatar, Mongolia. It was a blessing from God that my mission doctor was inspired to send me to a hospital for a blood test where I was able to find out the reason for my declining health. My disease was in such a severe condition that I had to transplant a kidney from my sister in 2010.

I was blessed to create my own family in 2011. I lived with them in exceptionally good health for the past 6 years. After coming to the U.S. to visit my brother, I have found out the bad news that my transplanted kidney has failed. My hope is to receive medical treatments that would lengthen my life, so that I can spend as much quality time with my family and friends as possible.

For these reasons, I come to you for your support and generosity. My family is still so young, and the only money we receive is given to us by the medical care system in Mongolia, which is $70 per month. Your generous donations would go towards the expense of my return trip to Mongolia, living arrangements in Mongolia, dialysis, medical treatments, and needed medicines.

Once again, I earnestly ask that you would support me on this journey, so that I can have the opportunity to live with my family longer and especially to see my children grow and experience the joy of being raised with the live and care of a father and a mother.
 
I thank you and appreciate every cent or dollar that is being so generously donated.
 
Sincerely,

Khuder Ilch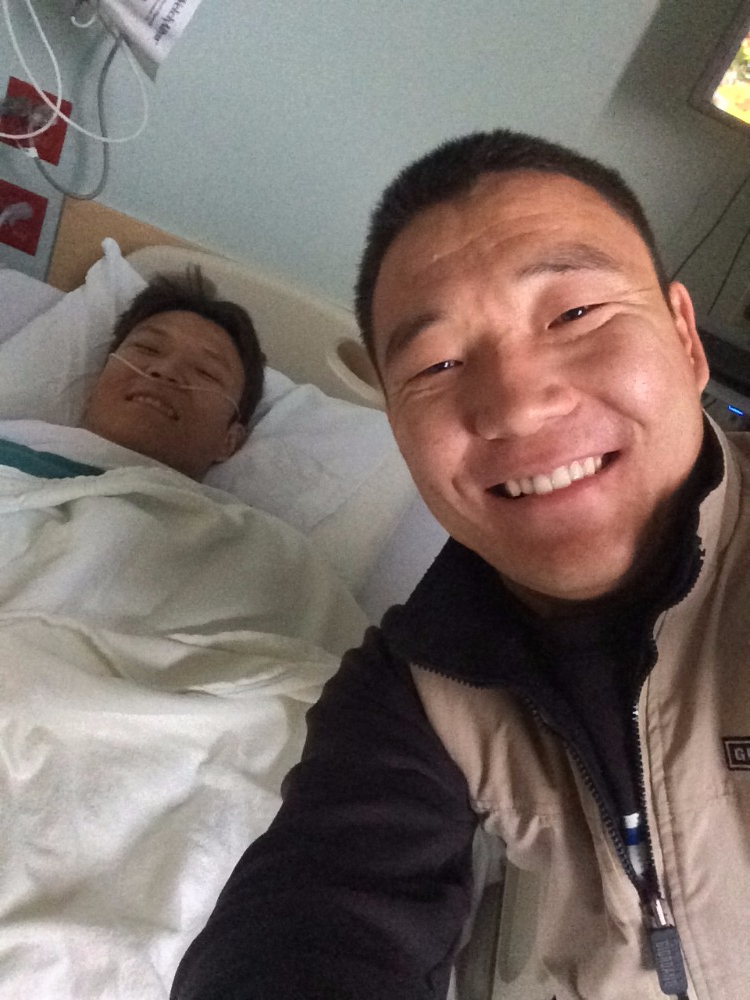 UPDATE:  Khuder was released from the Utah Valley Hospital 10/21/17. He was in the hospital for 16 day where he received several dialysis treatments that saved his life. We are gratful to the staff, doctors and nurses that treated him so kindly. He does not have insurance so he applied for financial assistance to pay for his hospital visit. 

Khuder and his family arrived back in Mongolia on 10/24/2017. We were able to give him his gofundme cash ($3k) before his flight. Any donations after this time will be wired to Mongolia with the help from his brother Baatsagaan who lives in Provo.

On Sunday we spent several hours personally visiting many of the gofundme donors in Utah County. He and his family wanted to personally thank as many donors as possible. It was a beautiful day and wonderful expeience to see their gratitude. Our local church donated many toys and clothes. United airlines waived the $800 fee per ticket to change his flights to an earlier date. They came on vacation with 2 suitcases and returned with 6 suitcases. The kindness of many strangers and personal friends have changed and saved this mans life. This is a story that proves people care and love others including strangers.

Khuder will immediately go back on dialysis in Mongolia and try to find a new kidney. He is still in desperate need of financial assistance to help pay for living expenses and medical treatment in Mongolia. 

On Saturday night they stayed at our home and shared songs of gratitude in Mongolian.  Khuder and his family are ovecome with joy and graditute for those that have donated.

**Khuder's brother (Battsagaan) found an apartment near the hospital in the capital city of Ulaanbaatar, which he can rent for the family for $200/month or $2,400/year. Khuder's 3 X week dialysis will cost around $1,200/month, and a kidney transplant in Mongolia will cost him around $3,000. Our plan is to get him an apartment to rent for a year, dialysis for four months and a transplant: 3,000+4,800+2,400=10,200. We are hoping they can find a matching kidney donor in Mongolia.

Thank you for your kindness and compassion for this beautiful family!

If you have any questions feel free to contact:
Trina Teasdale [phone redacted]



Here is Khuder and his family on 10/23/17 leaving the SLC airport back to Mongolia. 

Update 11/03/17 - Khuder and his family rented an apartment next to the hospital in Ulaanbataar as soon as they arrived back in Mongolia. Khuder is getting dialysis on a regular basis and searching for a local kidney donor. The generous donations for gofundme have helped preserve Khuders life and given him the financial means to get surgery as soon as a kidney is located. Thank you all for your love and support.

Organizer
#1 fundraising platform

More people start fundraisers on GoFundMe than on any other platform. Learn more

GoFundMe Guarantee

In the rare case something isn't right, we will work with you to determine if misuse occurred. Learn more

Expert advice

Contact us with your questions and we'll answer, day or night. Learn more