KEEP THE MUYU COMMUNITY ALIVE!
MUYU COMMUNITY RELIEF FUND                           


 KEEP THE MUYU COMMUNITY ALIVE  (VIDEO)

MUYU was born as a love story between two friends and an island. This magical place is San Cristobal, in Galapagos, and we are Pablo and Luciana.
9,000 human beings live in San Cristobal sharing space with wildlife, such as marine iguanas, tortoises, giant turtles, sea lions, rare birds and sea creatures that you can see only here.
The island has an important place in history, becoming the backdrop for countless expeditions, research and scientific programs after the visit of Charles Darwin in 1835.
Galapagos has the most famous National Park in the world, and in 1979 it was designated a UNESCO Natural Heritage for Humanity. For most people, it is an exotic holiday destination. For us, it is our home.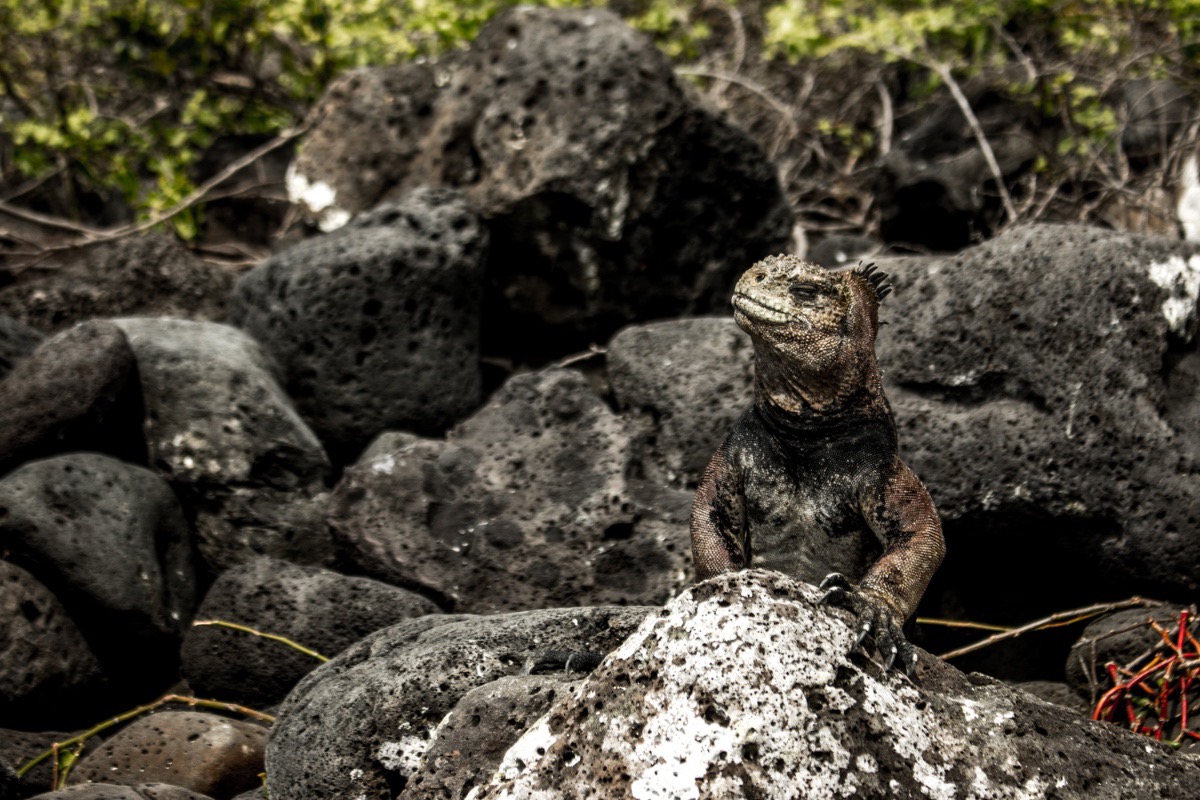 photo Paulo Rivas Peña
I have been working for more than 20 years as chef, gastronomy lecturer and writer, and found here a very interesting case study of a place without native indigenous roots, which usually form the basis for a local cuisine followed by various cultural collisions. It is also uniquely a case of an entire community living from one single sector – tourism!
One thing became clear to me when I first arrived – that there was a need for professional training in hospitality and gastronomy to make tourism sustainable in Galapagos.
Pablo had been dedicating many years of his life to Galapagos, and ran a family hotel of 21 rooms in San Cristobal. He was looking for a way to protect Galapagos' natural treasures for future generations, and to be part of a community that could promote good practices in hospitality. In partnership we commenced 4 years ago a journey that would change our lives and the lives of many other people.
We quickly realised that most restaurants and hotels in Galapagos were contributing to the increase in the levels of carbon emissions of the archipelago, as most food items were imported from the mainland. There was no environmental program designed for hospitality and gastronomy, no food artisans, and many young people were moving from one job to another without a career or any possibility to work and live sustainably.  It was also clear to us that many women had no voice in society with little possibility to develop a career.
The islands offered much potential for organic farming, but businesses were all buying provisions from Quito or Guayaquil, and local farmers had great difficulty in making a living from their harvest.
Similar to other islands and remote places in Latin America, we found here many problems related to environmental impact, drug use, domestic violence and discrimination. We believe in the power of food, and saw then that a project involving food and hospitality could be a tool for social change and environmental awareness empowering young people and women.
In response to that need, MUYU was born in June 2017. Its name, meaning SEED, contained our personal promise: to plant 'seeds' of knowledge and hope, and indeed a vision that we would serve to protect this unique place and to change many lives.  
photo Paulo Rivas Peña
MUYU has become a restaurant/school where all employees receive fair remuneration and have professional training while working. We offer equal opportunities with regard to age, sex orientation, religion and belief. We promote an atmosphere of 'learning by doing' through various exciting projects related to science, food and beverage. Most members of the MUYU team did not have any previous experience, but after two years of hard work and dedication they have become accomplished professionals, able to work in any great restaurant in the world.
photo Paulo Rivas Peña
MUYU is an educational project and a life changing place to learn and to work, where people feel valued and empowered to develop their talents. Our team is part of a family working on a project that can change their own history, and contribute to the protection of Galapagos.
photo Paulo Rivas Peña 
Problems during the COVID-19 crisis
Ecuador is one of the regions in Latin America most affected by the COVID-19 crisis, and as Galapagos depends 100% on the mainland to survive economically, the crisis has an immense impact here. People visiting Galapagos must first arrive in Quito or Guayaquil for connecting flights to the islands. There is no other way, except by a long journey by boat.
We are lucky to be a COVID-FREE island, but until tourists return we cannot make a living. Without any financial support, we would be forced to close our doors putting an end to our many projects.
The closure of MUYU would have a huge impact on the local economy, and would interrupt a process of professional training in eco-gastronomy and hospitality that has taken place successfully over the past 3 years. Our team would be jobless and have an end to their dreams.  
Today, we support a network of more than 200 families - between our MUYU team, small family farmers, fishermen, artisans and suppliers. For many families, MUYU provides their only income. We have mothers and sons working with us, as well as single mothers who must provide for their small children. For young people and women without opportunities of professional training, MUYU has become the place that gives them the possibility of a career. For many farmers, MUYU is their main and in some cases their only customer.
photo Paulo Rivas Peña
MUYU is the first restaurant to put Galapagos and Ecuador on the international gastronomic route, bringing food lovers from all over the world to the islands. We care for our farmers and fishermen as we have based our menu on local, seasonal produce and catch of the day.
Our holistic project promotes a zero-waste philosophy, lowering carbon emissions and developing the first cuisine of Galapagos – Farm, Forest and Sea to Table – as homage to the first citizens of the islands, and as a proof of our respect for nature.
 We are researchers, foragers, and promoters of permaculture, artisan work and circular economy. MUYU is contributing with a new model of environmental friendly tourism inspiring others to follow our steps. This would guarantee a sustainable future for Galapagos where man, nature and wildlife can live in harmony.  
Today the situation in Galapagos with the Covid-19 crisis is very precarious – probably more than in any other place in the world.  
The Government of Ecuador has left small/medium companies to their own devices, and since the beginning of the pandemic there has been no support of any kind – only empty promises. 
A photo of MUYU closed during the pandemic (Los Angeles Time) 
We are in the middle of the Pacific Ocean, 1,000km from the mainland. The airport has been closed since March, most people are using their remaining money for food, and have already started to exchange products as a new currency. There is no income or other ways to help the local economy. It is clear to us now, after the extension of the Sanitary Emergency State by the Ecuadorian government that Galapagos will not have tourism back any time soon, and even when that happens, it will be a slow process before we reach a new normality. Unfortunately, it could be too late for MUYU, and for this reason we are asking for your help.
We cannot think of any other way to overcome this crisis. We have already tried everything we could!


The MUYU community has managed to stay together so far thanks to the goodwill of our staff. We are helping each other as much as we can during this time of crisis to try to save MUYU and to get our lives back. We are organising organic garden projects, sharing food with our team, and building new garden and farm spaces to produce more organic food. We are also developing many products with our zero-waste project – from alternative flours and sugars to fermented foods. What is considered fashionable for many restaurants around the world is a survival tool for us now.
We ask for your support
We must be realistic and accept that our guests are not going to return for the coming months. We know that we won't be able to hold out much longer supporting our team and projects with the funds we have left.
Our MUYU community needs us. We want to ensure that by the end of this crisis all members of our MUYU family will be healthy and strong for a new beginning. But many are already in need of humanitarian aid.
We are fighting to save MUYU, and your support would enable us to keep our people together, and our sustainable and educational food projects alive. Our team needs MUYU, and we are aware that our island would not be able to carry on such a program without MUYU.
photo Paulo Rivas Peña
We know that you are also fighting your personal battle during this pandemic, but we realised that with solidarity we can all survive this critical time.
Your support – small or large - could make a difference to an entire community. In that way, MUYU will stay alive and many families will have a future.
This request for your support comes with a promise from us to keep dedicating our lives to help one of the last paradises on Earth - Galapagos - towards a sustainable tourism model that will offer a better life for our community, and the protection of nature and wildlife.
photo Thomas Baccaro
Organizer and beneficiary
Luciana Bianchi
Organizer
Savannah, GA