Keep Kitchen Arts & Letters Open
Keep Kitchen Arts & Letters Open
For 37 years at Kitchen Arts & Letters, we've loved being a unique resource: a bookstore devoted to the world of food and drink:. We've been here for professional cooks, home cooks, food writers, and anyone else who wanted to be part of that community.
(Above: a scene from our annual clean-out event, where we sell old and damaged books cheaply to good homes. 50% of the money raised that way in past years has gone to Edible Schoolyard NYC.)
Now,  however, our survival is at risk, and we have to turn to you for help. Our usual sources of income—everyday customers, major food conferences, restaurant chefs—have all been dealt staggering blows. Without them, we're not coming close to paying our bills.
We want to keep Kitchen Arts & Letters open. We want to keep bringing you the important, groundbreaking, and unusual books from home and abroad, and the personal service that tells you we love what we do here.
We have a vision for going forward that builds on all we've been to our community through the decades. We' want to become even more useful to food and drink people by  making our website faster, easier to use, and a more complete reflection of our full inventory. We want expand our searches for books you won't find elsewhere. And we will continue to tightly control our costs. 
But to be brutally honest, without outside support we'll have to close our doors in the near future.  #SmallBusinessRelief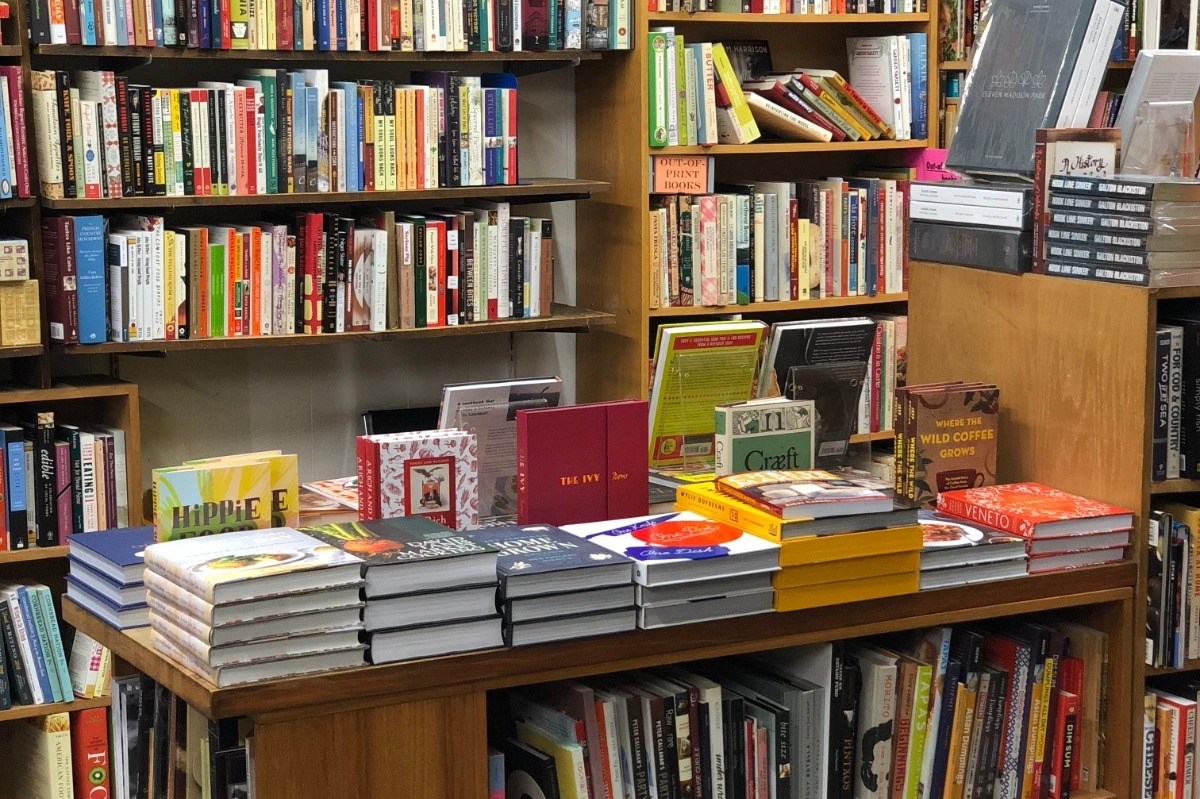 A bookstore run for and by people who really care about food and drink books
When we opened in 1983, store founder Nach Waxman greeted many people who poked their heads in, among them a man who looked around and declared, "It'll never last," then wished Nach good luck and left.
But the store became a destination spot. Nach remembers Julia Child walking in, kicking off her shoes, and sitting down on the floor to inspect the contents of the French section. 
We became the place where you can find not only classics like Julia's books, but fascinating passion projects written by authors who self-published because they couldn't interest a big publishing house. The place to find books imported from England, France, Spain, Italy, Japan, Australia, Ecuador, and Argentina.
Our basement—the marvelous treasure-trove basement, from which Nach extracts countless out-of-print volumes, some to consult, some for sale—became a legend.
And every day that we've been open, we've been helping people find the right books for their needs. Not necessarily the most popular or famous books, but the ones that matched someone's skills and ambitions.
That's what's made these decades so satisfying.
(Above: Visiting authors have included chefs like Massimo Bottura and Ferran Adrià)
We're at a crisis point
The pandemic hit New York City hard. Many of our core customers have been devastated by restaurant closings. In-store traffic stopped for many months and has only weakly revived as people have, rightly, remained cautious.  
We've kept hoping there will be some dramatic improvement in our fortunes. 
And now our lease has to be renewed.
Nach and Matt agreed early on that the one thing we would not do is lay off our staff, two brilliantly talented and helpful part-timers who had already lost the incomes they made working in food service.
But otherwise we've cut our costs as deeply as we can while retaining the character that has made us valuable. We can't cut more without ceasing to be Kitchen Arts & Letters.
(Above: We're proud to have hosted authors such as Stella Parks and Andrea Nguyen, who brought food!)
Please help us stay alive
We want to remain the place you find the books you were always looking for, the place that has the books you never dreamed existed. We want to delight you with books signed right here in the store by your favorite authors. We want to do for you exactly what a specialist bookstore is supposed to do: connect you to an amazing, ever-growing world of first-rate books.
We want you to be able to walk in the door and be immediately distracted by an offbeat new publication. We want you to visit and overhear a pastry chef from Japan talking to a food writer from Pennsylvania. We want to help you find a recipe for the stew that grandpa learned to make growing up in Poland but never wrote down.
And we want to continue to send you news of great books, new and old, that deserve attention because of the work of extraordinary authors.
So we're asking for whatever help you can give us to survive this crisis, endure in the idiosyncratic style that we've been known for, and evolve to be an even better resource for you. Financial support would be wonderful. So would be sharing the news of our campaign.
And if we fail in this effort, please know that we're profoundly grateful for the amazing world we've been part of for all these decades. Food really does bring out the best in people and we've been privileged to see it in our friends and customers.
Nach Waxman
Founding Partner
Matt Sartwell
Managing Partner