The Walker Family Fire Victims
On Monday, October 9, our best friends lost EVERYTHING. Their family is mom(Monique) dad(Cody) and 5children.
They lost everything due to the Tubbs Fire in Santa Rosa, CA. Her family didn't have a chance to grab any items from their home and were left only with the clothes on their back. They need all the help they can get, please give what you can every penny helps.
First and foremost we are thankful to escape the fire. We lost our home and cars but our family is together and we are alive and safe. We would like to thank everybody who are offering support and assistance to us, especially our church family, Mark West Neighborhood Church, for providing immediate shelter for us. Our hearts are with everybody that lost so much. Sorry if we can't get back to everybody right away. There's a lot going on. We will periodically provide updates on Facebook. Our community is reaching out asking how they can help. We set up the following accounts that don't have fees:
Google Wallet use phone number (707) [phone redacted]
Facebook Messenger (Click the $ at the bottom of the an existing message box)
or, Mail to us at Cody's work address (let us know if you mail something and we can keep track and an eye out for it):
Cody or Monique Walker
5550 Skylane Boulevard, Suite A
Santa Rosa, CA 95403
We took some time last night and this morning to write our account of what happened:
We woke up to what we thought was an earthquake. We could hear the wind outside. Cody went to the bathroom window and smoke was blowing in. We then realized that the top level of our house was smokey. We closed all of the windows and also woke up the kids so that we can take them to safety downstairs where the air quality was better. Cody got on his computer to see what was going on. There was a fire in Calistoga. We thought that it was probably just the wind bringing smoke to our area. He went outside the front door and ran up to Hopper to see an orange hue off of the smoke. Our neighbor to the north saw Cody and told him that there was a mandatory evacuation. The police then drove by as well. I started getting Facebook messages on my phone from former students telling me that they were scared and that they were leaving their houses with their families. What the heck was going on out there? Cody ran into the house and told us that we needed to leave. We were in panic mode. The only thing that we could think of was getting our kids in the car. We wrapped them up in blankets (we were all in our pajamas) and grabbed their shoes. I frantically threw some random clothes from two of the kids' dressers in a bag and grabbed an emergency kit (I realized later that I left them in the house) and we worked on getting the dogs (who were also freaking out) into the car. Cody had to wrap up our 16-year-old doggie, Isabelle, in her pad to get her out. We never thought that we wouldn't be coming back home. But as were escaping the house into the cars, it was getting worse by the second, and the realization that we might not be coming back home started sinking in. We were only able to grab our wallets, keys, phones and a laptop that were by the front door. Cody backed out our van. He wanted us to take two of our cars but I didn't want our family to be separated. We locked up the doors to our house, which would be for the last time. We only got to the end of our block where we turned the corner and hit a traffic jam. Since we were stuck, Cody said that he was going to run back to the house to grab the birds. Our birds? How could we forget them? In the middle of the chaos we forgot our two little parakeets, Boyoomi and Kiso. The kids started crying but also pleaded with Cody to sit back down.
Stuck at a complete stand still, inching forward, cars started jamming up both lanes to escape. People were desperate and even started trying to drive up the sidewalks and lawns of other houses. The air was getting hot and the wind was blowing hot embers into the trees. Cars were honking their horns, but for what? There was nowhere to go. Everyone was turning south, away from the heat and red sky. Even cars from the opposite direction on Kerry Lane wanted to go east towards us and turn south. As the traffic inched forward, and seeing the embers increase, we got to the intersection and opening where we could either turn south or head west. We changed our escape route just to get as far from the flames as possible, even in case we had to run. Not knowing how the traffic would be at Hopper, we found the traffic there was at least gradually flowing, we were able to escape up Barnes Road about half way to River Road but then got stuck once again. We could see huge flames over towards Cardinal Newman and other locations, but it was hard to really know how far the flames were and what might happen with the wind. We then made it to River Road where there was a police controlled barricade directing everybody west. Once again, both lanes of the road were packed with vehicles all heading west even though it is a two-way road. We slowly made our way west to the Fulton Road intersection which was controlled by the police. Once we got through this intersection we finally felt a sense of escape, but the question now was, where do we go? One thought was driving out to the beach, but there wasn't a sense of where would be safe. Cody decided to drive around the airport, and get to his office, where we could get out of the smokey air, and find out what was going on. Even driving around the airport there where pockets of flames in the hills. We held tight there for a few hours, consoling our kids and telling them that when this is over we could go back and check on their birds. The sun began to rise. But we could only see the light come through from the west since the smoke was so thick to the east. The office lost power for about the last hour we were there. Around this time, I got in touch with our pastor's wife who said we could go to the church, which was not in an evacuation area. Even as we drove over there, we were wondering if this is what we should be doing since the smoke was getting thicker in that direction. When we arrived, we found several other people in there that also evacuated. We then were able to watch the news and find out what devastation had taken place. When we could finally get back to our neighborhood and see all the damage, it was a clear reminder that we are fortunate to be alive and have each other. That is what matters the most.
We are currently staying in temporary housing provided by Alliance Redwoods and Christian Missionary Alliance. We plan to rebuild and continue to be a part of our community that has been so supportive. Through this we have found our family to be much larger than we thought before.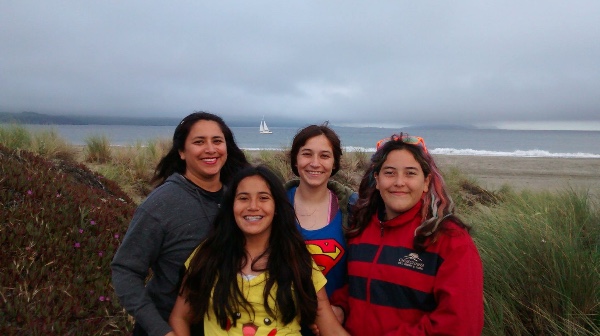 Organizer
#1 fundraising platform

More people start fundraisers on GoFundMe than on any other platform. Learn more

GoFundMe Guarantee

In the rare case something isn't right, we will work with you to determine if misuse occurred. Learn more

Expert advice, 24/7

Contact us with your questions and we'll answer, day or night. Learn more