Kabang the Philippine Hero Dog Legacy Fund
AND THE LEGACY OF OUR PHILIPPINE HERO DOG CONTINUES - this is created by the Team to save more the likes of KABANG.
A platform for people who have the courage to donate to change lives. Many homeless and unwanted animals, dogs and cats in particular who are in dire need of emergency veterinary care in the Philippines and more projects we have been contemplating pursuing  the love to all Animals.

When SHE made an impact saving the Children's lives of her owner, the world rejoices. When SHE died, the world mourns.

You may join the live tribute for the HERO Livestream at Now You Know Ph       Friends of Kabang ZOOM gathering 





WHO IS KABANG AND WHY IS SHE A HERO DOG - Kabang the Hero Dog FB Page 

HOW KABANG HAD LAID TO REST 
It is with profound sadness that I announce the demise of our hero dog +KABANG (February 2008-May 17, 2021.) I found her lying motionless near her bed tonight. I last saw her very alive at 3 pm when I fed her and changed her water. When I went to her enclosed play area to feed her at 7 pm, she was dead, probably for 1-2 hours already. I knew she was out playing with the other dogs as always because of her usual soiled feet.
Thank you Kabang for the 8 years of unconditional love, loyalty, and joy you brought to our family. Thank you for the life lessons and the inspiration you gave to the world. We will miss you. Hope to see you again. Rest in peace Kabang.
#Kabang


You're 13 years old or 91 in human years and I knew one day this would come. No matter how I prepared myself mentally, the suddenness of how you died, left a deep void in my heart. You did not even give us the chance of nursing and taking care of you in your old age and watch you drift away. Seeing you motionless in your bed with feet soiled from running around with the other dogs was just shocking. You have always been a hero, selfless to a fault, you jumped on a speeding motorcycle to prevent your two young masters from getting hit and lost your upper snout. Others wanted to put you out of your misery but how can we do that if you loved life so much and were just happy to be alive! From the first time we met at my clinic, we just clicked. You trusted and allowed me to do procedures on you, although grudgingly at the beginning. You were patient while we waited to find help for you and raised funds for your treatment at the University of California- Davis, the best veterinary hospital in the world. The world heard your heroism through Ms. Julie Alipala and people from all over the world came to your rescue. Children donated their lunch money and Care for Kabang was born with nurse Karen Kenggot from New York leading it. In the Philippines, Team Kabang with Mona Consunji, Dr. Ed Unson, Dr. Lani Acero, and I plus many people both here and in the US came together for you. The best Veterinary Surgeons came to your aid.
I cannot forget our homecoming from the US, in spite of many many months away, you immediately jumped with joy upon seeing Rudy Bunggal. When Mang Rudy came to me one day asking me to adopt you for the fear of someone dognapping you, I felt the responsibility but it was the easiest decision I ever did.
I will miss you jumping over the gate to greet me every time i get home, staying beside me when i work in the garden or acting as a supervisor when I mow the lawn. You were just there. Tonight, I missed washing your bowl and feeding you. Thank you for the 8 wonderful lesson-filled years in loving life and loving unconditionally. I and my family already missed you Kabang even though you are gone for just a few hours. May we see each other again.



Kabang, Hero Dog From The Philippines Who Was Treated At UC Davis, Dies In Her Sleep At 13 - UC DAVIES SCHOOL OF VETERINARY MEDICINES 



TEAM KABANG PHILIPPINES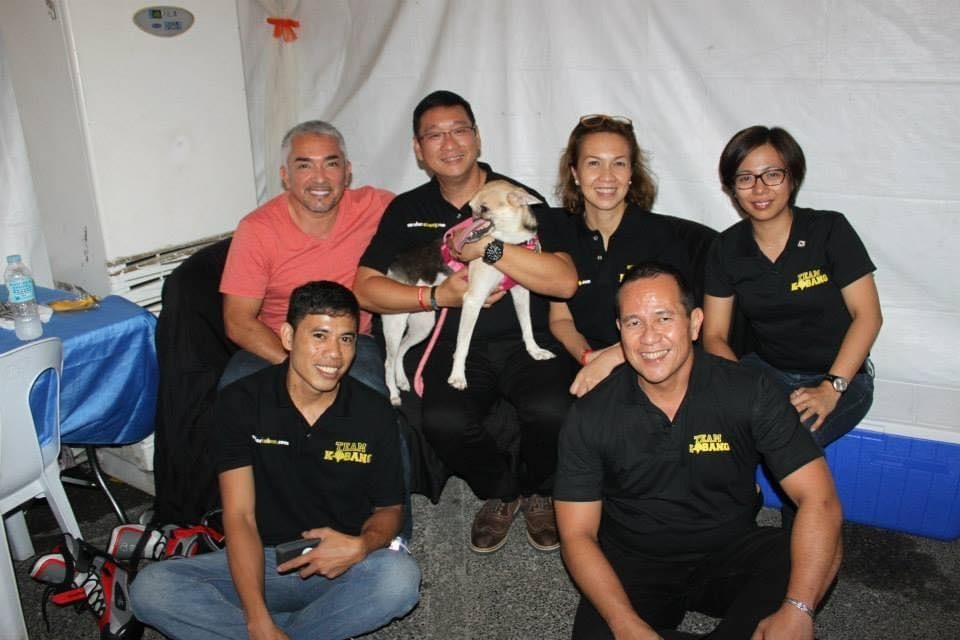 TEAM KABANG USA




ADOPT YOUR OWN KABANG

You made it all worthwhile KABANG! Lots of Aspin's were adopted after your story broke. By your bravery, you indirectly saved their lives too and no one will look at Aspins the same way again because of you and we promise in your memory, the fight continues!
Can I ask for a favor? In memory of Kabang can you show her your love by rescuing and adopting an aspin from a dog pound or a dog rescue center and love them like your family? If you can't, can you promise to be a responsible pet owner and pledge to be their voice?



KABANG AND PRINCE COURTESY VISIT TO THE MANILA MAYOR  - ISKO MORENO DOMAGOSO 




THE FIRST INTERNATIONAL HOMELESS ANIMALS DAY IN THE PHILIPPINES WITH THE ANIMAL LOVER AND ADVOCATE
HERSELF KORINA SANCHEZ ROXAS 




KABANG AS THE ICON OF THE EVENT; THE INTERNATIONAL HOMELESS ANIMALS DAY IN AUG. 2019  ALONG WITH PRINCE THE SNOUTLESS DOG - THE EVENT WAS MADE TO RAISE FUNDS FOR PRINCE MAXILLOFACIAL SURGERY AND TO RAISE AWARENESS THAT EVERY ANIMAL DESERVES A HOME.




Zamboanga's hero dog honored with statue KABANGS EMBLEM 




NEWS

Tears as hero dog who saved lives of 2 girls, dies: FREE MALAYSIA TODAY 

'Hero' dog dies decade after losing snout saving two girls: IOL NEWS 

ABS-CBN NEWS with Kuya KIM ABS CBN 

Organizer and beneficiary
Ben Matthews
Organizer
England
KABANG FRIENDS
Beneficiary