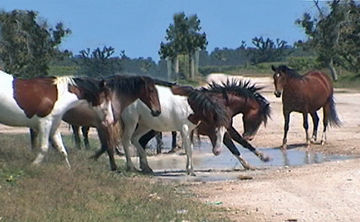 The Abaco Spanish Colonial Horse is Extinct.We Can Bring Them Back alive!
Make History! Restore an extinct breed of horse, a world first! 
As soon as we get the go ahead from the Bahamian government, we are ready to restore the Abaco Spanish Colonial horses to their dramatic home on the island of Abaco in the Bahamas. The last mare died last July. Tissue was saved successfully, we are ready to Clone! 
While we wait for the go ahead, the magnificent 4,000 acre Preserve the horses used to roam needs care and maintenance. 
Little known to so many people is the reality that the Abaco Wild Horse Preserve is an ongoing, living venture. Even as we wait for Bahamas Government approval to restore the now extinct breed by cloning the last mare.  We are fighting to keep our 4,000 acre Preserve alive and ready for the horses' return. We are looking at a years long project.  We need to cover monthly expenses. Once thriving, now gone, the wild herd and their Preserve can once again become a beautiful, accessible reality. 
We get up every day and go about the business of seeing this project through, nearly every penny of this campaign will go to paying salaries of Jean and Avener, our two faithful Haitian workers of 14 years.  They currently are on severely limited part time  At 6.00 an hour that would be close to $2000   per month full time, we need to grow into that. In addition there are National Insurance Board payments, a type of unemployment insurance.  
Jean and Avener keep the Preserve alive, we don't want to lose what we've gained over the years  with regards to setting up what we have, we are preventing it from going back to the wild. The large  investment that has already been made in the Preserve would be lost. We need to have them on board doing work to maintain the preserve in a condition necessary to support the herd when it returns  
By increasing their part time  hours, but not going full time yet, we may begin tractor repairs; our water well just needed a new pump after fire destroyed our old one.  Fire prevention has to be brought up to speed. We need to  start repairing our cargo containers (galley, tool shed, storage) that are leaking and rusting; our WiFi subscription, phone bills, gas for the utility truck, and its repairs,  all add to the daily expenses that eat away at what comes in. 
The income this venture tries to run on is maintained by monthly subscribers who we are so very grateful for, and the occasional donors -who make our hearts sing!  But we need more support than just a few. 
Please help us to make this dream a reality, bringing the Abaco Spanish Colonials back to their home in a lush, well cared for Preserve that visitors have described as  'magical.' 
We are so grateful to you all, for your continued support, your kind words of encouragement, and your donations,  none of this today would be possible if not for your wonderful presence.  Check our history on FB,(Abaco Horses) and on our web site, <arkwild.org/blog/> 
Please donate and then share.  And ask your friends and family to share our incredible story!! 
Our website 
www.arkwild.org/blog/
Facebook <abaco horses> 
Arkwild Inc. gained its official 501 (c)3 status  —170(b) (1) (A) (vi) on April 5, 2004.
Organizer
Milanne Rehor
Organizer
Miami, FL

Registered nonprofit
Donations are typically 100% tax deductible in the US.