Ranger Chris Barrows has had a few setbacks lately, which started with a bad divorce, loss of custody of his children, and the loss of his house. He ended up securing a sailboat that was in decent condition, but not 100% for his goals to live aboard full time. It had no stove, no heat, and a tank full of bad diesel that he ran through the almost new motor not realizing the tank he was using contained bad diesel, there are 2 fuel tanks on the boat. Then he lost his job.
Without a job, and a non operational boat Barrows agrees to head south to find work and couch surf through the winter. His plan was shit and with the pressures of no job, only his disability, and the expenses of his venture to find a job he got behind on his slip fee. A few rangers pitched in and paid that yesterday and three expert mechanics and sailboating rangers have devised a plan to get this ranger back on his feet.
1. Install a diesel heater
2. Replace the fuel pump and lines clean the tank flush the motor, replace the filters.
3. Temporary used Stove
4. Gainful Employment
These three objectives will end up costing around $3,000.00 the largest expense is the heater, the unit alone is $1,126.53 and with the additional fuel line, pump, exhaust, intake, lines and temp fire proofing insulation we figure it will be at least $1,700.00 with materials. Another cost is for the fuel system itself. The diesel motor has less than 200 hrs on it and should be intact as bad fuel should not have caused any internal damage. The hose, pump and removal and cleaning of the tanks should add up to around $750.00
We have priced stoves and can get an economical stove for $350.00 as a temporary that will suffice until he is on his feet and can secure a more permanent solution, (we were going to do the same with the heater but decided if it broke down his only recourse would be replacement and at a couple of hundred a drop, on a boat, we should just fix this problem, (he can fucking BBQ on a hibachi on deck in the snow if he needs too, or eat MRE's, but we cant have the ranger gassed out in his sleep, or freezing to death before he takes care of at least 10 more rangers the way we have taken care of him.) The remaining money will be disbursed as gas money for Chris Calaprice, (mechanic, boat expert, installer, engineer), to drive up to the boat and make the necessary repairs. He will be installing and repairing all of the above at no cost, so 200.00 in gas is a bargain. Two rangers have agreed to interview Barrows for jobs back in Washington State near his boat so this should take care of work needs.
Ranger Barrows will be Calaprice's assistant as it is important for a captain to know his boat and it's systems and for a ranger to pull as much of his own weight as possible. Furthermore, a ranger has agreed to teach Barrows to sail so he can extend his gratitude and hospitality to rangers as they are in need and pass south in their travels. You guys feel free to leave comments, suggestions, or GFY!
Lovett ~out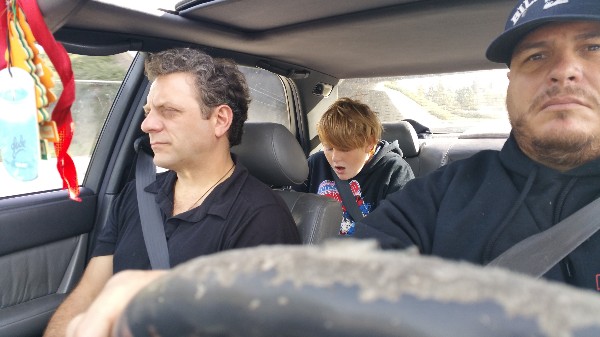 Organizer