Keegan is one of the happiest and most adorable  little boys I know, Keegan has been diagnosed with Duchenne Muscular Dystrophy. DMD is a genetic disorder characterized by progressive muscle degeneration and weakness.  It can begin as early as age 3, first affecting the muscles of the hips, pelvic area, thighs and shoulders, and later the skeletal (voluntary) muscles in the arms, legs and trunk. The calves often are enlarged. By the early teens, the heart and respiratory muscles also are affected, requiring being placed on a ventilator in some cases. Life expectancy is around 25 yrs. 
A little background on the story to get everyone up to date:
Keegan was born a healthy 7lb 11oz boy and everything was going as planned but as time went on his mother Katie, who is a registered nurse, was concerned that Keegan wasn't meeting gross motor milestones. Katie and Kevin (father) kept brushing it off, trying not to compare him to his older brother Kellen. Prior to walking, Keegan had a hard time sitting upright for long periods of time, would fall backwards, and wouldn't hold on to you when you held him. At his 12 month wellness appointment, Katie was concerned about the delay and voiced it to the pediatrician, who said he would catch up by his 18 month wellness visit. At his 18 month appointment, Katie verbalized that she was even more concerned with his unsteady gait and the pediatrician instructed her to take him to the beach and strengthen his legs by walking in the sand. 
March 6th Keegan took a bad fall at daycare and Katie finally had enough. She called Keegan's pediatrician and asked for him to send a referral for a physical therapy evaluation. In the meantime, Katie took him to an ENT to rule out any ENT/balance issues related to his inner ear. ENT doctor instructed her to take him to a neurologist. Keegan went to his physical therapy evaluation on March 31st, who also recommended a neurologist consult and a pediatric rehabilitation doctor.
April 12th, they went to the All Children's pediatric rehabilitation doctor for another evaluation. The appointment was going well. Keegan was doing well with his balance but when the doctor asked Katie to put Keegan on the floor and have him get up by himself,  the doctor concernly watched Keegan get himself up. Due to the specific way Keegan got up and the doctor noticing  his enlarged calfs, the doctor said "well I am concerned....worst case would be Duchenne Muscular Dystrophy. " The doctor ordered a CK level which is a blood test that was performed at All Children's immediately  after their appointment. The next morning will be forever engraved in Katie and Kevin's minds ....8am the doctor called and asked if Katie was sitting down. Her heart heart sunk as the doctor stated said his CK level (which shows muscular breakdown/ wasting) was significantly elevated and was nearly 32,000 (normal is 27-160). Katie had never been more devastated in her entire life.
A week later they saw a neurologist at All Children's Hospital and she ordered genetic testing, with  concern about Duchenne Muscular Dystrophy (DMD). On Friday May 12th, they went back to the neurologist to get the results. The doctor stated the results were positive for a partial gene deletion of the dystrophin gene, where he is missing exon 5-24 (the largest gene in our bodies that contains exon 1-79).
This was their worst nightmare. Katie and Kevin are trying to stay optimistic about potential clinical trials to prolong his mobility and life. They continue to be blessed to have the happiest and sweetest boy. They are extremely thankful and blessed for all the love and support. 
My name is Michelle and I absolutely had to make this go Fund me account for my best friend. Katie is the strongest woman I know and has been given multiple challenges throughout her life. She is an incredible mother, wife, nurse, leader, friend, sister, and daughter. She is my super hero!!! I set up this go fund me page which would assist her family with numerous medical bills due to the genetic testing and specialty doctors visits, ongoing physical and occupational therapy bills, traveling to research trial institutions, and finally to financially assist with making the manditory home changes and installations to keep him safe in their home (ex: wheelchair ramps, grab bars, etc ...).
Thank you for all the continued support and love the K4 family
(Kevin, Katie, Kellen, and Keegan)! 
K4EVER 
If you live near the sarasota area, please come out and support the DMD walk at Philippe Estate Park on Saturday Sept 30th at 10am. Team K4EVER will be there!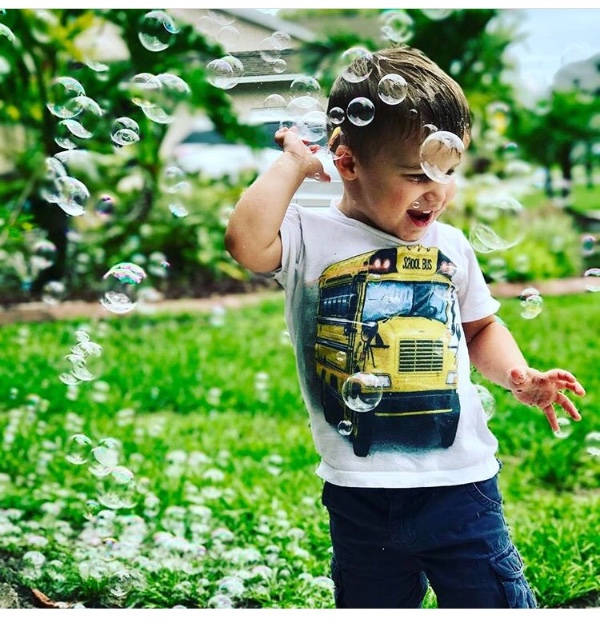 Organizer
#1 fundraising platform

More people start fundraisers on GoFundMe than on any other platform. Learn more

GoFundMe Guarantee

In the rare case something isn't right, we will work with you to determine if misuse occurred. Learn more

Expert advice, 24/7

Contact us with your questions and we'll answer, day or night. Learn more