Juli Heart Attack Recovery Fund
This has had to be one of the most shocking and terrifying things I have gone through. Last Wednesday, June 25th, at the age of 43, I had a HEART ATTACK! One of the first symptoms I felt was the feeling of my lungs burning, just like when I had to run the annual mile in school and the last time I had ran it was the year before. I then began to have a feeling of "chest freeze," which is just like brain freeze but at the back of my throat. These were two feelings I had never experienced before without having a reason. This was a few days before the actual attack.
What was confusing to me is that I had just started a new medicine that had tons of side effects. To combat the "side effect" of an upset stomach, I spent a day and a half trying several different antacids; none worked. Late Tuesday night is when the chest pain started to come and go and I was still telling myself it was the medication, but as the night went on it became very painful. My husband tried to talk me into going to the emergency room and there are three reasons why I did not go:
1. I had been out of work for weeks and had just returned two days before. How would it look it if I called in sick already? Not to mention that I had work that had a firm deadline of that day.
2. I would keep my husband up and he would need to go to work in the morning.
3. Maybe it really was just indigestion.
Now looking back, none of those reasons was worth dying over, but really it was the denial that caused me to wait. I also think that I misunderstood the symptoms of a heart attack. I ignored the signs for some time and the pain that they warn you about (horrible pain in the chest and arm) was nothing like what I felt. It was more of a pressure in my arm, under my armpit. I felt as if I had heart burn. It wasn't until I had a severe tightening of my chest and things started to get fuzzy that I realized something was very wrong. A coworker of mine, David, drove me to the emergency room.
My artery was completely blocked and it is amazing that I am alive today. I could hear the doctors discuss the damage and hear the surprise in their voices. Words were being used like "heart attack," "disease," "black space," and "no blood flow." I lifted my head above the drape to see the monitor of my heart, the medicine making me sleepy. They ended up putting in two stents to get the blood flow gooing through that part of the heart. I wish I could say that it was a dramatic moment where time stood still and my life flashed past me, however, as I laid on the table overhearing the doctors discuss the damage I kept saying, "Oh my God, this is my life." I was thinking of my children, my husband and family. They were going to be shocked. I was trying to remember what heart disease meant and was it really a death sentence. I had no reference there so I felt even more helpless. I was terrified and at times like this you think you would freak out but there is a quiet still place within yourself that allows you to stay calm. I was trying for the emotional supernatural experience; however I was just lying there alone behind the drape looking at the light beige wall. Even though the supernatural parting of Heaven didn't happen, my faith was the comfort I needed and so throughout most of the procedure I repeated "God, I know you are here," and "You are Holy."
After the procedure, Dr. Kritzer, ( He was on duty that day ) was able to clarify the damange and explain the stents and how they work.  He was very kind and listened, unlike some doctors who apprear to always be one step out the door. He listened to my questions and I aprreciated that.  I am blessed to have a doctor that I feel is competent and although it was really a roll of the dice as to who would be the one to save my life I think I did pretty good! This is such a scary time and to feel utmost confidence in the one who is takeing care of you is very important.  Don't ever settle for a provider who doesn't make you feel heard.
So many friends, family members, coworkers, and church family have asked what they could do to help but I have yet to reply, "Pay my electric bill (lol)." It is hard because there is so much to do and take care of and it is hard to ask for help.
A new reality hits as the doctor bills are rolling in. I feel helpless, as I am unable to work for now. So far, we are at $93,082.18 in medical bills submitted to our insurance, which should cover a lot, but there are still deductibles, copays, and medicine. This does not include the second hospital admission over the weekend. I have no paid time off or short term disability available. My husband has been by my side 24/7; luckily he has some vacation time available from his day job, but the night and weekend work he picked up to help make ends meet will just be a loss. We have four kids at home to take care of, two of which just got braces on the same week. This is hard to ask for and my pride is trying to talk me out of it, but we worked so hard to come from where we did. Thank you to those who have nudged this on.
I feel so much guilt on the pressure this has put on everyone, my husband, my parents, and my family, my children who have been so good to me- even those at my work who will have to pick up the slack. Most of all, my dear husband who has worked 80 hours a week for years to make sure we had what we need. One more year working two jobs was what he said, but now I see this could very well set all that back. I want to do whatever I can to ease that burden from him. He is my gift from God. God is also the great Provider and no matter what comes of this site, Our God will provide.
Each life experience changes us, no matter how much or how little, and there are those that redefine us. Redefine us to the core of who we are. Lessons once learned somehow have a new meaning, parts of them that I simply overlooked. The complicated now looks simple. I've rediscovered the depth of my love for my family, my children, and my husband. I want to take this time to really look at what I can do to be better. What am I am living for? Who am I helping? What is the idolatry that keeps me from who I am meant to be? I can now let go of the approval and acceptance I was seeking from others that I have been waiting for the past few years. Who are they to judge my life, my worth, the life that I almost lost? How can I carry guilt for past mistakes?
I have been reminded of the overcoming of obstacles that took place for me and my children, the miracle of being a survivor of domestic violence, divorce, almost losing my children, homelessness, life controlling issues, and now a HEART ATTACK. I am humbled to know the God of the Universe cares to know my name and has great plans for me. It is my job to take care of the body and mind what I have been given. So as I start cardiac rehab, I want to always keep the fearful feeling I felt on the day of my heart attack so that if I am tempted to stop pushing through, I can draw on it. It is not an option to do anything but improve my health, to create healthy boundaries for my relationships, to come to allow myself to sit and cry through the shock of it all. It is still surreal. I do not have all the details of how and when my heart attack started, but I do know that my story may be able to save a life or two. Young women need to know that it really can happen to them and what signs to look for. It is this that excites me. To think my suffering will be another's blessing. Please educate yourself about heart issues so that you won't wait to go to the doctor like I did.
Most people assume that a heart attack means having sudden chest pain, pain in your left arm, and then collapsing. While all of that is associated with a heart attack, those are not the only symptoms.
Symptoms of a heart attack can include: • Discomfort, pressure, heaviness, or pain in the chest, arm, or below the breastbone • Discomfort radiating to the back, jaw, throat, or arm • Fullness, indigestion, or choking feeling (may feel like heartburn) • Sweating, nausea, vomiting, or dizziness • Extreme weakness, anxiety, or shortness of breath • Rapid or irregular heartbeats
Women experience heart attacks differently than men do. Twenty percent (1/5) of women will not have the same symptoms as a man does. They don't have the classic "elephant on my chest/chest pain" symptoms, but instead experience a feeling of indigestion that can travel to their back, shortness of breath, nausea, and hyperventilation. This is frequently misdiagnosed as a GI track issue, when in reality, you are dying. If you are not assertive enough about being seen in the ER with these symptoms, it can cost you your life.
I want to share this but in no way want you to feel obligated to give. If it moves your heart to do so, it will be used responsibly as has been stated here. Your prayers are so welcomed. Thank you for your time and I pray blessings on you.
All my HEART- Juli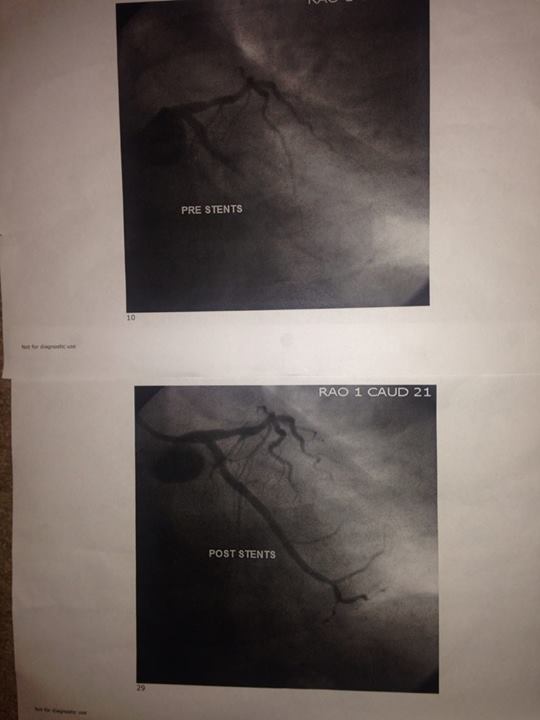 Organizer